We make the usual caution that coming to a diagnosis from a short video can be difficult for many reasons, especially in those cases where the subject presents a prepared or memorized speech.
We had six entries. The winner with an exemplary score of 13/15 is.....D_Katana. In second place with a score of 11/15 is Ben, and in third place with a score of 10/15 is Kassy. Close behind were Donna with a score of 9/15 and CeeLo with 7/15. However, all contestants had special insight into some of the vignettes and may claim the book prize for their efforts.
Our tally with comments for the 15 Cases :
1. Cameron Diaz N.
Most agreed with N type for Cameron, an actress. One entrant chose NPA+; however, Cameron did not have the intensity of voice typical of NPA+. Also, NPA+ types are never at a loss for words, so her hesitant comment, "What else do I need to tell you? I think that's it, right?" would not be characteristic of the NPA+ type… as well as her use (at least 3 times) of the indecisive turn of speech, "ya know".
2. Aida NA.
I agreed with Donna, Kassy and Ben here for NA type. One hint is that she is from Senegal, a Corybantic habitancy in West Africa. Other entrants chose NPA+ or NP, but I thought her intermittent rapid speech, her coy demeanor and the little song at the end were more characteristic of the non-perfectionistic NA type.
3. Philippe NP.
No one else agreed with me with NP type, so we allowed NPA− as the correct answer, as well. The two types are close cousins. I was drawn to NP type because of 1) his relative fluency (I thought his speech hesitation was due to pausing to find the exact words that he was trying to express), 2) his fixation on order and cleanliness ("Mr. Clean, to clean the world of filth", "hot water to wash themselves, clean clothing", referring to homeless people), and 3) his lean physical features and melancholic demeanor.
A little problem arises here: since we allow NPA− as the correct answer, and there being no other NP types in the list of Results, this could force contestants to consider NP type as a choice in the other Cases. To correct for this possible anomaly, we added one point to the scores of all contestants.
4. Mary NPA.
Most entrants agreed with NPA (or for clarity, NPA+) type. The main qualities here are her sanguine appearance and her forceful, articulate voice. As we have mentioned in the past, the voice of the NPA type is like a freight train, unrelenting and non-stop, with one freight car following the other with no end in sight.
5. Kosal A.
Most entrants agreed with A type. Two entrants thought NA, and it is true that an antisocial NA type can resemble and A type. We thought that he likely fit the "short man syndrome" having the
gestalt
of an A type. This Case is a reminder that biology can sometimes be destiny: although all A types don't land in prison, if Kosal had not been born an A type, it is unlikely that that would have been his fate.
6. Bryan NPA.
Here we agreed with Kassy and D_Katana of NPA+ type, with his forceful, articulate, non-stop voice. Some contestants thought N, NP or NPA−, but I thought with his intensity, NPA+ was more likely.
7. Sovath N.
Here we agree with D_Katana of N type. One entrant chose NA− type, but we did not think that her emotional, hesitant speech pattern was representative of her baseline personality. Four entrants chose NP type, but to me the
gestalt
was more N type than NP type. As shown in the image below, in SE Asia and the Philippines, a tendency to have a rounder face, a more fleshy nose, and a shallow rounded chin is found in N types, while NP types tend to have a more gracile build, a less fleshy nose and a more angular chin. Why? It may be that the NPA genes interact with other genes to produce certain features of physical stature and physiognomy. Of course, given the complexity of genes affecting body build and facial features, there may be many exceptions to this anecdotal observation.
Cambodian faces: presumed N type (left) and NP (right)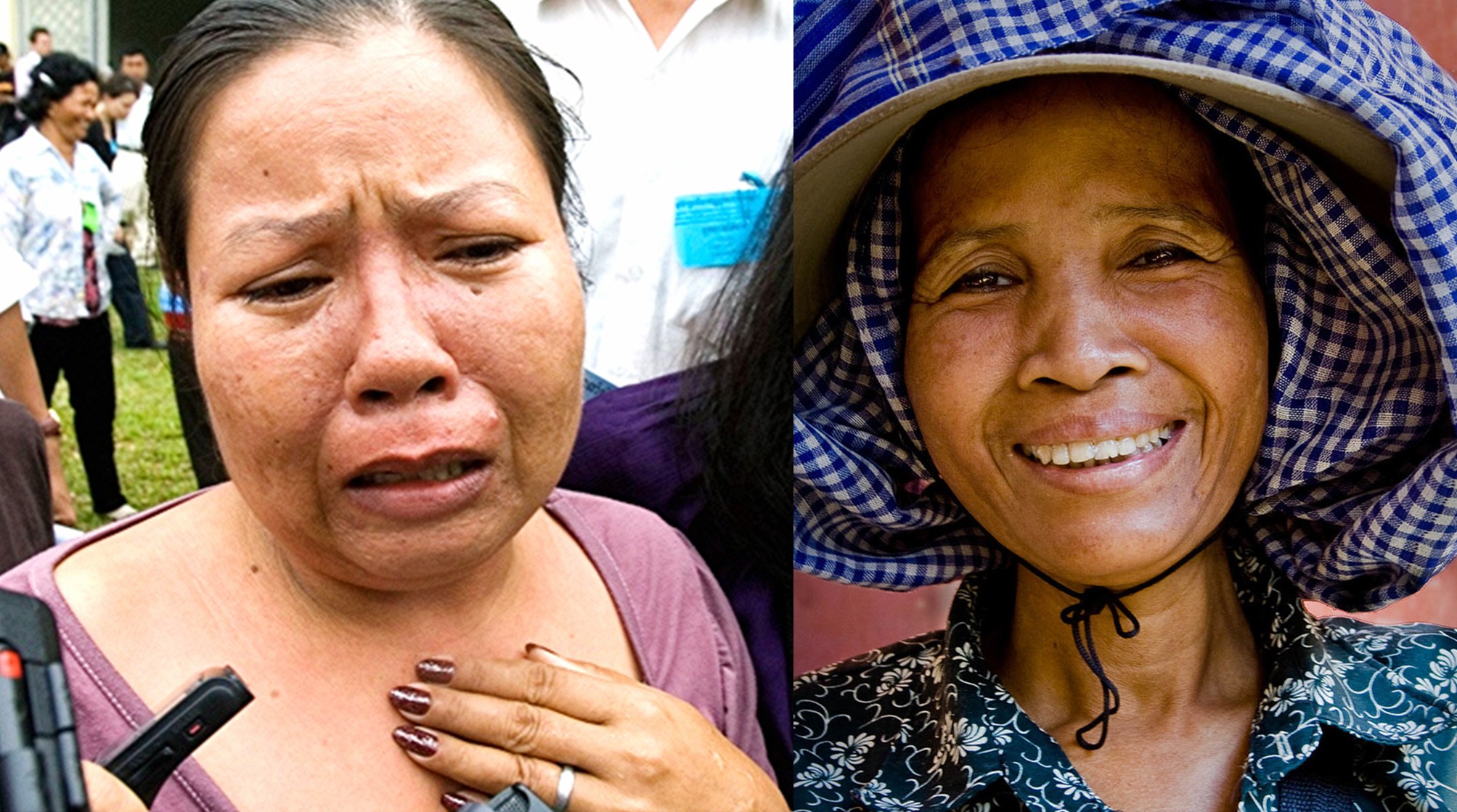 8. Grandson NA.
I had the impression that this was an individual with the A trait who was trying to mask his aggression, "pretending" to be an N type. My first impression was "pseudo-narcissistic PA type", but I changed it to NA, given that pseudo-narcissistic non-sanguine types are rare birds in the USA. This individual reminds me of the National Geographic series "Lockdown", where interviewed prisoners (with A trait) calmly relate in chilling detail their horrific crimes in an artificially engaging manner. For purposes of scoring, we gave as the official answer either NA type or to "pseudo-narcissistic non-sanguine type" (A or PA type), agreeing with D_Katana on this one.
9. Ngozi Mogekwu Akabudike NPA.
Here, we agreed with Ben on NPA+ type. Other entrants chose other sanguine and non-sanguine types, but the forceful, non-stop speech pattern guided our choice here. The speech is especially forceful at 0:22. The name suggests that her parents were native to Africa, where non-sanguine types are rare. Although P trait is also rare in most of sub-Saharan Africa, we have commented in the past that NP and NPA+ types are not uncommon in Botswana and South Africa, so it is a safe bet that Dr Akabudike's family is from that region.
10. Colm NPA−.
Here we agreed with D_Katana and CeeLo with the NPA− diagnosis. This individual is apparently a somewhat self-effacing individual who can be easily swept into the emotional turbulence of intimate relations. His account of being reduced to speechlessness is consistent with A− trait. Two entrants chose NP type, but NP's are very rarely drawn into same-sex relationships. Other entrants chose NA− and N type, but to us the
gestalt
was an individual who had the P trait.
11. Barbara Bush NA-.
Here, we agreed with Donna and D_Katana of NA− type, her nervousness and lack of fluidity in speech being apparent when speaking to an audience. Although her speech is apparently memorized, she has in hand a written copy, in the secret fear that when she reaches the podium, her mind will go blank or the teleprompter will fail. Of note: if her parents are NAxNA− then by NPA genetics Barbara and her sister could only be NA or NA− types.
12. Maria NA.
Most entrants agreed with NA type. We didn't see evidence of A− trait. Hints were the pink garment (a favorite color of NA types) and the fact that Brazil is to a large extent a "Corybantic habitancy" of largely NA types. The demeanor and speech pattern were consistent with NA type, we thought.
13. Carolyn A or high temperament PA.
Here we agreed with Ben and D_Katana that this individual's
gestalt
was non-sanguine. I would somewhat favor A type over high-temperament PA type because of her assertive and dismissive speech pattern. Two entrants chose NPA+ type, but NPA+ types rarely become involved in same-sex relationships.
14. Leonard Cohen NPA−.
All seven of us agreed on NPA− here. Some time ago I considered NP as a possibility, but in this interview Cohen reveals his personality as having the A− trait. In addition, in some of his songs he depicts submissive, unrequited love with much sexual imagery, very typical of A− trait but which would be unusual for wistful, melancholic NP types, as in the selection below:
15. Sophia PA.
Here I agreed with sable_nixe and CeeLo with the diagnosis of non-sanguine PA type. I thought Sophia's demeanor to be haughty and a bit sarcastic, giving the impression of a non-sanguine individual trying hard to be sociable. The smile seemed contrived and timed for effect, rather than being a natural social smile. However, we accepted the alternative interpretation that Sophie is a robot and her designers were *trying* to create a perfectionistic, sociable, smiling individual, whom we would interpret as an NP type, So, we accepted NP type as the correct answer for Sophia, as well.