Finished my USS Arizona in time for Pearl Harbor day!
Posted by Don Murphy on December 7, 2010, 10:34:05
In the morning hours of December 7th, 1941, a Japanese Navy bomb sent the USS Arizona and her crew into history. Although the Arizona was one of many ships hit and sunk that day during the attack on Pearl Harbor, the lion's share of the day's dead would come from the battleship. Of the attack's 2401 dead, 1177 - almost half - would come from USS Arizona's crew. Irrespective of whether the attack was a conspiracy or not, the ship's death is a truth. It happened. And her death served as a rallying point for America's entry into world war two. Although the USS Arizona was built and launched many years prior, it was her death on that mild December morning that cemented her place in history. So the model building journey most people will take regarding her, is to portray her at the time of her sinking. Unfortunately this is more difficult than readily apparent. It's amazing how many times we have all seen this photograph: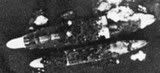 It's also amazing how few people ever pick up on the accuracy of this photo. This is it. This is the last complete moments of USS Arizona. Yet a quick search of virtually any online model forum or a physical search of any naval museum's ship models shows that absolutely no one has grasped the nature of the photo. While many in the model ship community have picked up on suppositions as to the color of the ship on that fateful day, no one has thought to correct the other two mistakes that they and many before them, will all make.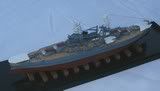 It indeed seems strange that paint scheme battles will be fought yet something as simple as NO FLOAT PLANES and THE PRESENCE OF CANVAS AWNINGS will be overlooked. Hmmm... With that in mind, I set out to do something different. For display purposes I wanted a full hull ship but did not want to go larger than 1/700th scale. Someone online advertised a Dragon Premium Edition kit (PEK) for sale and I read the online reviews of it. Looks like the ticket. Picked it up. OOOOPS! WRONG ANSWER! There are - funny enough - two Dragon Premium Edition kits.




The first PEK has peaceful artwork of USS Arizona at sea. Inside the box is a small photo etched fret, brass gun barrels, anchor chain and...waterline hull only. The box art for the second PEK shows the ship during the Pearl Harbor attack. Inside the box is the full hull option plus floatplanes and ship's boats in clear plastic. The kit also has the brass barrels, PE and chain. This is the kit I thought I was getting. Hmmm... As luck(?) would have it, my local hobby store was closing and during their "everything must go" sale, I picked up the second PEK. Phew. Well not really a "phew" as I now had two kits of the same ship. While debating which color scheme to do my "Pearl Harbor Arizona" I decided to backdate the other kit to USS Arizona 1920's. For this I would need cage masts. Enter Tom's Modelworks.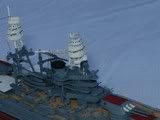 The Tom's "Early USN Battleship" fret contains a single cage mast, so I needed two. As that was settling in to me, I noticed that the Dragon provided photo etch was pretty worthless. No catapults, the wrong crane and the wrong antenna spreaders. So having two Tom's frets would take care of both ships. In addition to cage masts, the Tom's fret includes crew, floatplane details, the correct aft and midship cranes, aft catapult and turret top catapult.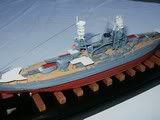 I'm not 100% sold on the blue Arizona but to be honest, I've built the Arizona so many times in just plain old grey, I wanted a change. I've built the flat-bottom Revell and the little 720th scale Revell more times than I can count. Strangely enough, when my eight year old son announced he wanted to build models, the kit he picked off the store shelf would be the Revell Arizona. I found the ship's boats in clear plastic to be a little bit irritating so I used the solid ones from the earlier PEK.





For my colors I used Polyscale Deck Tan, Polyscale Imperial Japanese Grey (for my "whites") and for my "blue" I used Testor's Modelmaster PRU Blue. As I said, I'm not 100% sold on a blue Arizona but I wanted something different on the shelf and the blue artwork drawn up and the example done by Don Pruel looked kinda catchy. Having served in the Navy and having painted ships before (without Snyder and Short paint chips...) it will be interesting to find out what the eventual research proves.




For my blast bags, I used Testor's Glass Cement and then painted them in Polyscale Imperial Japanese Grey. This color gives a nice "one coat" coverage and has a dirty/off-white finish. I also gave the awnings a touch of it as well. My awnings are simple sheet styrene held up with 1/350th scale stanchions from the spare box. The ships crew are from the Tom's Modelworks fret. There's around twenty in dress whites floating all over the ship. As the Arizona's Kingfishers were on Ford Island, I left them off.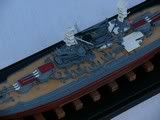 But wait, you said you had TWO kits. What'd you do with the other one? It's amazing how stripped down the original (as built) Arizona was. So using photos of her, I cut down the deck, added all hull-mounted five inchers and basically recreated a 1920's Arizona.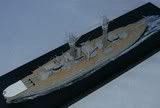 It's not 100% accurate. In fact, it's probably only 60% accurate. But hey - it's only a hobby. My plane is scratch built as is the flying off platform. I can't really find any good references as to when the cats came on and when the flying off platform left. So I added both.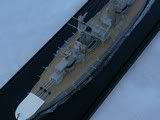 The Tom's Modelworks cage masts are intricate, yet beautiful. The etch is soft which enables tons of rolling out to start over, if you mess up. The masts are in two pieces each and for my fighting tops and other junk, it's all bits and pieces from the spares box. The entire superstructure mount and smoke stack are balsa wood coated with sanding sealer. There's a ton of other spares box pieces.




Here's a nice overhead of Arizona 1921 and Arizona 1941. The uncluttered look is really quite attractive and if I break down and get a 350th scale Arizona I may just do her as a 1920's configuration. My 1920's awning is aluminum foil coated with Polyscale Imperial Japanese Grey and then blasted with a bit of dull cote to make it not so shiny.




The 20's photo that really stood out to me was the gun platform on top of the aft turret, complete with rangefinder and two five inch guns. I did as best as I could using the photos I had. I'll get more involved if I do this again in larger scale. Notice the Tom's Modelworks crew in various places.




A nice side-by-side comparison of both eras. Both builds were way different from what I've done in the past with Arizona and although I probably won't be buying the 200th scale monster, I could see myself getting a 350th scale one.




If you decide to purchase the Dragon kit, I would throw the photo etch out and just buy the Tom's sets. The railings that Dragon gives are pretty worthless and the other parts are inaccurate. The Toms sets are complete and have the proper cranes, cats and other gear. And they are priced just right.

Cheers,



Don
---