Henry VII's crown, featuring bejewelled crosses and fleur-de-lys; with arches and a monde and cross was used right through until the Crown Jewels were destroyed by Cromwell.
Although made for Henry VII, this crown is more commonly associated with his son Henry VIII, it is first mentioned as "the kingis crowne of golde" in an inventory of his jewels in 1521; and it can be seen in later inventories, including the one made after Henry's death in 1547 when every royal cupboard was turned out to record everything from torn bedsheets to the crown and its 344 gems, including "nyne perles not all of one sorte and three Saphires".
The inventories showed how Henry remodelled the crown during his reign to reinforce his new role as head of the Church of England, substituting three kings for three small figures of Christ. Few in the watching crowds could have spotted that at the back of the crown, shown in the Mytens painting, he kept the tiny image of the Virgin and Child.
This crown was recorded in minute detail in the portrait of Charles I by Daniel Mytens in 1631:
This crown, has for the first time since it's destruction, been recreated by Historic Royal Palaces, using silver gilt (instead of solid gold) and real gems.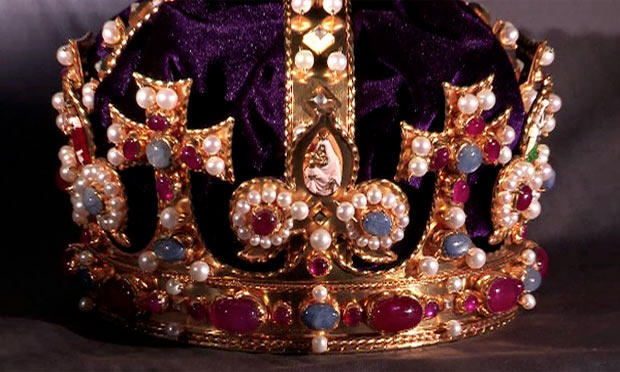 http://www.hrp.org.uk/hamptoncourtpalace/stories/palacehighlights/henryscrown
http://www.guardian.co.uk/culture/2012/oct/07/henry-viii-crown-recreated