Dave was an early presence on the Blackboard, contributing many NOTW essays during those burgeoning times; he had a wide range of cinematic interests and was one of the first on the old board to discuss Italian giallos as he helped expand our horizons to the forms of all things noir.

He's typically incisive here about one of the high points of 1960s American "post-noir," which is also a favorite of Elliot Lavine's (who's "done his part" on several occasions and screened it various of his festivals over the years. Sadly, it never got the widescreen treatment at the Castro during NC.
BRAINSTORM (1965)
The heavier of
The Killers
directs
Laura's
lovesick detective in one of noir's bleakest installments (neo or classic).
While driving home from work one night, youngish research analyst Jim Grayam (Jeffrey Hunter) stops to interrupt a lovely young woman's inventive suicide attempt (stalled car on the railroad tracks...), and discovers that the depressed, desperate (but still delectable) blonde is his employer's wife Lorrie (Anne Francis).
Jim fights the attraction, but eventually allows a dangerous affair with her to begin--which soon drives the powerful and psychologically abusive cuckold (Dana Andrews) to excavate a harmful skeleton from Jim's closet: his history of mental illness.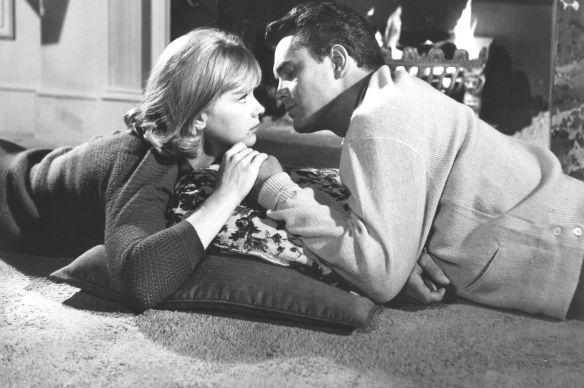 Elaborate, insidious efforts to make Grayam appear unhinged take their toll--and fuel his ever-increasing desire to eliminate the husband from the equation. Goaded by his desire to "win the girl"
and
be the smartest person in the room, Grayams devises a complex "murder equals madness" scheme, with the desired end result being a temporary stay in the mental ward before starting his new life with the widow.
All goes according to plan, but the hospitalization proves to be hellish: the atmosphere there proves thick with madness, and the line between his insanity act and his sanity becoming increasingly blurred. A supervised visit from Lorrie only worsens matters when she surprises Jim by declining to cooperate in getting him out. Through a barred window he watches as she exits the building--and his life--o embrace another man and drive off with him.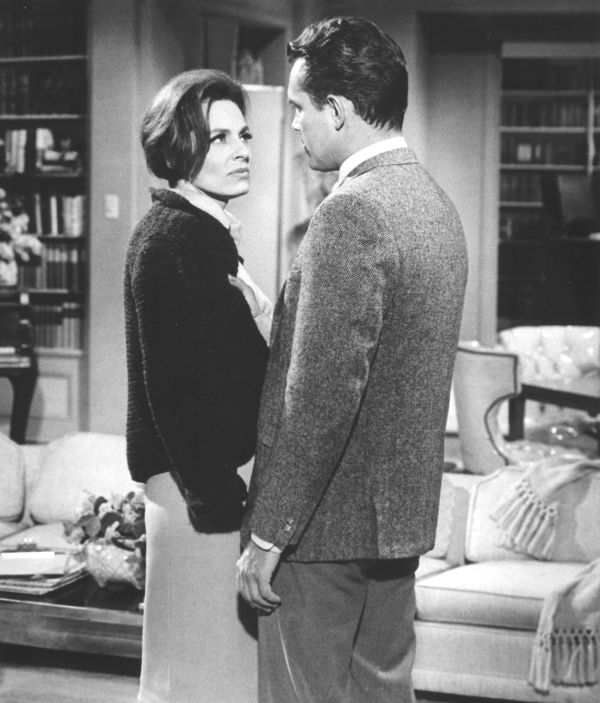 Turning to the sensitive, attractive psychoanalyst (Viveca Lindfors) who befriended him during his pre-murder/deteriorating mental health warm-up act, Jim is again denied assistance. She appeared to be aware of his ruse, but now denies him her support. This spark a violent outburst from Jim, who attempts to break out. He is restrained by guards and dragged back inside; his residence in the mental ward now possibly permanent.
A
Double Indemnity
for the psyche-scarred Sixties,
Brainstorm
works from, modifies, and darkens that film's murderous-love-triangle template, while never sacrificing its own essence. Stripped of the earlier classic's sultriness and first-person narrative technique (unlike Walter Neff,
Brainstorm's
protagonist remains elusive throughout, thanks partly to Hunter's interesting, guarded performance, and the film's refusal to focus on developing his character) the film nevertheless succeeds at updating one of noir's most identifiable themes: boy meets girl; boy falls for girl; boy and girl plot to kill girl's husband. William Conrad, in the midst of a busy run of thrillers for Warner Brothers, eschews pastiche, and keeps his film fresh, linear, and free of needless frills.
Though not remembered for his acting chops, Hunter shines brightly here, inhabiting his complex, off-balance character with apparent ease, using his clear eyes and angular brows in order to appear quizzical or intense with little effort. Gone is the goofy, gangly cowboy from Ford's
The Searchers
– his Jim is a staid, urbane but aloof technocrat...until his lover and his boss fan the flames of his long-dormant neuroses, and twist him into noir's
dupe du jour
.
Andrews, Francis, and Lindfors lend typically strong support, as does Strother Martin as (what else?) a chatty, short-fused freak. Also along for the downhill slide in the mental war are Richard Kiel (007's metal-mouthed nemesis Jaws); and John Mitchum (Robert's brother, and a recurring character three
Dirty Harry
films), who waste no time making crazy.
Also worth mentioning are '
Brainstorm's
memorable technical triumphs: among them the sharp black and white cinematography; the hip, jazzy soundtrack; a disorienting "whirlwind" editing device; and the heartbreaking final image of Jim being strong-armed away. Shot from an ascending helicopter (an idea that Conrad may have lifted from the finale of
Experiment in Terror
), the perspective could belong to a neutral higher power as it turns its back on a broken, hopeless soul.