The road that led to Josh and my acquisition of the Vega #2 started with his loaning me his Deering Vega long-neck which he had purchased and then, as I recall (Josh - weigh in here if I get this wrong) replaced with a vintage PS long-neck. I qualified Josh's generosity as a "loan" altho he tried to insist that it was a gift. That's Josh for ya!
I made every attempt to love that long-neck, and it did have a sweet sound. But what to do with those extra three frets? Oh, sure, I could play "The Rev. Mr. Black" in E, but that's not a good vocal key for me on that song, so I never took it out of the house. And my banjo students got tired of me bashing them in the head with that long neck.
I'd been drooling over the Vega #2 because it seemed like a good alternative to the long-neck. Same tone ring, no resonator and on top of that, my "family" discount from Deering. So with Josh's approval, we put his long-neck up for sale. The ads languished on-line for nearly a year until Pete Seeger died. Suddenly we began getting offers and we ultimately sold it to a fellow in Massachussetts. I had to put in an additional $200 to finalize the deal with Deering, and then endure a three-month wait for production. Well worth all that effort - I'm in heaven.
The only negative is the Shubb 5th-string capo that I specified with my order. I've had those capos on every 5-string I've owned and I much prefer them to railroad spikes or clip-on 5th-string capos. I've never had this issue on any other banjo, but with this capo if I have it in "off" mode the dang thing is so loose that it won't stay in place down by the 5th fret. So I've had to use a rubber band to hold it in place when not deployed. (Any other solutions, anybody?)
My deal with Josh is that I will retain possession and use of this instrument until I either croak or can't play anymore. Then it goes to Kansas. I know Josh well enough to feel sure that he's not praying for my demise, but I do want him to get his hands on this banjo at some point.
My first Deering banjo was a special order that I actually had to twist Greg's arm to build for me. It's a 7-string. This is not a detailed photo of it, but maybe you can get the idea:
http://bobhaworth.com/photo5.html
Click on the photo to read the story about this banjo. Here's a better picture: [url=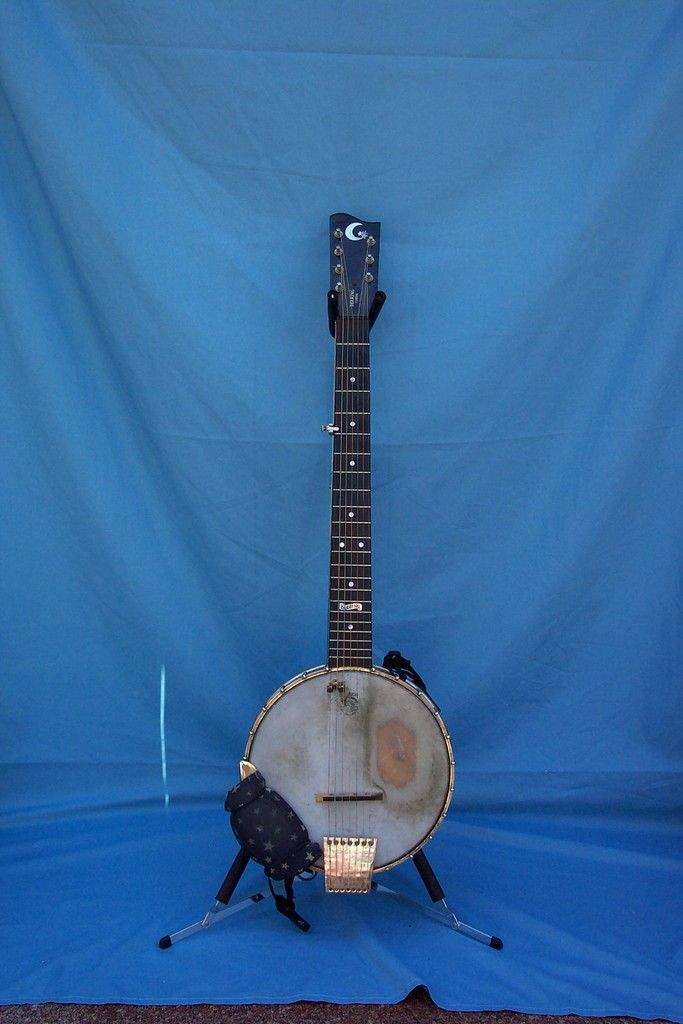 ]