Hey all,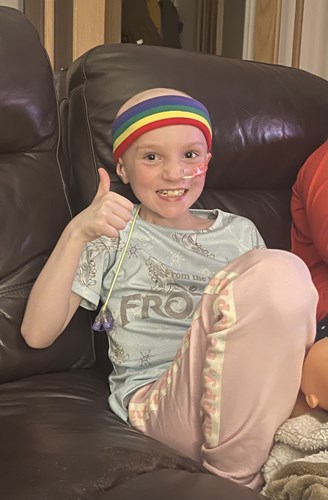 Thought I would post an update.
Thank you all again for your support and donations. We noticed a hell of a lot of donations from TPF, a number of which really stopped us in our tracks (you know who you are!). The 1878 ones made us smile, thank you so much!
Liv has completed her initial chemo treatment and has reacted very well, her kidney tumour has massively shrunk - she had a beer gut like me 6 weeks ago and now as a flat tummy like me 20 years ago! We don't know yet about how the chemo has affected the spread to her lung but fingers crossed.
She has her kidney removal scheduled for Thursday, which obviously is a serious operation.
As you can see, she is a beautiful girl but she is a ####ing fighter and is STRONG. After getting her feeding tube fitted life became easier and she put weight on quickly and adapted to the tube within a week, now things are a lot easier.
We've managed to raise nearly £6k, which given a 20% discount from Smyths toys in Nottingham is over 7k in toys we have ordered. Games, toys, teddies - good ones too, not crappy ones. So the girls and boys coming in over the next year will get something really nice, like a £30 toy story toy or a proper barbie or whatever - something that will really cheer them up! So thank you.
We are getting stronger. It's really tough but you do get used to things and you move forward. We got her wheelchair on Friday and went for a day out to Chatsworth House today, she loved it and was running around like a nutter. Kids are resilient.
She will get better - long road ahead.
Keep your balls crossed for us on Thursday. It's a 6 hour op with a long recovery and then best case scenario is 6 months of chemo and daily radiotherapy for 2 weeks initially. But it's all worth it and she is generally happy and sassy and occasionally a bit of a dick, like every 7 year old should be.
Thanks everyone - you're a great bunch.
Cheers,
Aaron