Bird personalities (northeastern USA)
By popular request, here is a reprise of our Bird Personalities ("tongue in beak", as observed D_Katana). For the time being, on this side of the Atlantic, bird personalities seem to be more interesting than human ones.
If anyone has any favourite non-human personality, please post.
_____________________________
Some local denizens, as seen at the bird feeder and thereabouts:
1. A type: Eastern hawk
Does not follow directions. Does not mix well with others. Makes faces and sticks tongue out disrespectfully. Impatient, impudent and insolent. Spends most of his free time disemboweling weaker individuals. Slovenly eating habits. Sometimes attacks oversized, gentle rabbits just for the sake of wounding them. Antisocial personality disorder.
2. N type: cardinal
Thinks that there exists no other color in the entire world. Cannot keep quiet, even when no one is listening. Loves to listen to his own melodious song. Often acts as if confused at the bird feeder. Easily intimidated by aggressive individuals (see NPA+ type).
3. NPA+ type: blue jay
Omg! LOUD, LOUD, LOUD. Intense eye contact. Thinks that by his mere presence everyone should get out of the way and make room for him. What a bully. Completely oblivious to the needs of others. Narcissistic personality disorder that can rival that of the cardinal or woodpecker.
4. NA type: red-bellied woodpecker
Disorganized, very flighty individual (no pun intended). Cannot be convinced that drilling on the glass part of a window is pointless. Spends much time indiscriminately trying to fertilize eggs in other family groups. Behaves as if his brain were the size of a small lentil. Attention deficit hyperactivity disorder.
5. NP type: turtle dove
Very content to lead a rather bland life but very organized and ritualistic. Doesn't like bright colors. Obsessively and compulsively faithful to his mate for life. Not at all intimidated by the NPA+ blue jay: just ignores him completely.
6. PA type: grackle
Very unlike the blustery NPA+ type, he sits around surveying the weaknesses of others and coolly cackling to himself. Not at all intimidated at the feeder. Becomes carnivorous if the need arises. Paranoid personality disorder.
7. NPA− type: catbird
Very industrious but rather timid at the bird feeder if stronger types are present. Often picks on smaller finches and chickadees if the opportunity arises. Sometimes overemotional, and his "meowing" calls intimidate absolutely no one.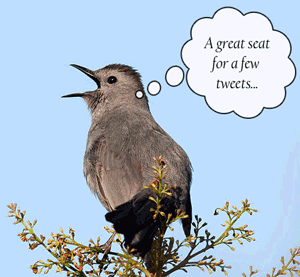 8. NA− type: Eastern bluebird
Sometimes likes to pretend that he is an NA+ type, or even pretend that he is an aggressive eagle. But in confrontations at the bird feeder he is nervous, skittish and easily chased away. His love of bright colors sometimes seems incongruous in relation to his basic spineless demeanor. Tremulous mating call.
9. NP−A type (resigned): robin
Perhaps years ago he socialized at the bird feeder, but no more. He spends his time on the lawn a good distance away. He wouldn't dream of returning to the raucous confrontations with the blue jays, and the grackle gives him the shivers. He doesn't want to bother anyone, and he certainly doesn't want anyone bothering him.