Re:
J Mol Neurosci. 2018 Dec 5. doi: 10.1007/s12031-018-1213-0. [Epub ahead of print]
Altered Global mRNA Expressions of Pain and Aggression Related Genes in the Blood of Children with Autism Spectrum Disorders.
Sener EF1,2, Taheri S3,4, Sahin MC5, Bayramov KK4, Marasli MK6, Zararsiz G7, Mehmetbeyoglu E3,4, Oztop DB8, Canpolat M9, Canatan H3, Ozkul Y10.
________________________________________
It looks like the study is from Turkey.
Yes, if one assumes that the study group was composed of children of the NP type, then the N and P traits would be higher in the study group. In addition, the A trait would be lower (solely due to entanglement of trait N and A). See the figure below.
As one can see in the Figure, the reciprocal (negative direction) effects of entanglement affecting trait A are actually larger thsn the differences in the N and P traits.
Whether one considers that Turkey is a Demonstrative or Authoritarian habitancy, the difference in A trait between the case group (NP subjects) and control group (general population) is very large... 91 or 97 percenr from the Table.
Note that if the study had been done in a Punctilious or Sublime habitancy, very much smaller differences would be found (except for trait P in the Sublime habitancy).
Note the minus signs: frequency of the aggression-related alleles should be much lower in the NP study group.
The difference in P trait is much lower (+ 25% in the Demonstrative and Authoritarian habitancies)... which might explain why there was no difference in the frequency of the 5-HTT/SLC6A4 alleles.
(The figure is from our little
monograph
. The values refer to percent differences.)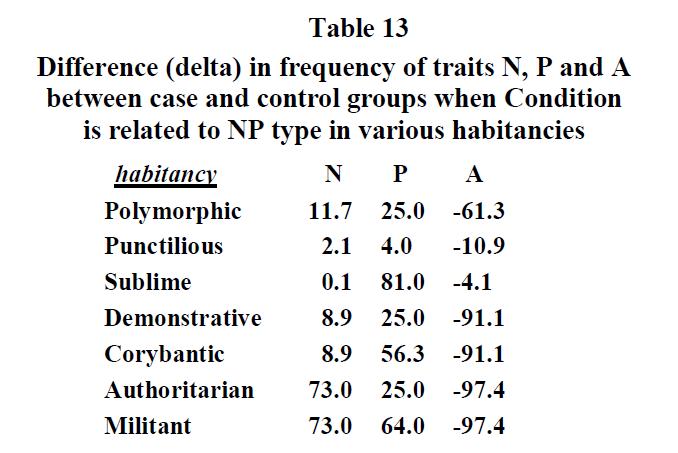 Delta N = white; Delta A - black