NPA personality test result (German version)

p1DF2 : 30-Aug-2018
p1DO2 : A
p1DO3 : 7
p1DP3 : 49
p1DQ3 : 41
p1DO4 : -- ? --
p1DP4 : männlich
p1DQ4 : unter 21

Location: Bavaria
Male, age under 21 years.
Computer output: A or NA type, with S score of 7. High temperament T score, extroversion E score and aggression A scores.
The test shows agreement with either a non-sanguine A type or a sanguine NA type. The Universal Coordinate plot (below) the favors A type, and the very low S score is more commonly seen in A types than in NA types. However, the high temperament and extroversion scores would favor sanguine NA type.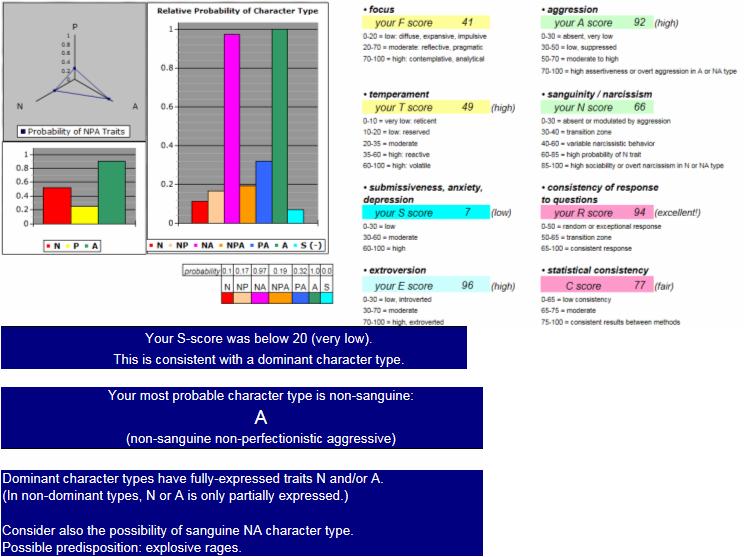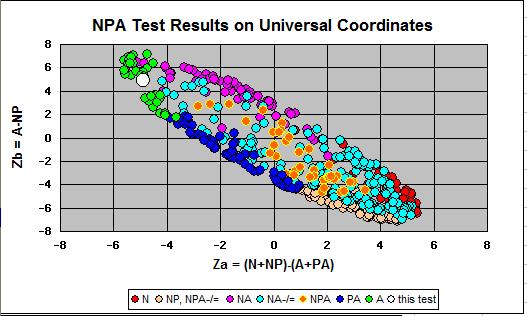 Notice the striking similarity between this test and a previous test (link below) that we posted last year... even though the test takers were from two continents, of different gender, of different age groups, and took the test in two different languages.
The 50-point correlation coefficient (CC) between the two tests was 0.73 (extraordinarily high). An exact match between the 50 answers to the test for the two subjects would be a CC of 1.00.
http://members.boardhost.com/npatheory/msg/1504144814.html