We're just a little late moving this back up to the front of the Board, since we're a good bit past the "Sign of the Ram" (Aries)...but that's how it goes sometimes.
From a recent look at Colin's (Livius's) blog, a higher percentage of the recent work has veered away from noir, but as always he finds interesting "hybrids" to include.
And given that we are leaving Aries for Taurus right now, it's timely to tackle a film that reflects that astrological sign, while also giving us a chance to showcase a portion of the ideas that have surfaced over the years concerning what I'd call (for lack of a better term) "the understructure of noir." That film? THE SIGN OF THE RAM (1948), a film conceived as a vehicle for the highly talented but terribly tragic actress Susan Peters, a "noir psychodrama" that rode the wave of post-war filmmaking devoted to the self-destructive aspects of sexual/familial relations and what Mike Keaney (in his FILM NOIR GUIDE) described as "character disintegration."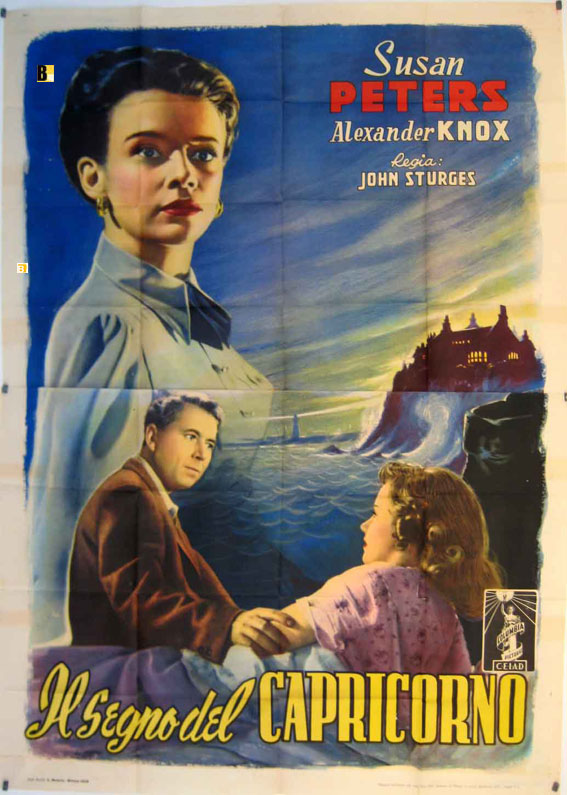 Wonderful image of Susan Peters here in the Italian poster for SIGN OF THE RAM,
even if the Italians confused the "goat" (Capricorn) for the "ram" (Aries)...
Colin focuses on the atmosphere of the film, which resembles an "old dark house" story (which often wanders off into other genres) but is really built around a flashpoint of character disintegration as it occurs to Peters' character, a crippled matriarch whose "will to power" overtakes her in successive waves of manipulative self-destruction. Like most of those who've written about SIGN OF THE RAM (and let's stipulate that the ram is the symbol for the astrological sign of Aries, which is characterized in Margaret Ferguson's source novel as a personality trait which leads to an abnormal high incidence of "death by violence"), he sees it in (at least) a noir continuum.
A few writers, such as "self-styled siren" Farran Nehme, wish to differ WRT "noirness." Nehme has a checklist for an incoherent "sub-genre" involving "old dark house" films, and she never connects the dots between those films, falling back onto the nebulousness of the "thriller" concept (writing in 2009, she unwittingly anticipates the sloppy homogenizing approach adopted by David Bordwell). She places too much emphasis on the "old dark house" aspect of the film's atmosphere, while failing to note how the noir virus creeps into the narrative understructure of melodrama, creating a dark, destructive energy within the characters who've been afflicted by an overdose of alienation.
Nehme (along with others) reference LEAVE HER TO HEAVEN, but there are any number of post-WWII psychological noirs that are much more "on point" with the goings-on in THE SIGN OF THE RAM: think of POSSESSED, with Crawford's descent into madness, or the bipolar marriage at the root of Lean's THE PASSIONATE FRIENDS. There are "co-dependent" relationships that fall apart thanks to an initiating agent (often something or someone from the past), such as MARTHA IVERS. There are other brooding tales centered around an "old dark house" type setting--think of THE LOST MOMENT, or CRY WOLF. Many noirs featuring significantly different plots and characters have creepy set-pieces in ominous, oppressive surroundings.
So merely being in an "old dark house" setting is not a disqualifier for being a "film noir." The post-WWII period (in America, the UK, and France) is highly populated with films that blur and blend these boundaries. (It is still barely on the critical radar how much of this area of noir takes root in the "provincial gothic" films of Occupation-period France, or that the Hollywood emigrés were more likely to make psychological noirs than hard-boiled or "crime noirs"--to use Dan H.'s phraseology.)
The "noir-o-meter" grades out SIGN OF THE RAM at 5.9 (118 out of 200). Strongly noir in characters, with the key (of course) being Susan Peters' Leah, a character in search of an arc of manic manipulation. As resistance to her machinations (a series of false accusations and attempts to control actions via character assassination) escalates, the cracks in Leah's personality begin to appear--portrayed with pathos and precision by Peters, whose own tragic life had given her a series of unique insights into the character.
Visual elements are on par with the average noir--lighting, visual atmosphere, the use of visuals to convey alienation: all heightened. The setting (overemphasized by Nehme and others for its resemblance to "old dark house") is simply a remote or exotic non-urban variant (one which accounts for 25-30% of noirs overall, but is closer to 40% of what we see in the 1945-50 time frame.
Plot and screenwriting elements are less striking that many of the other "melo-noirs," which often use flashbacks and narrative disjuncture to compound their narrative effects. Screenwriter Charles Bennett (an early Hitchcock collaborator who was cut loose after emigrating to Hollywood amidst a certain amount of "palace intrigue" over the screenplay for FOREIGN CORRESPONDENT) would become a reliable sculptor of psychologically-tinged melodrama over the next decade, ultimately returning to England the year after the release of THE SIGN OF THE RAM to direct his first film, a psychological thriller entitled (appropriately enough) MADNESS OF THE HEART.
SIGN OF THE RAM's "melo score" is 152, elevated from the average noir by nearly 40%. Like many of its siblings in the sub-type, its "alienation quotient" is much higher than average, because the details of character alienation are intensely foregrounded in the story and in the characters's responses to what happens.
While Nehme is right to focus on Peters, she under-appreciates pretty much everything else in the film, preferring to make (mostly useless) performance comparisons to other films. Colin takes a more generalized, less judgmental approach to the film, but doesn't fill in as much of the background as he might have, leaving his discussion a bit more diffuse than usual.
To augment one's background knowledge of the film and the work done in preparing it for production, the entry for it on "Mrs. Skeffington's blog" is extremely useful:
https://mrsskeffington.blogspot.com/2016/04/the-disability-in-film-blogathon-susan.html
The Spanish blog CinemaEcensial as presented by Fernando Usón Forniés brings a "Euro-cinephile" tonality to the discussion, veering toward more academic language (pushed a bit too far, possibly, by the auto-translation), but the background on director John Sturges and the depiction of the action in the film (and the details of the rest of the cast--an intriguing mix of highly accomplished and highly-regarded young Hollywood actresses) makes for valuable and thought-provoking reading:
https://www.cinemaesencial.com/peliculas/el-signo-de-aries
It also contains some well-chosen, evocative screen captures.
THE SIGN OF THE RAM is a film that should be placed into the context of what was happening on that "other side" of noir that has been often been under-represented or not properly identified due to what Dan aptly has termed "the hard-boiled paradigm." An international noir festival that traced the roots of "melo-noir" could combine films from all over the world that would capture this phenomenon at the height of its intensity in the 4-6 years after WWII. It would be far more illuminating in what it can tell us about the after-effects of the war on the affected nations as they tried to deal with their various manifestations of "cultural PTSD" during that time frame.
Thanks to Colin for reminding me about this very interesting film--one that you should make every effort to seek out.