Short and sweet from Dave, a former Blackboard habitué with wide-ranging interests and a solid eye for detail. Of course, RAW DEAL is from 1948, and it will play at Noir City in the upcoming festival devoted exclusively to noirs from that year. It might be the best from that year--and it ranked #16 in our "Noir Top 25" poll back in 2005. I doubt it's slipped much in the intervening years...!
WHEN the dark stars of noir aligned, and the genre's most gifted screenwriters, cinematographers, and directors pooled their respective skills--creating formidable cinematic dream teams--glittering gems like 1948's under appreciated
Raw Deal
were often the result. Replete with some of the cycle's most darkly gorgeous and painstakingly designed compositions--courtesy of master John Alton--the film is a semi-hallucinatory plunge into the murky depths of an escaped convicts nightmarish final days, his tortured psyche reflected in the story's shadowy, danger-charged locations.
As much the tale of a faithful moll's emotional suffering as it is a standard revenge yarn, the powerful narrative drive kicks in almost immediately, when within her tense inner monologue Pat (Claire Trevor) reveals that she will assist in the scheduled jailbreak that will prematurely free her man Joe (Dennis O'Keefe). A sacrificial lamb for his sadistic racketeer-boss Rick (a chilling Raymond Burr), Joe is told that upon arriving at a post-break meeting spot he'll be rewarded $50K--with which he will begin a new life in Panama with Pat. But to the scheming Rick, Joe is actually a loose end that must be snipped.
Fresh-faced legal assistant Ann Martin (Marsha Hunt), who took a keen interest in Joe's case (and possibly Joe himself) is understandably startled when she awakens in the middle of the night to find the convict leaning over her prone figure. Their getaway car disabled by prison guards bullets, Joe and Pat need Ann's wheels to meet up with Rick's #2, Fantail (John Ireland), and so they abduct the reluctant accomplice to make sure she stays quiet. To Pat's chagrin, Joe's reasons for bringing Ann may be twofold.
The slow-burning fuse of a plot underway, director Anthony Mann employs Alton regularly to integrate his signature museum-worthy shots, which intensify the sense of dread and inescapable imprisonment. Telephone lines shot from low angles divide and constrict open skies; dark pine trees loom like massive cell-bars. Though "free," Joe is shackled to both his shady past and a mine-field of a future, with his love triangle-on-wheels only muddying up matters more.
The Pat/Joe/Ann dynamic is an exquisitely composed plot element, and one of several things that elevate
Raw Deal
above the mix. Pat is clearly a doting and supportive gal-pal, but no amount of unconditional love can dampen the sparks traded between Joe and his not-so-secret admirer. Representing both a fresh start and a link to "clean" society, Ann is also presented as more feminine--less of a "buddy." When Joe refers to the androgynously named Pat as his "partner" at one point, we are present for the shift in Joe's interest, and feel the sting of Pat's heartache.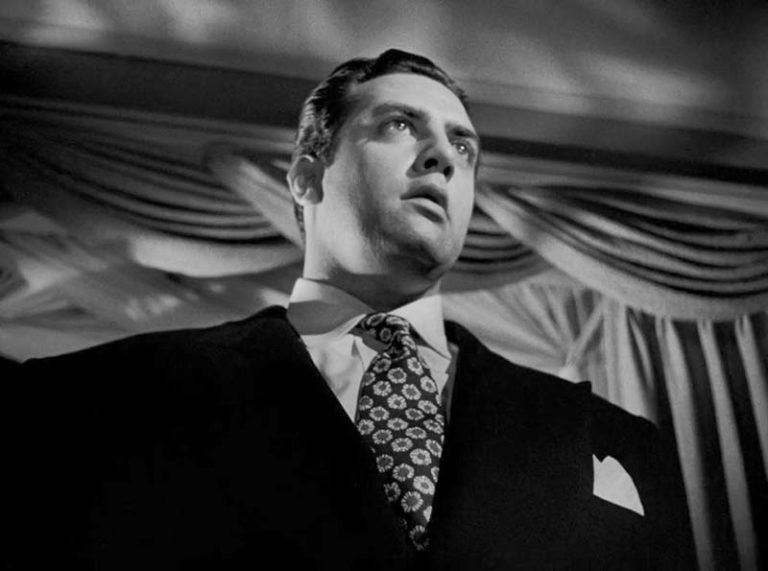 But an escaped con on a tight schedule doesn't need to play out a soap opera while he's on a collision course with the likes of Rick Coyle. A sadist with a fondness for flames, Coyle is one of noir's heavyweight antagonists, and the character's presence is felt even when he's not on screen. Barrel-chested and satin-robed, Rick is shown only in his luxurious lair--someone to whom people are summoned. Shot from below, he's like a bear poised to strike (a visual joke actually used in one scene), and with his main man Fantail regularly and recklessly needling him, the possibility of Rick striking is all-too-likely. A fetishistic sociopath, he will not be challenged. He orders Joe killed--never wanting to pay him off or see him again--but Joe is resourceful and determined. With the help of his lady friends, the expendable and romantically-torn thug overcomes both the lawful and the lawless to reach and confront his erstwhile boss--and does so in a typically bleak but unusually satisfying finale.
Pat's voiceover is unusual--women are rarely the narrators in film noir. This makes some consider
Raw Deal
to be a "woman's picture" disguised as a noir. That is stretching things way too far when you have characters like Rick Coyle and Fantail lurking about, and when our sympathetic hero still requires all of his hard-boiled persona to outwit his former partners in crime who are actively working to betray him. And then there's the "sullying" of the good girl (the scene where Ann is forced to use a gun), something that just doesn't play in a "woman's picture."
Raw Deal
is a brilliant gender variation that remains rough-hewn even as it creates a haunted atmosphere thanks to John Alton's stellar visuals, Trever's hushed, anxious narrative, and the sparing but pivotal use of the theremin. Few films about "losers" are so consistently winning:
is a wonderful deal for lovers of film noir.