Guy Savage, the pen name of British ex-pat Annette Burkin, wrote the first article about Georges Simenon for the NC e-zine, which appeared in 2009.
The Paris Express (aka The Man Who Watched Trains Go By, 1952)
Criminality and the Liberation of Desires
"The interesting thing about criminals, Mr. Popinga, is that they're just like anybody else."
Over the course of his long writing career, Belgium author Georges Simenon made a considerable contribution to noir. While this prolific writer (nearly 200 novels and over 150 novellas) is best remembered for his Maigret books, Simenon also wrote novels called
romans durs
. A literal translation of this term is "hard novels." and these are perfect material for film noir. A tremendous number of Simenon novels have been made into films. Just go over to the Internet Movie Database (IMDB) and type in Simenon. You'll be impressed, and if you hadn't heard of Simenon before, you'll wonder why.
The film
The Paris Express
(aka The Man Who Watched the Trains Go By), from director Harold French, is based on one of Simenon's greatest
romans durs
. It's an incredible novel and contains one of Simenon's favorite themes--a bourgeois, mild-mannered protagonist who through some fluke, some twist of fate, derails from his respectable life. Once cast adrift from respectability and the treadmill of duty, responsibility and employment, Simenon's characters typically escape into an entirely new life, usually in the grimy underbelly of the crime world. For these characters, criminality becomes a liberating event as they shed old habits and routines.
Shot in Technicolor,
The Paris Express
opens with a significant scene. It's the beginning of a workday in the Dutch town of Groningen, and a group of bicyclists wait at a train crossing. The train passes by, and the bicyclists peddle off, but one man is left gazing after the train in awe.
The man is Kees Popinga (Claude Rains), a man whose very name inspires mediocrity and meekness. The middle-aged Popinga is head clerk at the highly respectable de Koster Company, and he's spent his entire working life slaving over the accounting books for the firm. He's a creature of habit, a man devoted to routines--and you can set your watch by Popinga's daily schedule. A railway employee teasingly asks Popinga about his interest in trains, and Popinga eagerly admits that it's not the trains that interest him as much as their destinations, and then Popinga voices a list of those destinations: Amsterdam, Brussels, and Paris, but when he speaks the word 'Paris,' there's a special tone in his voice--a tone of reverence and wistfulness.
Popinga's employer, the dapper Julius de Koster Jr. (Herbert Lom) treats Popinga rather like an office boy, and Popinga responds in turn by being obsequious, parroting back responses to his boss, and shelving emotion in favor of functionality and efficiency. De Koster isn't strictly speaking the head of the company; his senile father remains the firm's figurehead, but he's too addle-pated to even remove his hat by himself.
The first scenes of the film demonstrate Popinga's position in the company and his relationship with his employer. A former head clerk from another (now bankrupt) company humbly begs for work from Popinga, and when Popinga dares support the man's suit, de Koster diminishes both men with one swift display of his power. According to de Koster, the employment-seeker cannot possibly be hired as he carries the taint of bankruptcy. Even though the owner of the now defunct company embezzled the business's funds, de Koster holds the former head clerk responsible for the actions of his employer. The judgmental, self-righteous de Koster maintains that his company has a reputation to uphold "integrity" and "morality." De Koster's stuffy speech may fool Popinga--a man who's been trained to tow the line and follow the rules, but the pompous de Koster doesn't fool the viewer.
The humiliating scene involving the man who sought help and employment from Popinga is hardly over when a second unsettling and unusual incident takes place. Inspector Lucas (Marius Goring) arrives from Paris and announces that he is investigating a money-laundering operation and intends to inspect the company books. The sly de Koster plays a nimble game of evasion by drawing Popinga into the investigation, pointing the Inspector towards Popinga's meticulous accounting books. Popinga, guileless and boringly respectable, asserts that he's kept the books for 18 years and that nothing can possibly be amiss.
De Koster and Lucas play a game of cat-and-mouse with each other while Popinga is a largely oblivious observer. De Koster at one point craftily infers that Popinga may be responsible for embezzling from the company, and yet even as he proposes the idea, he acknowledges the absurdity of such a notion as Popinga as a desperate criminal, with the emasculating comment: "Mrs. Popinga would never allow it."
While de Koster and Lucas agree to meet up at the town's chess club later that evening, Popinga returns home and mulls over some of the inspector's disturbing comments. This scene with his sturdy wife and children establishes him as the family pet. Popinga's children view him with amusement, and his wife keeps a tight leash around his neck. Despite these restrictions, Popinga breaks training, and much to the astonishment of his wife, he abandons his regular routine by insisting on going to the chess club. On the way, he spies de Koster clutched in a heated embrace with a beautiful young woman who then leaves on a train.
As de Koster plays a symbolic game of chess with Lucas, Popinga seems only confused by the subtleties of the conversation, and he's still trying to absorb the fact that his respectable, upright employer is involved in a secret liaison with a beautiful stranger. Later that evening, fate intervenes in Popinga's life, and he finds himself in Paris and on the run from the police...
Simenon's point, as in many of his
romans durs
, is that even the most mild-mannered, respectable, mind-numbingly boring people can become criminals. Twenty years of upstanding bourgeois life can easily be flushed away in the blink of an eye by one small twist of fate. The implication is, therefore, that criminal and non-criminal behavior isn't so much a choice as much as a matter of a lack of opportunity combined with years of conditioning.
The film, with its screenplay written by the director, unfortunately dilutes the book's powerful, complex plot--mainly through simplifying Popinga.
The Paris Express
chooses largely to ignore Simenon's theme by reiterating Inspector Lucas's belief that Popinga has committed only a crime of opportunity and that he basically
isn't
criminal material. However, Lucas also believes that if Popinga thinks the police are on his trail, he will be forced to take desperate measures that are essentially out-of-character.
"When he...runs off to Paris by train, he has no idea how to utilize his freedom, and...he runs around Paris like a deranged hamster on the loose."
The notion of criminality initiated by fate masquerading as opportunity is a theme played out with delectable frequency in noir film. A veritable rogues' gallery exists in this sub-genre where men and women who were trusted, respectable members of society until fate throws temptation into their laps, and where the act of crime liberates their desires. For example, consider advice columnist turned housewife Kathy Ferguson Doyle (Barbara Stanwyck in
Crime of Passion
). In her case, she turns to crime to satiate ambition. And then there's Walter Neff (Fred McMurray in
Double Indemnity
)--a man who turns to fraud and murder when lured by the right pair of legs. Walter Neff is exactly the kind of character Simenon dreamed up for his
romans durs
--a man whose respectable life spent on the treadmill is replaced by criminality so rapidly that he's left spinning. Simenon's protagonists typically discover that escape from a bourgeois life through criminality spurs the liberation of desires.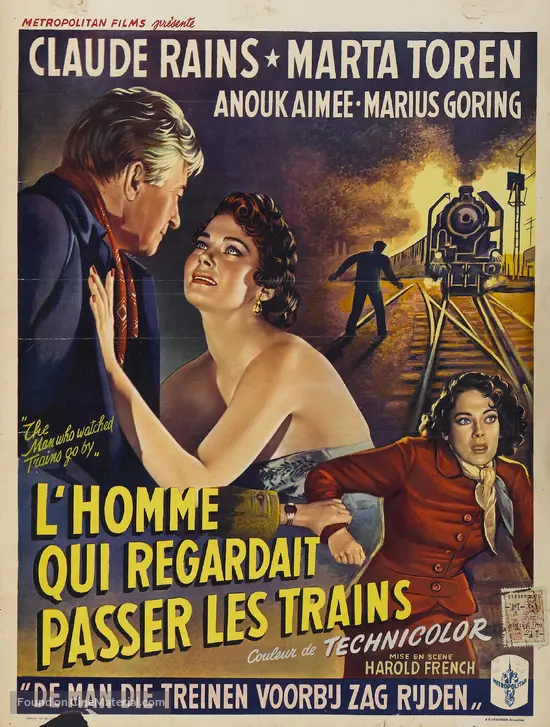 Simenon's fictional Popinga turns to the criminal life with gusto. In
The Paris Express
, however, while Popinga's boring, predictable life is derailed by fate, there's only a partial liberation when he commits a crime of opportunity. Popinga is "The Man Who Watched Trains Go By," and this has both literal and figurative meaning. All those years spent watching trains pass though his little town also represent the years of his uneventful, submissive life slipping away, and fate offers him a chance to morph into a criminal, liberating him to pursue fantasies of glamorous, foreign cities. But when he slips the domestic leash and runs off to Paris by train, he has no idea how to utilize his freedom, and instead he runs around Paris like a deranged hamster on the loose.
The boudoir scene--Rains and Toren (4:07)
Clutching his briefcase close to his chest, he approaches the film's two main female characters, prostitute Jeanne (Anouk Aimée) and de Koster's lover Michele (Märta Torén) with timidity--allowing himself just the occasional groping touch. When Popinga meets Michele for the first time, she lounges in her boudoir, and at one point, she sits against the background of her silk-covered bed while Popinga stands above her. The tantalizing invitation is clear, but Popinga waffles and blows his chance at a liaison with Michele. His longing and lust subvert only to frustration and violence.
Sadly,
The Paris Express
is not a wonderful film: it falters in the portrayal of Popinga. Simenon's novel shows Popinga's inner conflict as he vacillates between mild-mannered meekness, and crafty, violent self-preservation. Both Jeanne and Michele underestimate Popinga, and when they treat Popinga as an object of ridicule, he flips into a darker alter ego. In his relationships with these women, Popinga alternates between salivating adoration and sly calculation. The scenes in the film illustrating Popinga's dark side, however, are largely unsuccessful, leaving the impression that Popinga is an emotionally stunted pervert.
While he comes across as a hideously, creepy little man who's overly attached to his briefcase, more than anything else Popinga seems wildly out of his depth in Paris, where he remains an ogling tourist, narcotized by loose women and the glamour of big city life. And like many a loose rodent, he'll inevitably be squashed by forces much larger and much more dangerous than he ever imagined.
https://www.dailymotion.com/video/x7oq1gm