All of you long-time denizens may recognize the distinctive (and occasionally polarizing) early presentation style of yours truly, in what was one of the earliest NOTWs to be posted at the Board back in 2004, and apparently the first NOTW to be archived at Steve-O's NOTW site in early 2005. (Time certainly flies: that's seventeen years, long enough for a thorough--if fruitless--search for the Maltese Falcon!)

The early noir-o-meter, with far fewer noir elements, was somewhat controversially appended to this essay. It produced a net score of 114/200, or 5.7/10. The revised rating as the method evolved suggested it was somewhat darker and grittier, despite a relatively low score in the hard-boiled elements, adjusting upward to 128/200, or 6.4/10. Films that hide their villains from the audience often display the type of scoring pattern that now more fully characterizes the forces at work in SOMEWHERE IN THE NIGHT, without elevating it above its mostly workmanlike achievement.
Somewhere in the Night (1946)
Director: Joseph L. Mankiewicz
Noir pedigree: House of Strangers (1948), No Way Out (1950), 5 Fingers (1952)
Director of photography: Norbert Brodine
Noir pedigree: House on 92nd St. (1945), Boomerang (1947), Kiss of Death (1947), Thieves'Highway (1949), 5 Fingers (1952)
Lead actors
John Hodiak (Larry Cravat/George Taylor)
Noir pedigree: Desert Fury (1947), The Bribe (1949), A Lady Without Passport (1950), The People Against O'Hara (1951), The Sellout (1952)
Nancy Guild (Christy Smith)
Noir pedigree: The Brasher Doubloon (1947), Black Magic (1949)
Richard Conte (Mel Phillips)
Noir pedigree: The Spider (1945), Call Northside 777 (1948), Cry of the City (1948), House of Strangers (1949), Thieves' Highway (1949), The Sleeping City (1950), Under The Gun (1951), The Hollywood Story (1951), The Raging Tide (1951), The Blue Gardenia (1953), Highway Dragnet (1954), The Big Combo (1955), New York Confidential (1955), The Big Tip Off (1955), The Brothers Rico (1957)
Lloyd Nolan (Lt. Donald Kendall)
Noir pedigree: House on 92nd St. (1945), Lady In the Lake (1947), Street With No Name (1948), Easy Living (1949)
Supporting cast
Fritz Kortner (Anzelmo)
Josephine Hutchinson (Elizabeth Conroy)
Noir icons
Charles Arnt (little man)
Whit Bissell (John the bartender)
Clancy Cooper (Tom, male nurse at sanitarium)
Jeff Corey (bank teller)
Sheldon Leonard (Sam)
Harry Morgan (Bath house attendant)
Houseley Stevenson (Michael Conroy)
Riding the crest of the "writer-director" wave that swept into Hollywood in the early forties (Welles, Sturges, Wilder), Joseph L. Mankiewicz was only a few years away from his career-making triumphs (a pair of hard-edged comedies,
A Letter To Three Wives
and
All About Eve
) when he made his second film (and his first noir),
Somewhere In The Night
.
The archetypes and conventions that soon came to define noir were just being established in late 1945; today, we can see that many of the noir effects in
Somewhere In The Night
rely rather heavily on those established in
Murder, My Sweet
. The lead actor, John Hodiak, is often as sourly intense as Dick Powell's Marlowe, but without the sense of humor/irony that Powell lets seep through now and then. There are flophouses, dives, and insane asylums where menace is waiting, with more questions than answers. The lead actress (Nancy Guild, in her first role in what proved to be a brief career) is asked to be hardbitten (like Anne Shirley's alienated rich girl in MMS)—or, perhaps more to the point, to crack wise a la Lauren Bacall. The cop (Lloyd Nolan) is sympathetic instead of argumentative (Don Douglas in MMS), but fulfills an analogous function in the plot. The riveting opening, with its feverish voiceover and out-of-focus photography, is an understated knockoff of MMS' "drug sequence."
These resemblances by no means sink the film, however; it has its own pace and complexity, thanks in large part to the presence of Richard Conte, one of the true giants of noir, showing his early chops as a smooth, deceptive bad man. Conte is the guy who really murdered the man with two million dollars back in 1942, just before Hodiak (private eye Larry Cravat) ducked into the army, only to emerge three years hence with a new face and a loss of memory. Biding his time, Conte appears to help Hodiak as he careens around some seedy sections of Los Angeles trying to find Cravat--to find himself, as things turn out.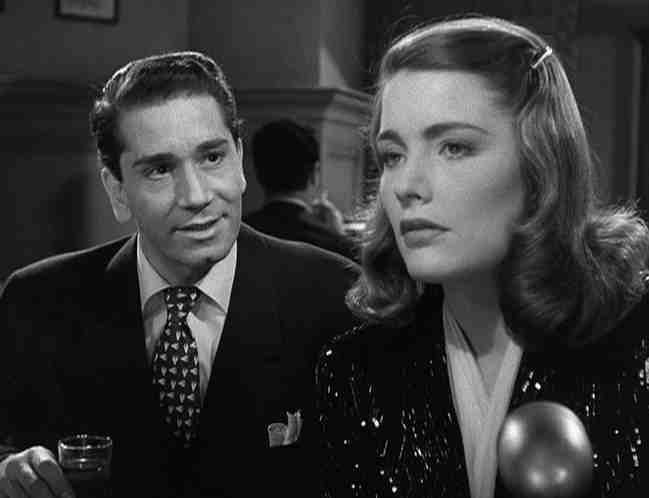 Conte's problem is that the loot is as missing as Hodiak's memory, and he has to wait for Hodiak to piece together enough of his former existence for the clues to kick in and lead him to the money. This leads him to a gang of thugs who are also on the trail of the suitcase full of $1000 bills, led by the erudite but ruthless con-man Anzelmo (played by German silent film star Fritz Kortner, who shamelessly tries to steal the picture). There is also a dime-store femme fatale named Phyllis, who likes to throw around French phrases and is incongruously married to Sheldon Leonard, who plays his lone scene with his usual gusto.
Hodiak finally stumbles into the key clue: there was a witness at the murder, Michael Conroy, an old man who has been in a sanitarium for the past three years (played by the great Houseley Stevenson, whose brief reign as noir's "go-to-guy" for crusty codgers began with this film). Conroy is fatally injured by one of Conte's henchmen, but he is able to tell Cravat where the money is stashed before he dies, setting up the final round of action in which Conte is revealed as the murderer and is apprehended in a shootout with police lieutenant Kendall (Nolan).
In his biography of Mankiewicz,
Pictures Will Talk
, author Kenneth L. Geist relates how intensively the second-time director coached his first-time leading lady, Nancy Guild. Unlike Lauren Bacall, however, Guild had never acted before being signed to a movie contract, and she doesn't quite navigate the type of lines supplied to her by Mankiewicz the screenwriter—lines that Bacall or Ann Sheridan or Susan Hayward would have given a much snappier spin. Guild tries hard, but her line readings are just flat enough to make the romantic subplot a bit too stiff in the face of all else that's going on.
Hodiak underplays his role throughout most of the film, which makes for a fitful performance. A comparison with Bogart's performance in the similarly themed Dark Passage is instructive. We see the fear, frustration and anxiety flashing across the face of Vincent Parry as events play out in DP; Hodiak starts strongly, but he fades into the role as SITN progresses and we lose the ability to register his feelings from his facial expressions.
However, there is one sequence in the film where his "slow register" is perfectly attuned to what is going on. As he tries to find Conroy, he winds up at the apartment of his daughter, Elizabeth (played by Josephine Hutchinson). The anguish of her loneliness and the circumstances that created it cause her to deceive him into thinking that she knew him before the war, and Hodiak's reaction to her admission of this is as beautifully modulated as Hutchinson's quietly escalating desperation. These type of moments disappeared from noir relatively early in the cycle, as the films got tougher and more violent--which is why we should value such moments in noir even if, in retrospect, they seem somewhat out of place to us.
What
Somewhere in the Night
really has going for it is its depth of supporting performances--Conte, Nolan, Hutchinson, Kortner and the ensemble of "noir icons" who add color and texture to the somewhat monochromatic tableau provided by the lead actors. While we come away from things with only a partial sense that the film's themes have been thoroughly explored, the supporting cast keeps the action interesting. The quality of their performances is the primary reason why the film remains engaging and enjoyable nearly sixty years after its release.