Intermittent access to the dormant NOIR OF THE WEEK site is still possible, and so in honor of it being Robert Mitchum's birthday over the weekend, we reprint a solid piece of work commissioned by Steve-O from a mysterious writer named Nauga. A very good examination of a creepy late-noir chiller featuring a face-off between two big-name stars (Mitchum and Gregory Peck).
"At his best, man is the noblest of all animals; separated from law and justice he is the worst." - Aristotle
The road to hell is paved with good intentions. Nearly a decade after defense attorney Sam Bowden (Gregory Peck) acts as Good Samaritan by intervening in an attempted rape, perpetrator Max Cady (Robert Mitchum) tracks him to Savannah, Georgia and begins to deal out long-awaited retribution on Bowden's family. As Cady carefully navigates the ever-thinning line between licit and illicit, Bowden becomes increasingly vulnerable to crossing criminal boundaries in order to protect his wife and daughter.
The threat of the stable family unit by outside forces is a common motif in the noir genre, but never did the threat feel as tangible as it did in
Cape Fear
. An unpretentious film, it was received as coarse and vulgar in its time, yet it provokes a visceral reaction from the viewer as it questions the supposed usefulness of societal law.
The making of
Cape Fear
was put into motion by Gregory Peck, who also acted as producer through his motion picture company, Melville Productions. While his production house may have been named after a respectable author, Cape Fear's origin was pulp - the touchstone of film noir screenplays. Though author John D. MacDonald was a graduate of Syracuse and Harvard universities, the Second World War derailed his life, and once discharged he found himself penning short stories for even shorter stacks of cash.
Thanks to a booming crime novel market MacDonald was well-known by the time he wrote
The Executioners
, which eventually fell into the hands of Peck. Under the impression that films with geographical titles did well at the box office, Peck ran his finger down the Eastern Seaboard until he hit the Cape Fear region of North Carolina. In short order, Peck assigned himself the role of Sam Bowden and handed Cady's reigns over to drinking partner Robert Mitchum.
Peck looked no further than his last director, J. Lee Thompson, who had earned himself an Academy Award nomination with
The Guns of Navarone
.
Cape Fear
would be Thompson's sole expedition into noir territory, but he was enthusiastic about conveying the film's sense of threat and carnal undertones.
Director of Photography Samuel Leavitt had little more experience with the genre. When all was said and done, his offerings were slightly dubious noirs like
Johnny Cool
,
Crime in the Streets
, and
The Crimson Kimono
. Yet Leavitt absolutely understood how to film chiaroscuro; after all, he took home the Oscar for black and white cinematography for
Anatomy of a Murder
and
The Defiant Ones
. Leavitt elevates
Cape Fear
from thriller to noir with his careful attention to shadows and light: he and Thompson shoot Mitchum behind a blur of black wrought-iron, with shadows of bar glasses gleaming on his naked back, and the sheen of sweat and black blood glistening on his skin.
"Hello, Counselor. Remember me?" - Max Cady
Max Cady has spent the last eight years, four months and thirteen days (roughly) with one thing on his mind: revenge against the man whose interference put him behind bars. Or, more accurately, Cady has spent his incarceration learning the loopholes in criminal law so he may legally terrorize Bowden's wife Peggy (Polly Bergen), and teenaged daughter, Nancy (Lori Martin). The film follows Cady as he plagues the Bowden family unit, but always outside the long arm of the law. There are no witnesses when he poisons the family dog. And if he's outside Nancy's school or leering at her on a boat dock? Well, a man has a right to be in public places, does he not?
Not without resources, Bowden pulls a few strings and asks police chief Dutton (Martin Balsam) to roust Cady or dig up some warrants - but he's clean. "You show me a law that prevents crime. All we can do is act after the fact," Dutton complains. When the chief somewhat scornfully suggests a private detective, Bowden hires Charlie Sievers (played by a positively hirsute Telly Savalas) and Bowden is finally given something he can work with. Sievers follows Cady and finds that he has picked up and brutally beaten a young woman named Diane Taylor (Barrie Chase.)
However, it is Cady who is sending a message to the counselor: he's hurt and scared the young woman so badly she refuses to press charges or make a statement. Cady's threat to her looms so large that she flees the city in the middle of the night. Bowden and his wife, Peggy, understand now that this is what Cady means to do to Nancy. It's not the act that is important to Cady; he wants Bowden to think about an attack on his daughter for the rest of his life.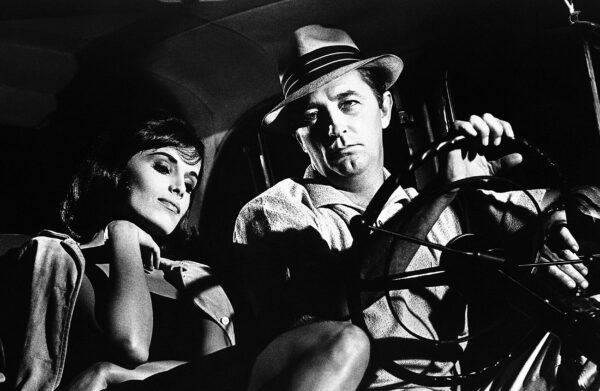 The denouement of the film is particularly tense and almost wordless, and Bowden's indecision about his own capabilities and the practicality of law are neatly tied up. After a nerve-wracking cat-and-mouse through swampland, Bowden has Cady lined up in the sights of his revolver but does not pull the trigger. He dooms him to spend the rest of his life in jail and restores his own faith (if not so much the audience's) in justice.
"You just put the law in my hands and I'm going to break your heart with it." - Max Cady
Although the ending of
Cape Fear
stops short of the anticipated slaughter of Max Cady, the film goes beyond B-grade horror by doing an effective job of exploring the uneasy introspection of the its hero. While Cady patiently bides his time in the murky grey waters of the law, Bowden becomes positively mired in it. He's a man who has built the foundations of his life in the black and white world of right and wrong only to discover that a he cannot use logic to solve an illogical problem.
The core struggle in the film is not whether Bowden will stop Cady's reprisal, but whether he will give up the known truths in his life to operate outside societal rules. Sam Bowden never quite makes the transition into full-fledged noir anti-hero. Though he constantly questions the law's ability to protect upright citizens, he only dips his toes into the criminal cesspool when he hires thugs to rough up Cady after Diane Taylor's assault. After the thugs are neatly dispatched by Cady, Bowden waits for imminent threat to his wife and daughter before he takes personal responsibility; he's only willing to bloody his knuckles within the confines of the laws he stubbornly clings to.
"Max Cady, what I like about you is you're rock bottom. I don't expect you to understand this, but it's a great comfort for a girl to know she could not possibly sink any lower." - Diane Taylor
Draw a line in the sand, because the debate for Mitchum's best villainous role is about to begin. Watch these
Cape Fear
scenes back to back: Cady's soliloquy on the reckoning of his ex-wife, the aroused phone call he makes after he's worked over by a chain, and the treatment he gives Peggy Bowden on the houseboat.
Mitchum's accolades for his work in Charles Laughton's delirious
The Night of the Hunter
are deserved, but his character is not as authentically depraved as Cady. Yes, preacher Harry Powell surely is a devil of a man, but his performance there is somewhat tempered (through no fault of his own) in the dreamlike
mise-en-scène
. Powell's ruse of posing as a preacher renders Mitchum's performance just the tiniest bit hammy - though no less fun to watch. However, Powell is like a character in a nightmare the audience can wake up from. Max Cady's foundation is realism; you find him not in your nightmares, but in your local tavern.
Inevitably, what made Cady such a great noir baddie caused great concern for the censors: he stares unabashedly at a scantily clad adolescent and slowly smears raw egg across a woman's décolletage. Mitchum doesn't walk in this film, he oozes. During the climax he slithers into the swamp like a cottonmouth. Any perceived slight gives Cady the motivation for savagery, and he wallows in the fun of it.
Though censors had grown more lenient since the inception of the Hays Code, they were still vigilant with respect to two issues. Gone was Max Cady's past as American Government Issue. In the past, noir films had gotten away with the unstable soldier issue by giving characters a good case of shell shock or amnesia, but Cady goes through life as a psychotic rapist, unchallenged by the Army or prison.
Gone too, is the real reason Cady focuses on Bowden's daughter. The original attack the good counselor tried to prevent was not on a woman, but a fourteen year-old girl. Cady finds a certain humor and justice in despoiling Bowden's adolescent daughter. While British censor John Trevelyan lopped six minutes of Cady's degenerate behaviour off the UK version, American censors gave Thompson a little more leeway with his film. Good thing, too: his portrayal of Bowden's antagonist is the driving force behind the film and
Cape Fear
would fall flat with a tamer villain.
Cape Fear
is a transitional film, one of the last that can claim noir roots. If its predecessors were thoughtful noir films like
Act of Violence
, then
Cape Fear
ushered in the era of psychological horror along with
Psycho
. It was not well-received by audiences despite the release of Hitchcock's film two years prior. It came up about one million dollars short of production costs.
"What on earth is Gregory Peck doing in such a movie?"
The New Yorker
wondered, calling it "A repellent attempt to make a great deal of money… out of sexual pathology." Indeed,
Cape Fear
would be the last film put out by Peck's Melville Productions.
But in Hollywood everything old becomes new again, and when Martin Scorsese remade Cape Fear as an homage to Thompson's film, Peck received a rather late return on his investment and a new audience was introduced to Max Cady. While Robert DeNiro's Cady is fun to watch, it is Mitchum's performance that has stood the test of time.
Cape Fear
is ageless: still unapologetic, still chilling, still raising relevant questions. Watch this one at night with the lights turned low and raise the volume for Bernard Herrmann's disconcerting hymn to depravity.