https://www.cinema.ucla.edu/events/2022/05/20/cover-up
Dennis O'Keefe was the prime mover for COVER-UP, as you'll see in the film notes at the above link.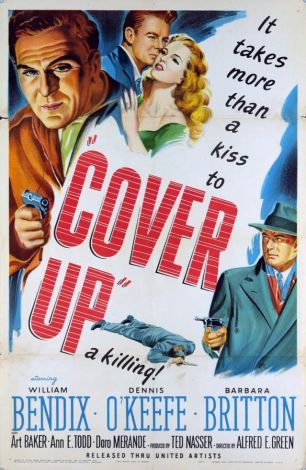 This is a Packard Humanities Institute restoration, with no involvement from FNF. Their most recent effort THE ARGYLE SECRETS, which they've resolutely played at every film festival they've put on in 2022, will also play in the UCLA Preservation Festival, since the actual restoration work was performed at UCLA.
Also in the festival lineup is FORCE OF EVIL, which is more than a bit mystifying since the 2012 Olive blu-ray looks quite sharp. Of course any screening of the film is worthwhile, and it was pulled from the NC Hollywood lineup in favor of THE BREAKING POINT, so perhaps this is just part a kind of "inside baseball" shell game amongst venues. Re-reading John McPhee's look at the film's promotion/production history indicates that a special promotional piece created by MGM for the film, with unseen-to-this-day footage of Garfield laying out the whos, whats, and wherefores of the numbers racket, is still lost in the vaults somewhere.
We'll hope that COVER-UP will make it into future FNF festivals now that a more fully restored version is available. With the "NC Xmas" event possibly in limbo, the prospect of using this film (set at Christmas time) in that gimmick seems less likely than would have been the case previously.