NO MAN OF HER OWN was the Noir Alley selection for this week--a fine choice on Eddie's part for a noir on Mother's Day. A quintessential "melo-noir," "woman's noir," the film makes use of all of the legitimate gradations that should exist in an examination of the intersection of noir and the "woman's picture"--the protagonist Helen Ferguson is simultaneously a "woman in distress," "a woman in peril," and a "woman in jeopardy."

These terms, with their legitimate gradations of meaning, all apply to a woman who is pregnant out of wedlock, blackmailed by her no-good former lover, and is in hiding while impersonating another woman who died in a train wreck she survived. With Barbara Stanwyck in the role, we also see a generous amount of female agency at work as she actively resists the physical, psychological and legal dangers laid in her path. Frank M. Young has a solid handle on this most unusual and highly accomplished film.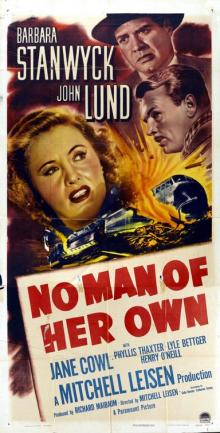 "The Call" comes to Patrice Harkness (Barbara Stanwyck) on an idyllic summer night in a lush home, nestled in the cozy, safe streets of Caulfield, Illinois. "The Call" is a central moment in film noir. It is often an agent of doom. Noir people know "The Call is coming": it can happen anytime and any place.
Patrice sits nervously, patiently, in her well-appointed living room. She is trying to live a normal life with her easy-going husband and her infant son. It's late. She's almost convinced herself she's safe. "The Call" couldn't come tonight.
But it does. The phone rings, and in its aftermath, Patrice and Bill wait for the cops to arrive. Patrice takes her child upstairs, to put him to bed. In the few minutes she has left, after "The Call," Patrice relives the series of traumas, coincidences and cover-ups that have put her where she is, and in the fix she's in.
No Man of Her Own
is Barbara Stanwyck's show all the way. The 1950 film is a throwback to Stanwyck's hard-bitten Depression-era melodramas. At first glance, it seems similar to such films as
Baby Face
(1933),
Ladies They Talk About
(1933), and
Night Nurse
(1931).
Those films were the product of pre-Hays Code Hollywood. They laid their cards on the table matter-of-factly. Their candor can still shock 21st century viewers.
1950 Hollywood was a far different place. Things once said out loud could now only be whispered. Some studio film-makers thrived in this stylistic shell game: among them was Mitchell Leisen, A-list director for Paramount from the '30s to the '50s.
Leisen had a bad rep for many years, mostly due to negative things said about him by Preston Sturges and Billy Wilder. Time has refuted their criticism. Leisen did right by both future auteurs in his direction of their screenplays
Remember the Night
(1940, and also with Stanwyck),
Midnight
(1939) and
Hold Back the Dawn
('41).
Leisen was a major stylist who worked within the constraints of the Hollywood system. His films are remarkably individual: florid, atmospheric and eccentric.
No Man of Her Own
was Leisen's only full-bore film noir. Part crime story, part suspense story, part woman's picture, the film sustains a remarkable tension and ambiance that befits its source material.
What I said about Leisen also goes for Cornell Woolrich, the author of
I Married a Dead Man
, the 1948 novel upon which
No Man Of Her Own
The film's screenplay, written by Sally Benson and Catherine Turney, stresses the woman's angle, with a fervor that anticipates Douglas Sirk's non-noir melodramas of the later 1950s.
This film is a compelling blend of visual and audial atmosphere, heavy emotional themes and a wide swath of Hollywood acting styles. Its coincidences and baroque twists pile atop each other, much like the tangled train cars that set Patrice's story into morbid motion.
I don't like plot synopses, either, so I'll get this out of the way quickly. Patrice's flashback quickly reveals that she isn't Patrice. She is Helen Ferguson—desperate, broke and pregnant. She has been abandoned by her impregnator, the utterly unlikable Steve Morley (played to oily perfection by Lyle Bettger).
Helen comes on her hands and knees to Steve, who refuses to see her. He just shoves a cross-country train ticket—and five bucks—under the door of his apartment. Helen doesn't take his money, even though she's down to her last 17 cents. She does take the ticket, and the train.
En route, she meets the real Patrice Harkness (Phyllis Thaxter), and her husband Hugh (Richard Denning). Like Helen, Patrice is pregnant. The likable, vivacious young couple takes sheepish Helen under their wing. For the first time in ages, it seems Helen's bad luck streak is over.
Then, the train they're on takes a turn for the worse. In the wreck, the young Harkness couple dies. In a Woolrich-enriched twist of fate, Helen is mistaken for Patrice, and is nursed back to health. She also becomes, in short order, the mother of a healthy baby boy. By the time she understands her situation, it's too late. She tries to tell the truth, but isn't taken seriously.
Instead, she is taken in by the Harkness family (who have not yet seen or met her). They think she's Patrice, the doctors think she's Patrice, and Helen goes along with the ruse, for the baby's sake. As pauper Helen Ferguson, she can't give her child a proper life. As the pretend-Patrice, she's entitled to all the trappings of the landed gentry.
Helen isn't the sharpest tool in the shed, and she repeatedly makes mistakes that have the potential to betray her deception. Only one Harkness sees through her charade: Hugh's brother Bill (John Lund). Bill is sympathetic. He's also smitten with this faux-Patrice.
John Lund and Barbara Stanwyck on the set of NO MAN OF HER OWN
They fall in love, and Helen/Patrice's future suddenly seems brighter. And then a certain oily impregnator steps into the picture, demanding money…
Then the "Noir Downward Spiral" kicks in. Event compounds event; dark paints over light. Patrice, Bill and the Harkness family matriarch (Jane Cowl) are tangled in a web of murder and double-crosses.
Sincerity and attention to detail distinguish
No Man of Her Own
. Perhaps to counter-balance the plot's ludicrous twists, a solid, tactile world, rich in visual detail, is created to strengthen the film.
Significant moments are shown purely in visual form. Helen's open palm, with its miserable 17 cents, betrays her utter poverty in a way words could not. First-person POV scenes at a hospital convey the utter disorientation and terror Helen experiences after the train wreck. Late in the film, Helen's desperate actions are expertly orchestrated. She opens a drawer, finds a gun and bullets, opens the phone directory to the taxi section, and dials the phone. That tells us all we need to know.
Benson and Turney's screenplay, which also gets across narrative information in fresh ways, fully embraces the intensity of Woolrich's novel. They achieve unusual, almost autistic moments when they reveal Helen's inner monologue, which typically consists of staccato repeated phrases with a pounding rhythm.
Their efforts are abetted by another film femme: editor Alma Macrorie. Although many of Macrorie's cues are telegraphed by the screenplay, her timing is immaculate. The editing's nervous, sharp rhythm is central to the film's success.
Benson and Turney create a haunting character in Patrice/Helen. Their inherent goal is to ennoble her--and most of the other female figures in the film.
Strong women, who are also good women, rule
No Man of Her Own
. They do the right thing, are welcoming, accepting, sympathetic and don't pry. Only in this benevolent world could a fragile figure like Helen Ferguson survive and find happiness.
From Cowl's Mother Harkness to Josie, the attitude-enriched maid (played to perfection by Esther Dale), the film's women are highly motivated, stable, confident individuals. Patrice/Helen remains shakily virtuous, even when her actions and motivations might seem suspect.
The film's one bad girl, Morley's girlfriend Irma (Carole Mathews), is a throwaway character. She appears in two scenes and is awkwardly used as the
deus ex machina
of the film's surprise-packed final minutes.
Leisen, a gay man who made the least straight Hollywood picture of the 1940s,
No Time for Love
(1943), knew what it felt like to be an outsider. His personal experience informs his highly sympathetic treatment of Stanwyck's troubled character. He makes it clear that she is no criminal. She does what she does for the selfless benefit of her infant son. And, after many a spin, the karma wheel does come to rest in her favor.
Although its ending is not 100% happy--there are tinges of doubt and trouble implied--
ultimately rewards Helen for her suffering and her desire to find her place in the world. The film's earlier back-story allows Stanwyck to wallow in the misery she so convincingly conveys.

Later, a masterful sense of atmosphere and place suffuses the movie. Scenes of blackmail, murder and the disposal of a corpse play against a remarkably real winter-scape of ice, snow and slush. If they didn't go on location in these scenes, this is Hollywood illusion at its most impressive.

The discovery of Morley's corpse is a scene full of telling detail. Shadowy, silent streets give way to a grubby office. A radio blares oppressive swing music, which resonates in the shabby hallways, as Stanwyck steels herself for a confrontation. What she finds inside are fragments of a desperate life. This is one of the great scenes in all of film noir.

No Man of Her Own also teems with caricatures, stock figures and gobs of sentimentality. Some of the film's motifs recall Leisen's Remember the Night of a decade earlier. (Besides Stanwyck, snow and goggled-eye black characters, both films share a scene at a rural justice of the peace.)



Hal Wallis and Barbara Stanwyck on the set of NO MAN OF HER OWN

An admixture of noir elements, soap-opera, sentimentality and style, No Man of Her Own is a remarkable achievement from one of the peak years of film noir. It is genuinely odd, at times ludicrous, but it bears its maker's compelling, distinct personality.