>More solid work by Mike in locating the films at the dawn of film noir...

This post includes my response with additional background about the film, which might have set a record for how many versions of it were made so quickly.
Posted by Solomon on 5/4/2019, 12:37 pm
Andrew Spicer includes this in his German film noir list. "The Man Who Murdered" or "The Man Who Committed Murder".
For a detailed and very helpful plot summary, see
https://conradveidtforever.wordpress.com/film-reviews/sound-films/der-mann-der-den-mord-beging-193031/
This is a scan from the book "Conrad Veidt on Screen".
My copy runs 72 minutes, whereas IMDb says 93m. Indeed, the clipped version does have some jarring transitions and inferred deletions. This is a shame because this movie is really compelling.
The director was Kurt Bernhardt (later Curtis). The movie was remade in English with the title "Stamboul" (1932) and that version is said to run 75 minutes, but I have no copy.
The time is 1912 and the place is Constantinople. Assuming you've read the summary or even have seen this movie, I will make a few comments from my impressions.
The movie has some great atmosphere, including shots of Rumelihisarı (also known as Rumelian Castle and Roumeli Hissar Castle). Later there is a scene in an Istanbul landmark, Hagia Sofia, between Colonel Sevigne (Veidt) and the married woman, Lady Mary, he loves and wishes to save from her domineering and brutish husband (Lord Falkland). The architecture is magnificent.
The framing is first-rate throughout, and so is the cinematography which has a relatively soft yet well-defined look to it. The dialog is not voluminous. Bernhardt relies upon his cast and his own framing to convey the messages. The conflicts are clear but underplayed. The tensions are mostly under the surface but signaled subtly.
Lord Falkland's build and demeanor represent the British bulldog, although because the film is German, I couldn't help but suspect that this character was also meant to represent a similar type of German. I'm thinking of the cousins going to war. Caught in this loveless marriage is Lady Mary, who is "anything you like, Spanish, French, Creole, I was born in Havana". She's dominated, colonized if you will, by the powerful Lord Falkland, who goes to brothels with his buddy, a minor Russian diplomat, who makes a pass at Lady Mary. Sevigne is extremely polite but immediately sees the situation that bedevils Lady Mary. Her husband forces the issue and compels her to confess falsely to an affair so that he can wrest their son from her care.
Sevigne's friend Mehmed Pasha, a police authority, warns him about getting in the middle, but Sevigne sees no choice but murder if he is to free Lady Mary. However, all that Pasha does in the event is banish Sevigne. He returns to Paris and Lady Mary signals her intent to join him there. She tells his manservant that she'll be "very happy" to hear from him. (The scanned summary says the opposite, that they'll be permanently separated.)
The fact that Sevigne murders and goes scot-free is because Pasha says there is a "higher authority" and he apparently shares Sevigne's conscience and dislike of Lord Falkland's behavior. We may also suspect that Pasha wanted Falkland out of the way for both personal and political reasons. There is no simple resolution of morality in this story.
Re: Der Mann, der den Mord beging (1931) 72m
Posted by Don Malcolm on 5/5/2019, 9:27 am, in reply to "Der Mann, der den Mord beging (1931) 72m"
There are apparently four different versions of this film shot within a year of each other:
DER MANN, DER DEN MORD BEGING (Bernhardt, 1931, Germany) Conrad Veidt, Trude von Molo
L'HOMME QUI ASSASSINA (Bernhardt-Tarride, 1931, France) Marie Bell, Jean Angelo
STAMBOUL (Buchowetzki, 1932) Rosita Moreno, Warwick Ward (UK)
EL HOMBRE QUE ASESINO (Buchowetzki, 1932) Rosita Moreno, Carlos San Martin (Spanish language version)
Actors listed are those who also played the Veidt/von Molo roles.
Multiple language versions were quite common in the early days of sound film, but I can't recall seeing another with four versions.
I've seen DER MANN and it falls into two interesting areas as regards noir. First, it is in that very early sound period where directors were still adapting to narrative changes brought about by the removal of devices required by silent film. Many early films are combos of the two approaches, and you can see this ground shifting in 1930-31: Bernhardt is about 75% of the way to the type of sound film we view without a second thought. As the writeup notes, he relies on Veidt to carry off some things through visual implication rather than dialogue.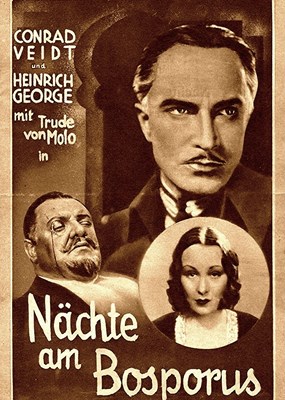 Second, it's in what I'd suggest is the immediate formative period of film noir, where crime acquires a set of visual and narrative "enabling contradictions" that look to remove melodramatic elements from the story and focus it on myriad forms of alienation. In silent films the narrative constraints didn't sufficiently permit the revelation of personality and character via actual dialogue, and hence can't explore the specific details of a character's alienation in a way that highlights perversity or escalating moral or mental deterioration, etc. With sound fully in place by mid-1930, films could start tackling those types of stories and add shadings needed for noir. In '31 you have several films that get us closer to fully-blown noir, such as Siodmak's INQUEST and Duvivier's MOON OVER MOROCCO.
In a slightly different way, THE MAN WHO MURDERED is there as well, though it retains more of the melodramatic elements that would later be reconfigured into gothic and women in distress films which form a major basis of 40s noir. (Dan Hodges might well join us and claim, not without some justification, that THE MAN WHO MURDERED is a woman in distress film. But that form does stem from melodrama and, if one can say it this way, kind of "rejoins" noir after its initial inception in the 30s via the spy noir--which has stronger female characters who often put themselves in danger). 40s women are more individualized, more subject to neuroses that are at least partially their own (as opposed to those imposed upon them, as in the case of THE MAN WHO MURDERED's distressed lady, who is rather non-descript and there largely to create a catalyst for the not-quite-as-shocking-to-us-now notion that some men just really need to be murdered...)
THE MAN WHO MURDERED takes place in an exotic locale, which is another general feature of 30s films--much ado about the mysterious, exotic Near and Far East throughout the decade, continuing on into French noir. That shift occurs due to the intersection of crime and decadence, psychological detection and the dangers of alluring flesh, the desirability of chaos and the need to (re-)establish order even in the face of society's glaring shortfalls. As with several other films from '31, THE MAN WHO MURDERED is very close, but its moral ambiguity isn't quite enough to put it over into noir--the film is too steeped in a nineteenth-century morality to capture the underlying squalidity at work in a world that's crossed the line into systematic criminality.
Curt Courant and Jean Renoir at work on LA BETE HUMAINE
The film gets a tangible boost from its highly talented cinematographer, Curt Courant, like many at this time moving from Germany, first in France (where he'd work with Litvak on an early noir, COEUR DE LILAS, in 1932, and Fedor Ozep in the flamboyant AMOK a couple years later, before moving to the UK, where he'd work with Hitchcock on THE MAN WHO KNEW TOO MUCH and, later, with eventual US emigre Bernard Vorhaus on HIDEOUT IN THE ALPS, another version of the "exotic" thriller. He'd return to France in time to lens two poetic realist classics, LA BETE HUMAINE and LE JOUR SE LEVE, the latter taking him deep into what would shortly become recognized as the arsenal of noir visual dynamics. (He also was DP on LA MAISON DU MALTAIS, one of the films in FRENCH 5 1/2--playing in the middle slot of a 30s triple bill which begins with the first noir, LA NUIT DU CARREFOUR).