Selected due to the fact that when Noir Alley returns on April 2 from its TCM hiatus due to the "31 Days of Oscar" programming that runs throughout March, PITFALL will be the first film presented by Eddie.
By the time he helmed
Pitfall
in 1948, Hungarian-born émigré director André de Toth had a filmography consisting of a handful of largely forgettable films, and was perhaps better known as the husband of the beautiful Veronica Lake. Although he'd have success later in his career, most notably with the 3-D horror film
House of Wax
, a growing number of people have come to believe that in
Pitfall
he has created one of the finest, and most unique, entries in the film noir canon.
PLOT RECAP (SPOILERS APPLY)
Pitfall
opens with the seemingly idyllic suburban life of John Forbes (Dick Powell), insurance company claims adjuster, his wife Sue (Jane Wyatt) and their young son Tommy.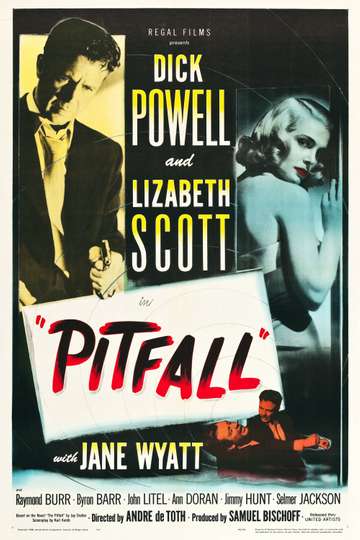 It soon becomes apparent that this vision of the American dream is simply an illusion, at least to the melancholy John who dryly complains of the rut "six feet deep" that he feels himself caught in and his longing for something more exciting and less routine in his life.
Forbes finds more excitement than he bargains for via "Mac" MacDonald (Raymond Burr), a private investigator hired by his firm to track down and recover insurable gains. MacDonald points Forbes in the direction of Mona Stevens (Lizabeth Scott), possessor of several items purchased for her by her imprisoned ex-boyfriend Bill Smiley (Byron Barr) using stolen money insured by Forbes's company. During the course of his investigation MacDonald, known as "gruesome" around the office, has developed an attraction towards Mona. Forbes opts to go and see Mona himself to re-inventory the stolen gains.
After a very rocky start, in which Mona strikes at the very heart of Forbes' personal dissatisfaction with his current life by calling him a "little man with a briefcase," the two spend the afternoon boating and sharing cocktails before Forbes returns home quite late into the night after the implied adultery. It is worth noting that Forbes does not offer up the information that he is a married man, nor does he wear a wedding ring. Forbes' late return is not lost on a lurking (and jealous) MacDonald.
After warning, then threatening Forbes who meets again with Mona, MacDonald takes a more physical approach and administers a brutal beating to him. Hearing that Forbes is sick and out of the office, the faithful Mona attempts to deliver some cheer and chicken soup, only to learn the truth of Forbes' marital status which leads to severing their relationship. MacDonald, however, doesn't quite buy into this he continues his stalking of Mona and issue additional threats against both her and Forbes, including informing the soon to be released Bill Smiley of the dalliances between his girl Mona and Forbes in the hopes of forcing a confrontation.
This all leads to the ultimate confrontations where an armed (by MacDonald) Smiley heads to a forewarned Forbes' house and MacDonald, awaiting the outcome of this confrontation in which he expects one man to end up dead and the other imprisoned, heads to Mona's to force her into leaving with him.
Smiley is killed by Forbes and upon hearing the news over a police scanner, Mona in turn kills MacDonald. Although in the apparent clear, Forbes has a fit of conscience and confesses all to his wife who declares that in the interests of maintaining the illusion of their perfect family he not tell the police. Continuing his need for conscience cleansing, Forbes does tell all to the police. Forbes' killing is considered justifiable self defense, but Mona may not be so lucky. In the words of the DA, he believes they are "holding the wrong person upstairs".
Forbes stumbles from the police station to find his dutiful wife awaiting him, reluctantly willing to give their marriage another chance, while Mona's fate hangs in the balance.
[END SPOILERS]
In
Pitfall
, de Toth has mostly removed the noir film from the urban settings of the large, looming city, populated by gangsters and cops, and placed it firmly in the suburbia of America populated by the everyman (or everywoman). By creating a domestic noir, de Toth taps into feelings of familial incarceration which is more easily related to by (and thus more disturbing to) the everyday Joe. While very few of us would act on any of our impulses the way Forbes does, it would be folly to suggest that many haven't occasionally felt trapped in their own domestic or employment rut. In this context,
Pitfall
serves as a cautionary tale with great effect, even though the ultimate punishments seem misplaced.
One other characteristic standard that de Toth manages to turn upside-down in Pitfall is that of the
femme fatale
. In other reviews or comments on this film, I've frequently seen Mona Stevens (Lizabeth Scott) referred to as the femme-fatale of the story. My own view is quite different as I view Mona as the doomed innocent. Mona's lone faults are that she commits with her heart and she attracts the wrong men. Of the three men in her life throughout the film, one is arrested for embezzling in order to provide her gifts, one is a sadistic stalker and one is a philandering husband who manages to place her in further peril.
In none of these instances is Mona responsible for leading the "innocent" male characters towards their doom. Instead, it is the actions of the men who lead Mona to hers. Indeed, Mona's respect for the sanctity of marriage and the family, only further imperil her to the point of requiring forceful self defense in an act that may ultimately mean jail or death for herself, while the cheating Forbes is returned to his loving, though damaged, family. Clearly it is Mona who suffers the most of the pair at the hands of the film's homme-fatal characters.
Pitfall
represents something of a zenith on several fronts. As a unique and subtly complex noir, it is arguably the best work from director André de Toth (though some prefer his later noir
Crime Wave
). It also represents some of the finest acting from the three main leads--Dick Powell in a more nuanced role than that of Philip Marlowe and one in which he hits it perfectly; noir icon Lizabeth Scott (in what I consider to be her best role); and Hollywood heavy favorite Raymond Burr delivering at the top of his game as well.
Pitfall trivia
:
• Andre de Toth was originally hired to do a rewrite of the script before accepting the director's chair.
• Humphrey Bogart was originally cast as the film heavy MacDonald, but was vetoed by de Toth in favor of Burr, an actor he had never seen work before.
• de Toth was also responsible for the casting of Lizabeth Scott.
• Powell was originally attached to the project as an executive producer.