...and we hope that date will hold for the kickoff of our 2022 "long series" extravaganza at the Roxie that explores 36 rare and remarkable midcentury films in 18 double-bills on select weekend matinee dates, one or two double bills a month, running through October.
The series encapsulates all of Midcentury Productions' ongoing cinematic obsessions: French noir, international noir (with a few rare/overlooked American noirs mixed in), "the other side of the lost continent" (French non-noir from the 1930s-60s) and unusual selections from around the world (similar to the spirit of our 2016 MIDCENTURY ECLECTIC series).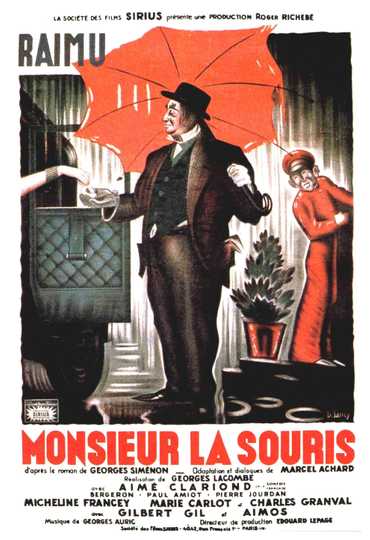 The opening double bill, originally scheduled for 1/29, will be a selection from the postponed SIMENON 2020 series. First, MONSIEUR LA SOURIS (1942, Georges Lacombe) in which a flamboyant tramp (the great Raimu) discovers a wallet stuffed with francs that is adjacent to a dead body: complications ensue. Then, TEMPTATION HARBOUR (1947, Lance Comfort) where a similar plot set-up happens to Robert Newton, but with vastly different results (he's tempted by both the cash and the shapely form of Simone Simon, who gives this Brit-noir some Gallic flair).