A reminder that there are a number of noir(ish) films from Sweden in the 1940s-1960s that deserve a place on repertory movie screens.
Posted by Solomon on 12/17/2018, 5:44 pm
Listed as drama, this Swedish film written by Ingmar Bergman is noir. The story is told partly by a pal of the protagonist named Ragnar (Stig Olin) and partly by the protagonist. That starts and finishes it, thereby framing a flashback, maybe even a flashback within a flashback at one point; and also coming into a different point in the present before the present present--I think. So, this gets a high score for flashback and complex narrative. Bergman juggles it very skillfully so that it's always interesting and suspenseful. I will take a screenplay of his any day, even without his direction. The film certainly has shadowed cinematography at every available opportunity. It becomes prominent starting around the 28-minute mark and Act 2. Black and white naturally.
Ragnar participates in some of the action as the story of friend Martin (Alf Kjellin) unfolds, starting with a suicide attempt precipitated by Ruth (Gunn WŚllgren), his mistress, leaving him for good. No glamorized protagonist, he's a married man with a little son, his wife being Frida (Anita Bjork). Leave it to Bergman to introduce the hidebound older generation, parents, wherever possible. Martin and Frida seem content enough, but that's far from enough of a defense against the seduction of Ruth. She's a most complex femme fatale. Martin is immediately taken by her, and he's a jealous sort. The complications of their relationship are heightened when he deserts from his 4-month callup to army, the time period being 1945, near the war's end. Both he and she go through a range of emotional changes, ranging from lust to love. While they know each other, Bergman raises doubts, as Martin does, that they really do know each other. And Martin's return to his wife and son is never ruled out, no matter how heavy his passion for Ruth and hers for him. Locations are properly seedy at times for a noir, as they must go into hiding.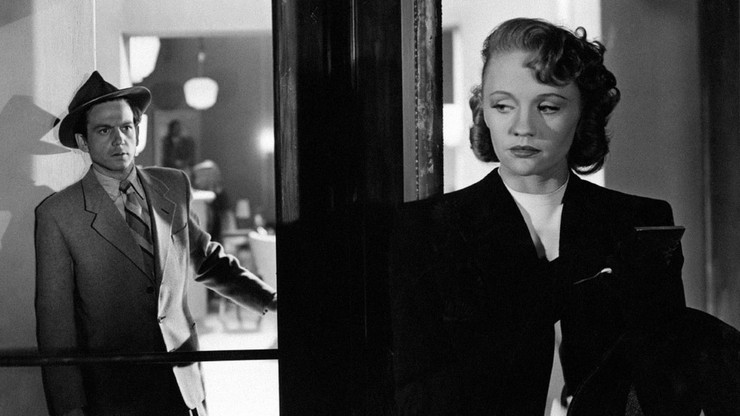 The acting is very good. Gunn WŚllgren is a standout in a fine cast, even the small parts. Her seduction of a stocky chimney sweeper memorably establishes her character. The production is meticulous. I find this movie very easy to take, much easier than many stuffy British dramas. Bergman's script gets right down to brass tacks. It runs 99 minutes.
Actually, the movie really focuses more on Ruth than Martin, and even Frida at times. It might be called a woman's picture, which I like for their depth and mystery. One can watch them again and again. Toward the end, we get a lot of Ruth's back story, whereas we do not get this of Martin.