Amongst the audience at the Roxie Sunday were a dozen or so folks who'd not returned to movie theaters since the beginning of the pandemic...it was a most moving tribute to the deep bonds that have grown over the years since THE FRENCH HAD A NAME FOR IT first pushed past the standard approach to film noir and slowly, inexorably forced others to up their game.
And it was clear after eight hours and four films (a return to the vintage immersion that the festival is famous for--or is that infamous?) that the folks were experiencing the cumulative magic that comes from programming that ties together disparate threads and gives them a unique emotional progression (thanks to Elliot Lavine for the many object lessons in how such can be achieved--no one has done it better or more consistently).
From the woozy, wanton intro to A DOUBLE TOUR to the plaintive, black-screen musical coda in DES GENS SANS IMPORTANCE, it was a full day at the cinema, with a rapt audience soaking up the dialogue as well as the action They awaited the revelation of a murder steeped in strange, decadent madness; they watched youth outsmart itself and betray its ideals, leading to the type of tragedy that Marxist literary critics suggest is inevitable when one suffers from "false consciousness"; they drank up Max le Menteur and the disintegration of his seamless world, confronting the paradox that a well-dressed man can be forgiven for his brand of toxic masculinity if he is loyal to his lesser cronies.
And they were enveloped by the masterly synthesis of themes, visuals, sounds, and elements (as in "the elements" as they entered the world of DES GENS SANS IMPORTANCE, where Gabin is no swell-suited Max, but a middle-aged guy in dungarees named Jean who drives a truck, burdened by a fraying marriage--and who finds a disillusioned young woman (Francoise Arnoul) who jump-starts a second chance at life for both of them, only...
...only you have to see the film on the big screen to fully appreciate that term, "masterly": when everything clicks, and when we see how seamless the integration can really be between noir and melodrama, where atmosphere, verbal economy, and sharply-drawn characters combine with on-target cinematography, faultless plot management and brilliant sound design to produce something utterly sublime.
Having been profusely thanked by so many, I must pass along those accolades to Henri Verneuil (better known as a "Saturday night director" with his many heist/action films), his cinematographer Louis Page (look up his credits, he's the least known of the French lensmen), and of course to Gabin and Arnoul, the latter of whom is remembered mostly for her sexual allure. But as Gabin said about her: "My job was to get out of her way. We cheated a bit with a few items that I could not have known, but it gave her the room to capture the hearts in the audience before breaking them."
And we must not forget Pierre Mondy, brilliantly realistic and down-to-earth as Gabin's sidekick. Add perfect casting to the list of Verneuil's triumphs in making a film that can absorb and release so much range of emotion. Finally, the voluptuous young Dany Carrel is sly and sassy in her role as Gabin's starstruck daughter--we'll see her all grown up in PIEGE POUR CENDRILLON (1965), where she will demonstrate that, like Arnoul, she's much more than just an alluring body.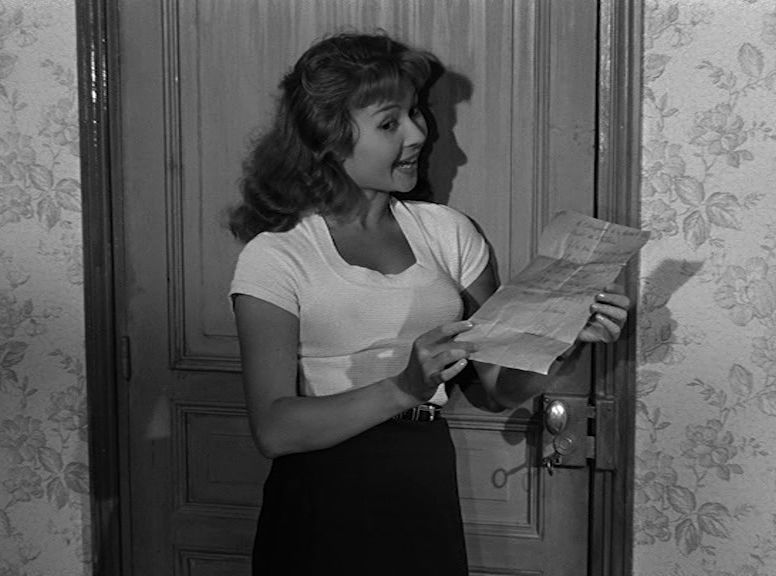 BTW, the Roxie gets new seats at the end of the year. Maybe then some folks will finally let go of the notion that they're "slumming" to go there...