While that spy noir series (below...keep looking!) is a top-notch way to add range and credence for a revised concept of "noir"--which remains under various forms of attack despite its continuing widespread use--we don't really expect it to be the showcase for the next NC SF festival. (We figure they will make this #19 due to the "layover effect of the pandemic, and that 2023 will be the year most likely for a return to "San Francisco noir"--that figuring leaves us to figure that 2024, when NC is "all grown up" and can legally drink at its own festival, would be the year for spywear to lock lips with barware...)
But what to show in '22, then? Well, as remains as true as it was posited in 2014 when we put the NC e-zine in the side-view mirror, we are never at a loss for ideas regarding this "stuff," and so we have a peachy plan to make use of two unusual "auteurs" of noir as part of a special festival mash-up that is unquestionably near and dear to Eddie M's heart (and to his hip flask).
We call it...JOAN & JOHN.
JOAN, as in Joan Harrison, ready for a big-screen closeup.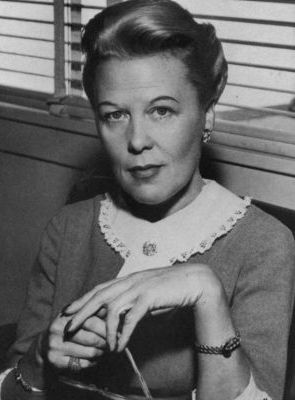 JOHN, as in John Farrow, one of the most enigmatic directors in Hollywood during the noir era, complete with a lurid life that's at last ready to be splashed on the big screen thanks to the work of two Australian filmmakers, Claude Gonzalez and Frans Vandenberg, who've teamed up to create JOHN FARROW: HOLLYWOOD's MAN IN THE SHADOWS, a 96-minute documentary that screens today (!!) at Il Cinema Ritrovato in Bologna.
JOAN & JOHN can cover some very interesting and unusual noir (and, as some like to say, "noir-stained") territory from the late 1930s to the mid-1950s, and will provide a sharp point of delineation between a feminist perspective (Harrison's pioneering role as producer) and the patriarchal ooze that the womanizing Farrow spread around at Paramount during his salad days. It's a great way for the host to have it both ways, so we're figuring this idea is pretty irresistible (save, of course, from the source from which it springs).
Let's be undaunted by any/all of that, however, and continue to risk a fifteen-yard penalty for what those football refs like to call "encroachment." How to make this festival work? Let's presume a 14-day schedule for 2022, since there will be some desire to make the "return of NC" something special. We'll set it up so that there are a couple of days where the Castro (we presume the venerable palace and its ownership will have patted itself back into shape by this point in time) will be dark, in order to get three weekends' worth of movies in hand (and to give attendees a little breathing room along the way).
So, with that in mind, we kick off JOAN & JOHN with...
JOAN
(of course).
Friday, January 21, 2022
SUSPICION/DARK WATERS (JH as writer)
Saturday, January 22, 2022
Free matinee: TELESCOPE/A Talk with Hitchcock (featuring JH)
LUX VIDEO THEATRE (1955) "Suspicion" with Kim Hunter & Dan O'Herlihy
Evening: PHANTOM LADY/THE STRANGE AFFAIR OF UNCLE HARRY
Sunday, January 23, 2022
Free matinee: SUSPICION/"Four O'Clock" (1957) (JH as producer)
SUSPICION "Voice in the Night" (1957) with Barbara Rush, Patrick Macnee, James Coburn, James Donald
Evening: THEY WON'T BELIEVE ME/NOCTURNE
Monday, January 24, 2022 (theatre dark)
Tuesday, January 25, 2022
ALFRED HITCHCOCK PRESENTS
"Lamb to the Slaughter" (1958) with Barbara Bel Geddes
"The Crooked Road" (1958) with Richard Kiley, Patricia Breslin
"The Diplomatic Corpse" (1957) with Peter Lorre, George Peppard, Mary Scott
THE MAN WHO KNEW TOO MUCH (1934) (with JH on-screen cameo) with Peter Lorre
Wednesday, January 26, 2022
CIRCLE OF DANGER/LOVE HATE LOVE
Thursday, January 27, 2022
Two with Robert Montgomery
RIDE THE PINK HORSE/EYE WITNESS
--And then (with one interruption...), on to
JOHN
...
Friday, January 28, 2022
THE BIG CLOCK/FIVE CAME BACK
Saturday, January 29, 2022
free matinee: JOHN FARROW--HOLLYWOOD's MAN IN THE SHADOWS (x 2)
Evening: CALCUTTA/FULL CONFESSION
Sunday, January 30, 2022
NIGHT HAS A THOUSAND EYES/ALIAS NICK BEAL
Monday, January 31, 2022 (theatre dark)
Tuesday, February 1, 2022
A BULLET IS WAITING/PLUNDER OF THE SUN
Wednesday, February 2, 2022
BACK FROM ETERNITY/BLAZE OF NOON
Thursday, February 3, 2022
THE UNHOLY WIFE/THE SHRIKE (uncredited on-screen cameo!)
Friday, February 4, 2022
FNF restoration--Cy Endfield
THE ARGYLE SECRETS/IMPULSE
Saturday, February 5, 2022
Mitchum!
HIS KIND OF WOMAN/WHERE DANGER LIVES
Sunday, February 6, 2022
Jonathan Latimer sans John Farrow!
Matinee: 3 rare "B's" from Latimer novels featuring Preston Foster
THE WESTLAND CASE/THE LADY IN THE MORGUE/THE LAST WARNING
Evening:
THE GLASS KEY/THE WHOLE TRUTH
One might argue this is little padded, but it makes for a great late 40s collision with a brand of noir that's refreshingly different from the mainstream. Plus it finds a choice weekend slot for the FNF restoration project, along with another rarely seen Cy Endfield noir. The boys get three weekends to pack folks in, and the die-hards get some interesting rarities, including a klatch of Farrow-Latimer collaborations.
All in all, we find this more than swell enough to earn a the festival a shift from ordinals to Roman numerals. Since NC SF is always on a crash course with the Super Bowl anyway, it's high time they made the switch. With Steely Dan's "Hey Nineteen" kicked into play as the festival's intermission tune,
all the fedora-ites will be sure to hail "Noir City XIX"
...