Reprinting Owen's writeup of our 2017 French noir festival at the Roxie, aka "THE FRENCH HAD A NAME FOR IT 4." I think #4 and #5 1/2 would make for a stellar "overview" series on the scale of a "Noir City"--I may post a version of that separately. Here, however, we have an acute and appreciative correspondent giving us a solid look at what was probably the most wide-ranging collection of film in the entire series. Note also that this follows up with more details about LE BONHEUR, referenced in a recent reprint from the always-vulnerable back pages of the board.
Friday, Nov. 3
The fourth edition of "The French Had A Name For It" began last night at the Roxie. Renegade programmer Don Malcolm calls this edition: "Despair. Delirium. Destiny." Opening night was devoted to America's gift to France, Eddie Constantine.
As is appropriate, we must proceed with Caution. Lemmy Caution. The American gangster Lemmy Caution has escaped from the Oklahoma State Prison and is heading for France. THIS MAN IS DANGEROUS (Jean Sacha 1953). And this man leaves a string of dead bodies – male and female, friend and foe – in his wake as he plots the kidnapping of a beautiful American heiress in order to worm his way into an international criminal enterprise. The enterprise beats him to it, and turns on him…maybe because of that badge he wears.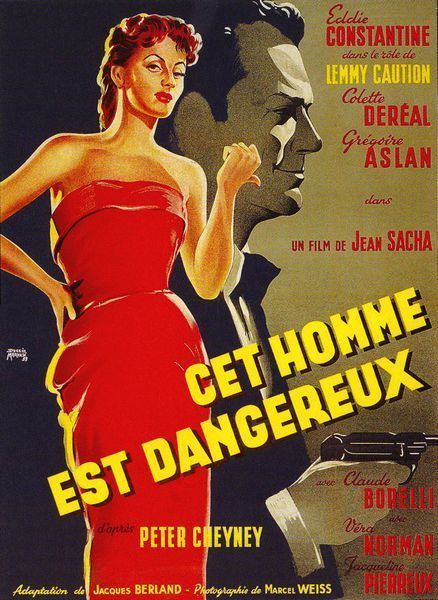 THIS MAN IS DANGEROUS has the third appearance of Lemmy Caution on film (the first was in a segment of FULL HOUSE, directed by Henri Verneuil in 1952), and the second in 1953 to have Constantine portraying him. Constantine reprised the role in ten more feature films in France, Germany, and Norway, in a TV movie and two TV episodes. Other than that first movie in 1952, he is the only actor to play the role. Constantine is Lemmy Caution. Lemmy Caution is Constantine. Tough guy. Smirk. Scotch – poured, not shaken or stirred.
Of particular note, especially to Welles obsessives, is the look – composition and editing – of the film, particularly the first third or so. Sacha's filmography is short, and he was primarily an editor. Two years before this film, he was the editor for Welles' OTHELLO. It showed, and wonderfully so.
The final sequence of the film is a long fight (as if there hadn't been plenty of fights earlier) in a barn with stylized fisticuffs and deus ex machina weaponry, providing a mash-up of exaggerated gangster/crime/film noir scenes and anticipating Hong Kong martial arts movies. Caution the Indestructible. Plus the kidnapped woman keeping her female captor at bay with a fire hose, then the tables being turned after a tussle in the hay, then equilibrium restored. Delirium as entertainment.
The second film, LUCKY JO (Michel Deville 1964), confounds nearly all notions of film noir. Made the year before Lemmy Caution was sent into outer space by Jean-Luc Godard in ALPHAVILLE, Constantine is Jo. Jo is everything that Lemmy isn't. A loser at everything he does. Or is he? He and three friends rob a bank. One gets caught due to an unforeseeable glitch and does time. The other three greet him when he is freed. Tellingly, two are on one side of the gate and Jo is on the other. Jo has a sense of guilt for what happened. Another robbery, another unforeseeable glitch, another gets caught and does time, and the above repeats, including Jo's sense of guilt. Finally, Jo gets caught and does time, but upon greeting him at his release, the other three say they don't want to be involved in capers with him anymore. His involvement dooms any caper. He feels guilty.
Four men commit a robbery. Jo's and one of his old pal's fingerprints are all over it. But they weren't involved. Unfortunately, it's Jo's fault that they appear guilty. Jo, again, feels guilty. Jo goes to find the guilty parties and bring them to justice. He does. Two of the four, however, are his old pals. Jo feels guilty. Guilty enough to put himself out of his, and everyone else's, misery? Lucky? Maybe yes, maybe no. Despair. Delirium. Destiny. Yes. And, whether you want to believe it or not, Comedy. Despair, Delirium, and Destiny as the structural components of the Human Comedy.
This was the seventh of Deville's thirty-three films as director. He was assistant director for ten films directed by Henri Decoin, one of which appeared in a previous "The French Have A Name For It" program: RAZZIA SUR LA CHNOUF (1955). RAZZIA and LUCKY JO are at different ends of the Despair-Delirium-Destiny spectrum, and that is just one of the joys of discovery at "The French Had A Name For It" programs.
Saturday, Nov. 4
Given our programmer's general antipathy toward the Nouvelle Vague and the Cahiers du Cinema crowd, it came as a bit of a shock to find that the Saturday matinee was two films by Claude Chabrol. The day's first offering, LE BEAU SERGE (Claude Chabrol 1958), even though sometimes cited as the first movie of the Nouvelle Vague, seems to owe more to Italian Neo-Realism than to anticipate the Nouvelle Vague. It is certainly noir at its core. It also is a movie that, if watching at home, I would hit "Pause" about every 30 seconds to admire and to consider the composition and the corresponding dialogue. There is simply that much going on at all times.
Francois, a young, educated man recovering from a bout with TB, returns to the rural village of his youth. Nothing about the village has changed, yet everything about the people has changed. His best friend from his youth, Serge (Gerard Blain – what an intense performance! And he returns later in the day), who once had great promise, is the town's young drunkard and spouse abuser. As Francois, in his naivete, scratches the surface of the village, he discovers secrets that perhaps are better to be kept secrets. Francois struggles between saving Serge, and thereby himself, by maintaining an objective, superior, and perhaps arrogant distance, and becoming a part of the village, represented by his relationship with the sensual underage Marie (Bernadette Lafont, who also returns later). Francois certainly changes as a result of the struggle. One can only guess as to whether anyone or anything else changes.
The second Chabrol film was LES BONNES FEMMES (1960). A group of four young women who are friends and co-workers, each represents a character trait – a party girl (Jane – the return of Bernadette Lafont), a quiet seeker of romance (Jacqueline), a money and status seeker (Ginette), and a secret life (Rita). Out one night, Jane and Jacqueline share time and, in the case of Jane, more with two of the most obnoxious males in cinema history this side of Harvey Weinstein. As that evening starts to unfold, Jacqueline admires a parked motorcycle. Its owner appears to admire her from afar. Through the various episodes, he makes mysterious short reappearances. The two obnoxious guys reappear by chance at a swimming pool where the four young women are, and the men immediately start sexually harassing them, all in the name of a good time. The mysterious motorcyclist reappears to save them. That results in Jacqueline and the motorcyclist each confiding their interest in each other.
He and Jacqueline take a romantic walk in the country.
There is a dance. A young man and young woman who have just met confide their interest in each other.
Men are predators. Or: Despair. Delirium. Destiny.
The Roxie evening was a trifecta of Jean Gabin. As I mentioned to a friend at intermission, the only people who don't love Jean Gabin are those who have never seen Jean Gabin.
GAS-OIL aka HI-JACK HIGHWAY (Gilles Grangier 1955) has Gabin as a single working class truck driver. As all fine films noir should, we quickly find him in his lover's bedroom, over the elementary classroom in which she – Jeanne Moreau –teaches (okay – I sometimes remind my film classes that a desire for a foolish verisimilitude is the hobgoblin of small minds). There's an armored car robbery by four men. One takes the money, but splits with it. The other three hunt for him. Gabin, in blinding rain at night, runs over a body in the road. Maybe he was already dead? Maybe he had a valise with millions of francs that is now missing? Maybe the police and the robbers are all after Gabin? Truckers of the world unite! Did I mention Gabin and Moreau? Fun movie, but Gabin and Moreau are the primary reasons to watch.
LE DESORDRE ET LA NUIT aka THE NIGHT AFFAIR (Gilles Grangier 1958) is another of the dozen films Grangier directed with Jean Gabin, nearly a quarter of Grangier's feature film output.
Gabin is a detective investigating the murder of a nightclub owner who also was involved in the drug trade. This immediately puts him into contact with the owner's young and stunningly gorgeous mistress (Nadja Tiller, a two-time Miss Austria). She is the daughter of an industrialist who she emotionally blackmails to support her, threatening that she will turn to prostitution if he doesn't. Rather than being disgusted by this manipulation, Gabin is smitten. Her drug habit fills him more with sympathy than with loathing. They are lovers. It also provides him with an entryway to the upscale world of drug addiction and the solving of the murder. And with his meeting of pharmacist Danielle Darrieux along the way, there is further intrigue. Plus, there is interaction with the nightclub headliner, the marvelous Hazel Scott.
For me, the film takes a spot just on the edge of film noir. The narrative and setting are there. The dialogue is generally there, though its oft-comic moments tend to undercut the tension that it otherwise builds. This is one of those films that, after viewing, I immediately want to see again. Not because it was that great, but because another viewing, now armed with the knowledge of its contours, would likely provide more revelations into the psychological aspects of the film. The intrigue of film noir.
The evening closed with the French Film Noir All-Star team. Actors include: Jean Gabin; Marina Vlady; Bernard Blier; Robert Hossein; Lino Ventura; Gabrielle Fontan; Gerard Blain; and, Julien Carette. Cinematographer: Claude Renoir. Screenplay (as depressing as a Russian novel): Charles Spaak, adapting and updating a novel by Fyodor Dostoevsky. CRIME AND PUNISHMENT (George Lampin 1956).
Life is misery. Misery is the result of arrogance. Arrogance is the belief that redemption is not necessary. Redemption, if it comes, comes at the end of life. And life is misery.
Gabin, Vlady, Blier and Hossein--their performances with Spaak's words..there is nothing more that I can say other than:
Despair. Delirium. Destiny.
Sunday, Nov. 5
The English titles for the afternoon fare were HAPPINESS and HATRED (as programmer renegade extraordinaire Don Malcolm pointed out in his program notes). Noir being noir, might one expect a sense of irony?
"Forgive me."
Is there love after attempted murder? Is there love before attempted murder? Is there love? Charles Boyer and Gaby Morlay explore the possibilities in LE BONHEUR aka HAPPINESS (Marcel L'Herbier 1935).
Boyer is a sketch artist for an anarchist newspaper. A right-wing newspaper purchases his services to sketch France's favorite actress (portrayed by Morlay) upon her return from Hollywood. She's a diva of the highest order, aided and abetted by her hanger-on husband and her agent (Michel Simon providing a comic element). Boyer attends her live appearance, mixes in the throng outside the stage door, and shots her. Luckily, it was only in the shoulder.
At trial, Boyer contends he shot her for political reasons--she was the person best-known among the masses and she was available for an assassination attempt. Morlay turns her trial testimony into a stage play, pleading with grandiose magnanimity that he be forgiven, and Boyer countering that he does not want her forgiveness. He gets an 18-month sentence.
Upon his release, she files for divorce and Boyer becomes her paramour. The sincerity of each is questionable at first, but eventually appears real. Boyer explains that his attempt at murder was initially fed by his politics, but upon hearing her rendition of "Le Bonheur" at the concert, he became obsessed to have her only to himself and that the only way to do that was to kill her. That story becomes the basis for her next film. And the story begins to replay itself when she is called away at midnight for a…reshoot.
The narrative and the performances are magnificent. And L'Herbier's eye is equal to them. Bordering on the avant-garde at times, even the opening credits are stunning. He was a visual experimenter and innovator in his earlier films, and brought a court case that established in France that a director has a right to be considered the auteur of a film. He founded a film school at which students included Louis Malle and Costa-Gavras, and was president of Cinematheque Francaise during WWII. Also, in the early-1900s, a lover shot him and, then, herself. All that now forms the basis for further exploration of his work. Forgive me for not having already done so.
MOLLENARD aka HATRED (Robert Siodmak 1938) was Siodmak's next-to-last screen credit before coming to the United States. Eugen Schufftan was the cinematographer; LE QUAI DES BRUMES aka PORT OF SHADOWS (Marcel Carne 1938) was his next film. Charles Spaak wrote the scenario. Darius Milhaud composed the music. Harry Baur is the star. That's enough for a recommendation.
Commander Mollenard is a ship captain and, for a little extra money, arms smuggler. He loves his crew, as they do him, and being on the sea. It also helps that he hates his nagging, upper-crust wife. There is symmetry. She hates him for being away for months at a time and for coming home. She has even turned their children against him.
While in Shanghai, the smuggling is detected and he is to be suspended. His desire to cash in big with this last haul turns into a war with an arms buyer. While returning home, there a fire on the ship – a time bomb planted by the arms buyer – and it sinks. The commander and crew, as survivors of a sunken ship, are given a hero's welcome. The commander wants none of it, preferring the sea, the crew, and the alcohol to being at home with his shrewish wife and turncoat children. But before he can head back to sea, he falls deathly ill and is required to stay at home in bed to be tended to – and tormented by – his spouse. Then the hatred truly comes to the fore. Death, of someone in some way, some manner, will be a relief.
Siodmak is finding his noir footing on his way to Despair, Delirium, and Destiny.
Then came the evening of Scheming & Scandal in Cinema!
Robert Bresson. Those two words are all I need to watch a movie. His second feature film, LES DAMES DU BOIS DE BOULOGNE (1945), does not disappoint.
A gentleman drops Helene (Maria Casares) off at her posh apartment at night. He tells her that her other man, Jean (Paul Bernard), does not love her. She enters the apartment and greets Jean. She calmly explains that she has grown distant and their affair needs to end. Jean is relieved because he was about to say the same. He wants to remain her confidante and assures her that he will never be able to find another woman to compare to her. She expresses similar sentiments. It's the infamous mutual break-up with "let's remain friends" coda! One knows this will go awry.
Helene sees two old friends, a woman and her daughter, Agnes (Elina Labourdette), who have fallen on hard times. Agnes is a cabaret dancer and a prostitute, with her mother as the pimp. They hate their lives. Helene takes them away from that, putting them in a new apartment. She thinks Jean would be well suited for Agnes, and arranges a meeting. Jean is immediately smitten by her beauty and innocence. Agnes is not similarly smitten. Helene surreptitiously advises both. The more Agnes remains unmoved, the more Jean is moved. Agnes finally relents and they marry. Helene joyfully arranges everything about the wedding, including the guests...Agnes' former clients.
Add Humiliation as a component of the Despair-Delirium-Destiny troika. And add Helene to the list of Conniving Women of Noir.
With a final scene that is reminiscent of Jean Cocteau's BEAUTY AND THE BEAST (1946), but with the genders reversed.
LES DAMES DU BOIS DE BOULOGNE dialogue written by...Jean Cocteau.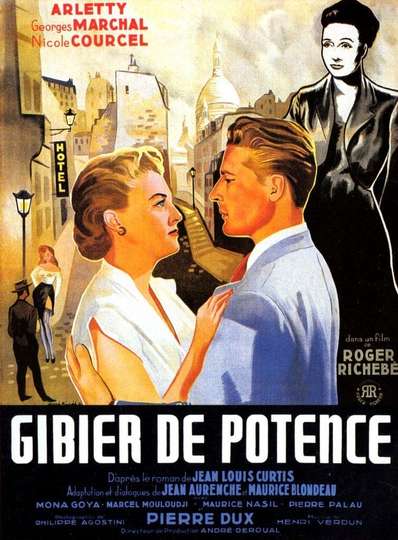 The night drew to a close with a reverse angle and GIBIER DE POTENCE aka GIGOLO (Roger Richebe 1951), starring Arletty as Madame Alice and Georges Marchal as Marceau.
Marceau is fresh from the army, but with no prospects. Flashback: Leaving the strict Roman Catholic orphanage, meeting a middle-aged high end lingerie shop owner, Madame Alice, who thinks he would be a marvelous photography model, posing with a young woman for a few French postcards, and, with Madame Alice as his ever encouraging and supportive agent, becoming a gigolo who seems to sabotage his relationship with each client after a while. WWII and his entry into the army break that pattern.
Now out of the army, he has the irresistible impulse to return to Madame Alice. The pattern returns. Through it all, Madame Alice gently rejects Marceau's advances. He wants to know why. She says that when she was eight-years old, a man...and the explanation is left unstated. Madame Alice takes him to a resort. He meets a sweet virginal young woman (Nicole Courcel). They are smitten. Her family approves of him as an appropriate husband. Madame Alice had not brought him there for love, but for securing a job with the wealthy family.
Madame Alice waves those French postcards under his nose. They smell of the past and blackmail. She will go even further when Marceau refuses to take the bait, unleashing, once again, Despair, Delirium, and Destiny.
Magnifique appariement, Don!
Monday, Nov. 6
Monday and More Moreau.
Our final night begins with L'ETRANGE MONSIEUR STEVE (Raymond Bailly 1957). Georges (Philippe Lemaire) is a young man working in a dead-end bank job sitting across a desk from his fiancée who seems a bit more eager for marriage than he does. Georges has a happenstance meeting with M. Steve (Armand Mestral), who appears to take a liking to Georges. M. Steve is leader of a gang of bank robbers (with Lino Ventura as the enforcer). Georges is perfectly situated for a nice robbery. And the allure of the money, not to mention the allure of M. Steve's mistress, the seductive Florence (Jeanne Moreau), sucks in Georges.
The more Georges is seduced by Florence and the more he is seduced by money, the more his character transforms from innocence to guilt. He must, however, decide what is most important to him: love, money, or innocence. Of course, Florence's priorities among that trinity may also play a role.
Witnessing Lemaire's character transition is a major attraction, as is the major catalyst for that transition, Moreau. It is all nicely presented by cinematographer Jacques Lemare, who went on to work primarily in television, but who previously was the cinematographer on POISON IVY (Bernard Borderie 1953) aka Eddie Constantine's first portrayal of Lemmy Caution, NON COUPABLE (Henri Decoin 1947), which appeared in "The French Had A Name For It 3", and LA REGLE DU JEU (Jean Renoir 1939).
We close with MADEMOISELLE (Tony Richardson 1966). Not exactly the feel-good movie of 1966. Don considers this the end of film noir.
Cruelty. It is about Cruelty. Not about Cruelty a la Anthony Mann's "man in agony". Not about Cruelty as the result of revenge, or as a way to cause the demise of an antagonist, or as the way toward redemption of a protagonist. No. It is about Cruelty. Through Cruelty. And Obsession. And Repression. A story by Jean Genet is a tip-off.
Jeanne Moreau. Ste. Jeanne in a work by St. Genet. Plus Marguerite Duras.
Moreau opens a sluice. It drowns, or nearly drowns, the farm animals in her village. Moreau sees a nesting quail in the meadow. Moreau picks up the eggs and crushes them. Moreau lights a match. It burns a barn full of animals. Moreau walks by an apple tree in bloom. Moreau stops, smells the blooms, takes her cigarette and burns the buds. Moreau lights a match. It burns a barn full of animals and a house with a man inside. Moreau puts arsenic in the common village trough for the farm animals. The animals die.
Moreau is the village schoolteacher. The villagers adore Moreau. Moreau humiliates and punishes one of her students repeatedly. He is the son of a handsome immigrant Italian itinerant worker and widower. The village women lust after the worker. The men suspect him as the perpetrator of the mayhem. He is the hero in each of the village disasters, saving animals and people. That makes him even more attractive to the women. That makes him even more The Other to the men.
Moreau and the worker happen to cross paths in the forest. There is a night of passion in the rain. And there is resolution. It is not uplifting.
Obsession and repressed passion as love...or what may pass for love in the noir universe.
Richardson (with cinematographer David Watkin) captures it all, from painfully extended and beautiful long shots where an individual is merely a dot to close-ups such as Moreau watching a fire from her room, her eyes black with the reflection of the blaze being her pupils. Moreau's eyes throughout the film reveal a look of fatal nothingness.
The last film noir? Could be. Not necessarily the last film noir ever made, but what follows falls back on what has preceded it. Violence and perverse cruelty have always been aspects of film noir. MADEMOISELLE pushes them to center stage and makes them the focal point. One step farther and we are in the realm of giallo, gore and slasher.
A fitting conclusion, with an exclamation point, to a long weekend of Despair, Delirium and Destiny, and to another stupendous exploration of French film noir.