Written during a brief spurt of new entries in 2017 that dissipated as quickly as they began, Mark's writing about SHOCKPROOF reveals a rut in his thinking about noir that he was unable to shake: the desire to define film noir as a concept, but a lack of any type of systematic follow-through to achieve such a goal.
Directed by Douglas Sirk, and with some writing credit to Samuel Fuller, the quizzically titled
Shockproof
is at little risk of being forgotten by film buffs. However, Iím not sure that this oft-told tale of the parole officer who falls for the beautiful parolee is worth the attention. Letís not blame Sirk and Fuller too much:
Shockproof
went through the studio ringer after its original script was mangled by frothy screenwriter Helen Deutsch (
Valley of the Dolls
). If nothing else, this stands as a testament to what often goes wrong when there are too many cooks in the kitchen, in spite of the overwhelmingly collaborative nature of movie-making.
Cornell Wilde is parole officer and wannabe politician Griff Marat. Heís decent enough, but square, and a bit of a dope. I like him, but I kept imagining what John Garfield couldíve done with the part. The role of the damaged goods is filled by Wildeís then real-life wife, Patricia Knight. It is hard to imagine that the name Marat is accidental, though Knight is no film noir version of Charlotte Corday. She looks like a vamped-up Katharine Hepburn minus the acting chops.
The most interesting aspect of
Shockproof
(though not surprising, given this director) is how it plays with gender roles: the lionís share of internal conflict here lies with the female. Maratís defining characteristic is a one-dimensional self assuredness; itís Jenny Marsh who undergoes a gradual transformation as the film reels unspool. Noirs are often about a good man who is corrupted by a bad woman;
Shockproof
works this backwards by giving us a bad woman who finds grace through her relationship with a decent guy. And while Marat is certainly sucked deep down into the gutter along the way, his circumstances pale in comparison to those of Henry Fonda in
The Wrong Man
or John Payneís in
99 River Street
. Maratís heart may have been in the proper place when he decided to marry his parolee, but he asked for this.
This isnít much of a noir--it just isnít bleak enough. Itís too...hopeful. Examples of goodness abound, and love eventually wins out courtesy of a contrived Hollywood ending. The coupleís ordeal, superficial as it is, isnít a result of a foolish manís lustful obsession with a manipulative femme fatale. Itís fate putting two young people through the ringer in order to find out whether or not theyíre really in love. Griff Marat and Jenny Marsh make awful decisions, but the fates of noir tend to punish only the truly deserving; more often than not, suckers get an even break.
The third act is the most fun: the illicit couple ďcorrodeĒ as they are forced to take it on the lam. Their marriage amounts to a parole violation; the vows set off a cataclysm of happenstance that eventually brings them to the breaking point. As Jennyís crooked past resurfaces and tries to steal her newfound happiness, she acts decisively. She and Marat steal cars, hop freight trains, shoplift sandwiches, and finally commit the ultimate break with the social mores of postwar conformity: they litter. At the end of the line, against a surreal backdrop of endlessly churning oil derricks (and the only truly noirish set piece in the film), the newlyweds realize that their ordeal will only end when they give themselves up to the authorities.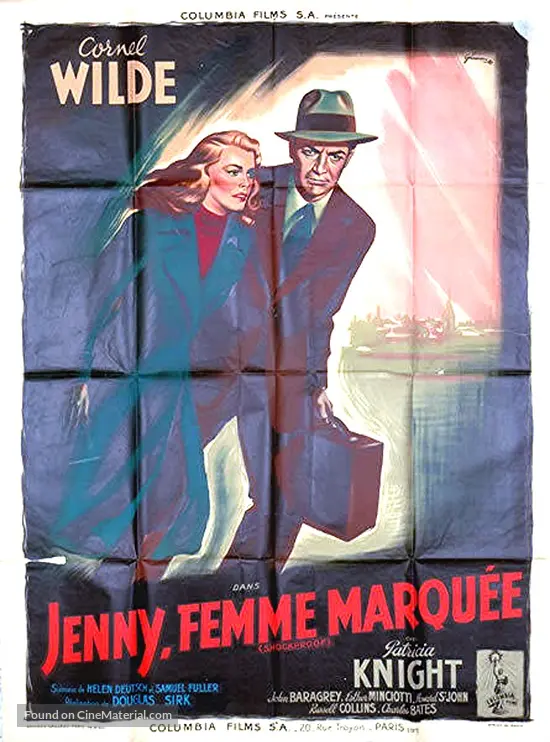 Mark and others have all seemingly overlooked the core plot similarities between SHOCKPROOF and the highly vaunted Felix Feist vehicle TOMORROW IS ANOTHER DAY. The late great Bill MacVicar was not asleep at the switch in terms of this, and he has a milder view of SHOCKPROOF than Mark:
Released from prison after five years for killing a man to protect her gambling lover (John Baragrey), hard case Patricia Knight comes under the purview of parole officer Cornel Wilde. Trying to keep her from the clutches of the still-infatuated Baragrey, Wilde moves her into his household as companion to his blind, widowed mother. Inevitably they fall in love and wed secretly, since marriage is a violation of parole. Not one to read a Dear John letter lightly, Baragrey attempts to blackmail Knight with old billets-doux but is shot in a struggle. Wilde, on the verge of turning her in, relents, and, in a long sequence that was reprised almost exactly two years later in Tomorrow is Another Day, joins her on the lam, making ends meet as a day-laborer and living in shacks. But the strain of poverty and fear of apprehension begin to corrode....

Douglas Sirk, later to reach fulfillment in lushly overwrought melodramas like Written on the Wind, shows a nice flair for the conventions of noir in this well scripted and acted film, which maintains its integrity until its rabbit-out-of-the-hat ending--surely not the one penned by co-scenarist Samuel Fuller. (The title, by the way, seems basically meaningless but to have been chosen for its purely abstract, noirish resonance.)
The other odd "borrow" from one film to another is the hair-color switch made by the leading ladies. I'm figuring it's a Fuller touch--after all, look what he did when he got to the 60s and THE NAKED KISS...