https://www.popmatters.com/film-noir-esque-siodmak-allen
Michael Barrett wants to work the "margins" of noir with this well-written tease that absolves him from the act of defining his terms but lets him prattle on anyway...eventually devolving into a standard ol' "group DVD review."
A number of intriguing ideas and unresolved matters do slither around underneath Barrett's slinky prose. What was festering around in Europe at the dawn of the sound era? Genre experimentation was rife, moving from Russia to Germany and France, and the cinema of spectacle would soon morph into self-enclosure, creating forms that were codified without a codebook by filmmakers in Europe and America.
Barrett alludes to this in his look at Siodmak's proto-noir black comedy THE MAN IN SEARCH OF HIS OWN MURDERER (which those tracking posts here will recall that the plot of this film is essentially the same as that in THE PRETENDER, an example of Willy Wilder copping ideas from his younger brother and re-casting them--sometimes clumsily--in the then "full-blown" noir style). There is an energy in filmmaking in 1930-31 that is leading us toward noir, but it needed a sexual charge--which came its way with Winna Winfried in Renoir's NUIT DU CARREFOUR in 1932.
Barrett, of course, doesn't follow up on any of that--he remains a firm follower of Nino Frank. (It's easier to genuflect to American noir, even now.)
He ignores Siodmak's career in France and ties him to one of several "gothic noirs" he made after reaching Hollywood. (What ties together all of his discussion is the fact that Kino Lorber has recently released all of the DVDs he is examining as "fringe noirs.") These two films are Siodmak's THE SUSPECT (1944) and Lewis Allen's SO EVIL MY LOVE (1948).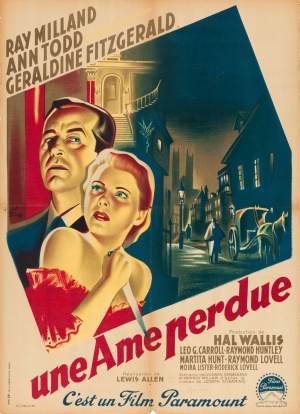 Most of us here would readily classify both of these "gaslight noirs" as bonafide films noirs--but many still feel the need to hold them at arm's length, or make them into a developmental centerpiece of a totally different conception of film evolution in the 1940s (David Bordwell's "thriller" notion that dominates his REINVENTING HOLLYWOOD rewrite of 1940s American film). Barrett doesn't go that far: he just reverts to choosing a series of criteria for reviewing the films as films and puts the "genre" and "noir" definitions into a drawer.
He clearly likes SO EVIL MY LOVE a good bit more than THE SUSPECT, however, and one senses that it's because the film seems a lot more noir to him that the stately Charles Laughton/Ella Raines vehicle.
And we can tell you why SO EVIL MY LOVE feels a lot more noir to him, thanks to the noir-o-meter. The difference is basic right from the start, based on the raw totals: THE SUSPECT is in the medium-gray range at 113 (5.7 on a 10-pt. scale), while SO EVIL MY LOVE is edging into the dark-gray range at 135 (6.8/10). The characters in SO EVIL MY LOVE are much darker and more perverse (8.2/10 vs. 6.8/10 for THE SUSPECT). The plot of SO EVIL MY LOVE is much more engaged in the cluster of complications found in noir (8.3/10 for noir elements associated with plot, as opposed to only 5.6/10 for THE SUSPECT).
In short, the reason Barrett notes that SO EVIL MY LOVE feels more noir is because it is more noir. It is a sterling example of its sub-genre, and is arguably Lewis Allen's best film (fans of DESERT FURY can line up in front of the Chuckawalla General Store in order to register their objections).
Imogen Smith, an aficionado of the "melo-noir", gives a good accounting of the film in her commentary for the Kino blu-ray, released back in February. Kino has it priced attractively, and you are encouraged to pick up a copy, if only to verify in your own mind that, regardless of its setting and time period, it's a very dark noir indeed.
Final note in the form of a question: is the
homme fatal
really a more frequent occurrence in British noirs, as Barrett claims in his essay? That seems to make sense in the 1940s, but I'm not so sure that it's the case after the demise of the "period noir" in the early 50s.