Reprint of a reprint, first reposted in 2017 after falling off the board. Still enjoyable background for one of the key points of origin for American noir...
Found this while rummaging through the deep recesses of the files on my computer...
NOIR OF THE WEEK 10/27/08
THE MALTESE FALCON (1941)
Director: John Huston
Screenplay: John Huston, from the novel by Dashiell Hammett
Cinematographer: Arthur Edeson
Lead actors: Humphrey Bogart, Mary Astor, Sydney Greenstreet, Peter Lorre
Supporting actors: Elisha Cook Jr., Lee Patrick, Jerome Cowan, Gladys George, Ward Bond
Q: So just how are we going to write anything new about a film noir that has probably been written about more than any other in the canon?
A: We're aren't.
Instead, here is a compendium of odd facts and background information, compiled from a terrific reference source, Richard Layman's
Discovering The Maltese Falcon and Sam Spade
(Vince Emery Books, 2005). Layman's book mostly examines the legacy of Hammett's novel, but there is a section (beginning on page 259) that deals with the film, theater, and radio adaptations.
CASTING CHOICES
From a typescript reproduced on page 290 in Layman's text, here are the lists of casting choices for the key roles in The Maltese Falcon. (The typescript page is dated May 19, 1941).
SAM SPADE: George Raft, Humphrey Bogart, Ed. G. Robinson, Richard Whorf, Franchot Tone, Fred MacMurray, Fredric March, Henry Fonda, Brian Donlevy, Warner Baxter, Paul Muni, Robert Montgomery, Melvyn Douglas, Preston Foster, Lloyd Nolan, Tony Quinn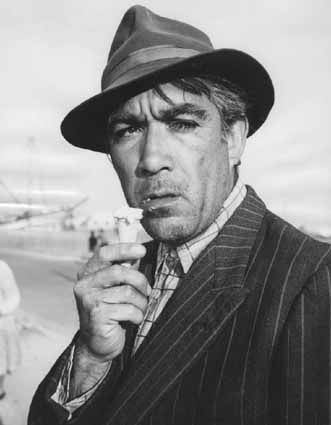 Anthony Quinn as Sam Spade?!
BRIGID O'SHAUGNESSY: Olivia DeHavilland, Loretta Young, Rita Hayworth, Geraldine Fitzgerald, Mary Astor, Paulette Goddard, Brenda Marshall, Janet Gaynor, Joan Bennett, Betty Field, Ingrid Bergman, Frances Dee. Ruth Hussey, Lorraine (sic) Day, Annabella, Illona Massey, Dorothy Lamour
Mix and match some of those combinations...
Geraldine Fitzgerald was John Huston's choice to play Brigid, but she turned the part down. We get a sense of what she might have been like in the role from her work in
Three Strangers
.
EFFIE PERINE: Nancy Coleman, Brenda Marshall, Jane Wyman, Julie Bishop, Faye Emerson, Elizabeth Frazer, Mildred Coles, Margaret Lindsay, Florence Rice, Jane Wyatt, Gale Page, Gloria Holden, Eve Arden
IVA ARCHER: Claire Trevor, Gail Patrick, Lee Patrick, Eve Arden, Wendy Barrie, Leona Maricle, Helen Vinson, Gladys George, Glenda Farrell, Binnie Barnes, Ona Munsen, Muriel Hutchinson, Una Merkel, Joan Woodbury
Lee Patrick was originally chosen to play Iva Archer. Faye Emerson was tapped to play Spade's secretary, but she dropped out and Patrick shifted to the role of Effie. Gladys George then took over as the wandering wife of Spade's fallen partner.
Note the prominence of Warners' contract players in the front running for the part of Effie.
JOEL CAIRO: Peter Lorre, Martin Kosleck, Sam Jaffe, Curt Bois, Elia Kazan, Porter Hall, Gene Lockhart, Oscar Homolka, Conrad Veidt, Marc Lawrence, J. Carrol Naish, George Tobias, Lee J. Cobb, Akim Tamiroff, Eduardo Ciannelli, Joseph Calleia, Ronan Bohnan, Abner Biberman, Vladimir Sokoloff, Turhan Bey
KASPER GUTMAN: Sydney Greenstreet, Laird Cregar, Edward Arnold, Lee J. Cobb, Eugene Pallette, Akim Tamiroff, J. Edward Bromberg, Sidney Toler, S.Z. Sakall, Sig Rumann, Guy Kibbee, Alan Hale, Albert Dekker, Broderick Crawford
They did it before...they could do it again! Why not S.Z. Sakall as Kasper Gutman??
Lorre and Greenstreet were the first choices, as certainly seems unsurprising to us now. It might be fun, though, to try to pick out some other choices for this iconic duo. For example, playing the film as a noir comedy, you couldn't "go wrong" with Porter Hall as Cairo and Eugene Pallette as Gutman....
WILMER COOK: Martin Kosleck, Elia Kazan, Elisha Cook Jr., Peter Lorre, Alan Baxter, Arthur Kennedy, Nick (Richard) Conte, Tom Neal, Marvin Stephens, Billy Halop, Frankie Darro, Bob Steele
BREEN OFFICE OBJECTIONS
Excerpts from the letter from the censors to Warner Brothers after reading the final script: the letter is dated May 27, 1941.
"(1) it is indicated that Spade and Brigid have had an illicit sex affair and that the relationship between Spade and Iva has been illicit.
"Did you kill him, Sam?" Well, at least it's only illicit in one direction...
(2) Cairo seems to be characterized as a pansy.
(3) There is a great deal of unnecessary drinking.
Page 21: Any flavor that Spade and Iva have been illicitly intimate must be eliminated from this scene if it is to be approved in the finished picture. Accordingly, it is essential that there be no physical contact between Spade and Iva other than that of decent sympathy. In this connection, see Page 80, where the physical contact is unacceptable. The entire conversation between Iva and Spade will have to be rewritten to get away from this flavor.
Page 35: We cannot approve the characterization of Cairo as a pansy, as indicated by the lavender perfume, high-pitched voice, and other accoutrements. In this connection, we refer you to Scenes 21 and 115, where Cairo should not appear effeminate while rubbing the boy's temple.
Page 67: This fade-out of Spade and Brigid is unacceptable because of the definite indication of an illicit sex affair. There must be no indication that Spade and Brigid are spending the night together in Spade's apartment. Otherwise it cannot be approved in the finished picture. In this connection, see Page 75.
Page 81: While the drinking in these scenes is necessary as a story point, in order to prepare for later scenes where Spade is drugged, we must insist that the actual drinking be kept to the absolute minimum necessary to the development of the plot.. It seems that audiences are offended not so much by the presence of liquor as by the actual drinking.
Page 84: Gutman's use of the interjection "By Gad," here and on Pages 92, 117, 121, 125, 126, and 128 seems to be offensive if only by the number of times he uses it. We suggest you use some other interjections at times.
Page 143: There must be nothing suggestive in Spade's eyeing of Brigid."
Oops!!
There are other references that seem to have been resolved by the scene simply being cut from the film.
SALARIES FOR CAST AND CREW
John Huston made $12,500 for writing the script and $20,417 for directing.
Producer Henry Blanke made $25,888.
Cinematographer Arthur Edeson received $3,250.
Humphrey Bogart made $16,500 for playing Sam Spade.
Mary Astor made $10,833 for playing Brigid.
Peter Lorre was paid $10,000 for playing Joel Cairo.
Sydney Greenstreet received $4,000 for playing Gutman.
Elisha Cook, Jr. earned $3,000 for playing Wilmer.
Set construction was budgeted at $25,000. Costs for electricians: $12,050. Wardrobe costs: $6,757.
Total direct costs for the production were estimated at $266,608. Add in studio overhead (at 40%), and 3% depreciation, and the grand total for the production was $381,000.
Then there is the cost for "the black bird" itself. We find out about that in a memorandum from unit manager Al Allenborn:
"As you know, on this story we have a prop that works the MALTESE FALCON which is a plastic model. BLANKE and HUSTON have an outside modeler who is working on this and the cost of it will be about $75 covering everything. A requisition for this is coming in to you for an OK this morning."
MISS WONDERLY SPEAKS
Mary Astor spent eight pages discussing The Maltese Falcon in Mary Astor: A Life on Film (Delacrorte, 1971). Here are some relevant passages:
On Brigid O'Shaughnessy:
"I had a lovely pot to boil for Brigid. It was quite a b*tches' cauldron. First of all, she was a congenital liar ("I am a liar. I've always been a liar!"), and slightly psychopathic. And that kind of liar wears the face of truth, although they send out all kinds of signals that they are lying. There is an unstable quality to them like nitro. One of the tipoffs is that they can't help breathing rather rapidly. So, I hyper-ventilated before going into most of the scenes. It gave me a heady feeling, of thinking at cross-purposes. For there wasn't a single scene in the picture where what I said was even close to what I was thinking. In order not to cross myself up I had to keep it down to mostly one thought, "He's got to believe this." Brigid had to oversell so that when Sam Spade said "You're good—you're very good!" the grateful smile had to be there, but the respiration rate would go automatically, because she was scared stiff."
On Walter Huston (Captain Jacoby):
"If you recall, a tall burly figure staggers into Spade's office late one night, clutching a heavy package wrapped in torn newspapers. He is dressed in the clothes of a seaman, with his peaked cap pulled down over his eyes. He is the captain of the ship which burned in port late that afternoon. He mutters something about "the Falcon—the Bird—" and falls dead on the floor of the office with some bullet holes in him.
Just a bit—you never saw him before—and that's all he has to do, just stagger in and fall and drop the package. John [Huston] thought it would be fun to have his father, Walter Huston, come in one morning and do the part. And so did Walter—his son's first movie, etc. A bit of fun-sentiment.
John took hours to film it, and Walter got very grumpy. "Didn't expect to have to put in a day's work."
"Let's do it again. Sorry, Dad, you missed your mark."
"Take seven.. Sorry, Dad. This time, try it without staggering so much."
"Take ten, please. Sorry, Dad. We've got to reload."
The next day, after they'd seen the rushes—they were fine, of course—John told me to call Walter's home and pretend to be his, John's, secretary. I called on the set phone and when Walter answered I told him that Mr. Huston was sorry, but that we'd have to retake the sequence that afternoon—something had happened to the film in the lab—and could he be ready to shoot at one o'clock?
I held the receiver from my ear and everyone could hear Walter yelling, "You tell my son to get another actor and go to hell! He made me take twenty falls, and I'm sore all over, and I'm not about to take twenty more. Or even
one
!!"
This must have been early in the process...