Completed: HIJNS Maya - 1/700th Scale Aoshima Kit
Posted by Don Murphy on September 18, 2014, 16:11:36
The heavy cruiser Maya was a Takao Class heavy cruiser and as built, she embodied all of the traits and characteristics that make a cruiser great. She had fast speed, excellent sea keeping and a heavy armament. She mounted ten eight inch guns in five turrets giving her excellent flexibility. Additionally, she had over a dozen of the deadly Long Lance torpedoes onboard. "On paper" she was invincible. Upon the opening of hostilities against the Allies, she took part in the force covering the Philippine landings.




Over the subsequent period, she took part in the sinking of a lot of steamers and sloops and other small boats (all no doubt Allied vessels escaping Japanese invasion forces). Minesweepers, lighters, supply boats and other craft fall to her and her sister's guns. They rack up a large tally of Dutch, British and American craft during their time in area. The whole principle behind a cruiser's design is commerce raiding and she performed that role handsomely. Following consolodation of Japanese gains, she was withdrawn from the area.




Sitting out Coral Sea, Maya was attached to the force that would invade the Aleutian Islands during that phase of the upcoming Midway operation. Following Midway, Maya would be attached to the heavy cruiser division responsible for making the most mess at Guadalcanal. She was present during the early, pivotal battles of Savo Island and took part in the night actions handing the US Navy their worst defeat in history. She missed out on the last battle and instead bombarded Guadalcanal.




During the next days sortie, she was bombed by aircraft from USS Enterprise and set on fire. During the course of the damage control activities, she jettisons her torpedoes. Unable to extinguish the fire in time to rejoin combat operations, she retires for repairs. Her next major action would be the cruiser-versus-cruiser battle for the Komandorski Islands. She receives gunfire damage and then withdraws. On her way home to base she is bombed at Rabaul.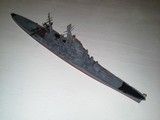 By 1943 and early 1944 she would lose two of her eight inch guns and replace them with the by-now familiar emergency AA fit. This covered much of her open deck with anything that could elevate and fire at aircraft. Mount for mount, she had an impressive set up, but the Japanese 23mm gun was hand elevated and had a slow rate of fire. She would find this out the hard way at her next adventure during combat operations that would come to be known as the Marianas turkey shoot. She was set upon almost immediately by carrier aircraft and damaged.




As she returned home to Japan she was attacked most of the way. Following her repairs she joined most of the Japanese Navy in heading to Leyte Gulf for the much anticpated showdown with the Americans. While in the Palawan Passage during the opening phases of the great sea battle, Maya would join many of her fellow Japanese Navy ships and would succomb to submarine torpedo attack. The killer was USS Dace. A third of her crew include her captain will perish in the sinking. Our kit is the classic Aoshima kit. The kit portrays Maya "as-built" so I had to use the spares box to provide extra guns and gun tubs. She builds quickly with no fit problems. I used scraps from the spares box.

Cheers,



Don

---