Completed: Soviet Sierra – 1/700th Scale DML Kit
Posted by Don Murphy on September 18, 2014, 13:25:34
One of the ultimate Soviet submarine designs, the Red engineers sought to match the American and British nuclear threat with three new boats. The Alfa and Akula were deep diving and fast but too expensive. A cheaper alternative was sought and the winning design became the Sierra Class boats. Armed with the latest Sov-tech, the Sierra's were hoped to be a good compromise. The Alfa's was the deepest diving of the Soviet boats, but it's reactor was highly corrosive which, after a few months, caused tell-tale noise spikes. For this reason, the Alfa's were reserved for high-profile missions. The Akula's retained the Alfa's speed but a reactor change cut into the diving depth. The Sierras were optimized for boomer hunting. This meant that silence was the primary feature sought by the Soviet yards.




The first Sierra's suffered from the same bugs most Soviet SSN's had. Sloppy workmanship and un-tested techniques were hallmarks of yards who's primary goal was to get boats into the water as fast as possible. It was hoped that flooding the water with subs would overwhelm the NATO whiz-kids in their technology-marvel boats. Embarrassing catches by NATO ASW units were a staple of Soviet submarine life. The worst one would be the Victor Class submarine that was "caught" in a US Navy destroyer's towed array and came within a mile or two of being dragged into American territorial waters (which would have resulted in a depth charging and forcing to the surface/capture). The red-faced Politburo pulled all attack boats in and re-thought their processes.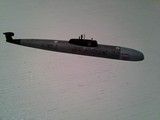 A focus on sound-silencing was carried out and the Russians experimented with quieter electronic equipment, slower speed and hull coatings. The Sierra's were little better than the American Sturgeon Class, but like the elderly Sturgeons, they were stealthy when they needed to be and sturdy enough to survive a scrap. By the time the final bugs were worked out, the Cold War was over and the Russians found themselves strapped for cash. The Sierra's were able to withstand years of financial neglect and when the new Russian republic ressurrected them, they were no worse for the wear. The current bunch are sturdy, effective machines and are probably the most capable fast attack submarines in the Russian inventory.




Our kit is the Dragon/DML "USS Benjamin Franklin versus Soviet Sierra" and the kit builds in little less than an hour including paint and decals. Fit problems? I doubt it. Accuracy? Not really. But there ya go. Decals came from the scrap box.

Cheers,



Don
---