Fleet Air Arm Museum Yeovilton
Posted by Don Murphy on July 3, 2014, 10:44:38
This museum honors the contribution aircraft have made to the British Royal Navy. As you can imagine, the museum boasts a Swordfish torpedo bomber, Harrier jump jet and models of virtually every Royal Navy aircraft carrier. Nestled in the English countryside, this museum is very unassuming and is one of those places where "if ya blink you'll miss it." There are tons of guided tours all done by staff who are either vets themselves or just plain old mega knowledgeable folk. Many of the tour guides are dressed in period costume (flight suits). We chose to enjoy the museum on our own. Here's a Grumman Martlet ("Wildcat" in American parlance) in the markings of one of the initial batch.




History buffs will recall that the first British Battle Of Britain kill was a Junkers JU-88 medium bomber that was shot down by an FAA (Fleet Air Arm) Martlet. The museum is divided into halls with one hall devoted to an HMS Ark Royal simulation, one devoted to Operation Corporate (liberation of the Falklands), WW2, etc. There's tons of Sopwith Pups in the museum. Gets a bit boring after about the fifth one...They do have a Sopwith engine set up as a tester to show how the machine gun interupter gear works which is pretty cool.

As you can imagine, there's a bunch of high-class models in the museum. Tons of models of every Royal Navy carrier except (for some reason) HMS Hermes. I thought "ok maybe they have it in the Falklands hall" but it twas not there. The models are all 1/100th or 1/72nd scale. Here's a gorgeous one of HMS Glorious when she was converted from battle cruiser to aircraft carrier. Notice her single gun turret aft. I believe that gun is now outside the front of the Imperial War Museum...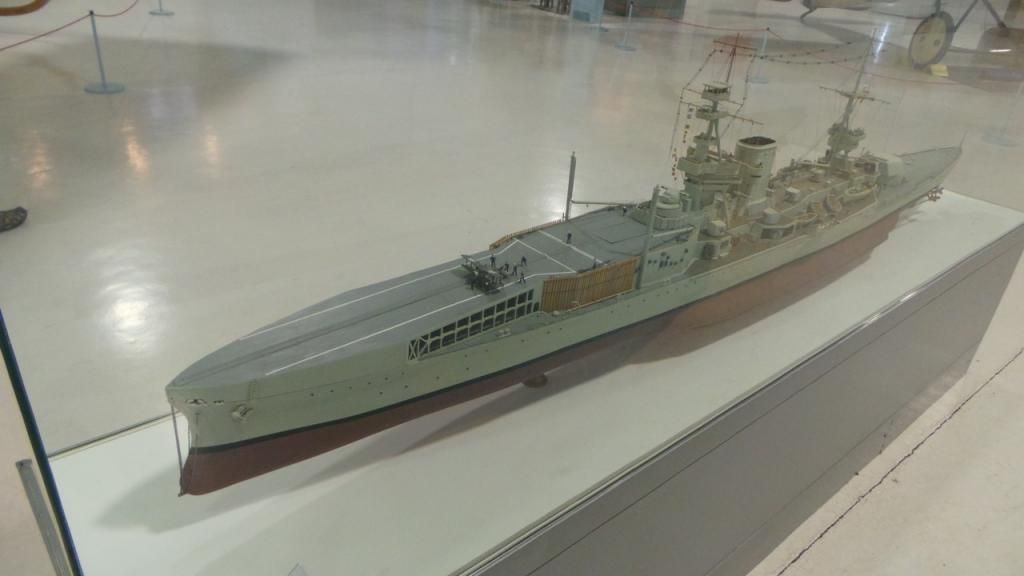 The museum has a ton of tester aircraft which is weird. For example, Concorde number 2 (the initial flight tester) is there. But for what reason? Was the Royal Navy involved in it's testing? Was the test pilot a Royal Navy flier? Or...did the museum just jump on getting it cuz it would be a crowd pleaser (it is!)? It is open and you can walk all the way through it. The plane is filled with test equipment and also has eight "test" seats installed. The initial Harrier tester ("Kestrel") is there. Cool as shit to be near that bird.

The museum's gift shop is not that good. As the museum's intended audience is youngsters, the model selections are predominantly Airfix "easy build" kits with glue and paint included. Mainly RAF jet fighters and aircraft. I'd have expected models to link with the exhibits on display, but sadly, such was not the case. And the kits were over priced. One of my favorite exhibits is a restored, bare metal, Westland Wyvern. You are at once amazed at how quirky sexy the bird is as well as how F**KING BIG it is.

As you can imagine, there were models of the Royal Navy's two newest aircraft carriers; HMS Queen Elizabeth II and HMS Prince Of Wales. The models are in 1/100th scale and show the configuration that both with have...when they eventually get built. One will have a ski-jump and the other will have just a straight deck. The museum has an HMS Ark Royal simulator which is based on a 1970's British TV series on the ship. You "board" a helo which takes you to the flight deck. From there you tour the "island" and witness a Buccaneer recovery and Phantom launch. Very cool. I was a bit pissed that the museum is actually two buildings. Building one is where you are. Building two has over fifty additional aircraft but is only open a few days out of the year(?!). Very shitty. Other than that the museum was a worthy visit. Go here:

http://s286.photobucket.com/user/modelfleet/slideshow/Yeovilton

to see all of the photos I took. The blonde guy is my brother in law and the guy in the wheel chair is my father in law.

Cheers,


Don






---