Work In Progress - WE 02/13/13
Posted by Don Murphy on February 14, 2013, 11:56:47
Revell box-scale USS Arizona. Commission build. I've only built this ship a million times, right? Actually - scarily - it's the most accurate Revell kit ever. Really? Really. Right out of the box. No PE, no resin.




Hasegawa 48th scale A-4 Skyhawk. Commission build for the local museum's "Vietnam" room. No it will not be in John McCain's markings... Not a bad kit. The meat of it builds easily in a day. The kit has a lot of useless options like multi-part air brakes, 900 parts for each wing, etc, but other than that, it is a typical Hase kit.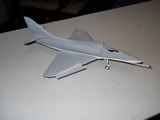 MPM 72nd scale Grumman F3F-1 and Monogram 72nd scale Boeing F4B-1. These two are part of my "Red Rippers History" project. I'm doing a 72nd scale model of each type of bird flown by US Navy fighter squadron VF-11. These are the second and third birds and among the last four. I've built all the others. They will be in glow-in-the-dark pre-war USN colors.




Yankee Model Works 350th scale USS Daniel Boone. I'll be building her as the sub I was on for my dad, the USS Casimir Pulaski. So far I've removed the resin pour plug and cleaned up the vents and discharge ports. Next step will be removing the release agent.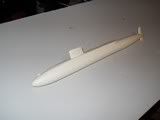 The resin Yankee Model Works kits build very quickly and are highly detailed but you have to know your subject really well as they take a lot of liberties. Well that's some of the work I've been chewing on.

Cheers,


Don
---