Gas shortage blues
Posted by Don Murphy on January 8, 2013, 10:06:53
Need gas for your ships? Running on empty between fleet operations? Aha! What you need is a tanker! Or fleet oiler to keep correct Naval terminology. "AO" for short. What to do? Well in 700th scale there is...nothing. There are a few resin companies that occassionally spit forth a kit or two after much sacrifices to the modelling god, but these kits will turn out to be vapor ware and disappear almost as quickly as they appear. That's if you could afford them in the first place. So the easiest solution would be to scratchbuild your own, eh? Can't be too difficult, can it? NO! Our target ship is a standard T-2 tanker design from WW2 which poses no problems for the novice or serious builder. I start with a blank of balsa wood. You could use more expensive Cherry or Base wood, but why? It's 1/700th scale. You don't need any structural strength. And as balsa is soft and porous, it cuts in next to no time.




Once cut, I'll liberally coat the ship with Sanding Sealer. If you can't find Sanding Sealer in your area (it's highly desired in "huffing" circles. Yeah...I know...) you can always use Walmart grade "gap filling primer." It does the same thing. A quick sand with the sanding stick and you're ready for building.




Evergreen styrene is your friend and easily constructs bases for the super structure floors. The catwalks that traverse the length of most oilers is easily made using scrap photo etch fret brass. Or, if you have a lot of frets that are small, you can just buy an index card size (3X5) sheet of brass at your local hobby store (don't buy it at a model store or you'll pay $83,000,000.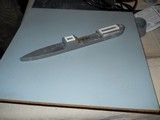 Once the bases are done, we can put the decks on. Here's the rear deck with some gun tubs and ordnance. The tubs and guns are all from the parts box. If you've been building 1/700th scale ships for any length of time, you should have a fairly stocked spare parts box by now. Your basic needs will be searchlights, ships' boats, davits, a handful of 20mm guns (single) and some open-mount five and three inch guns. No/limited radar and maybe some fire control directors.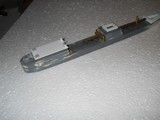 You should also have some PE scraps to use. Virtually every PE set gives you more ladders and stairs than you need, so you should have some laying around. You don't need much railings for the main ship itself. The main pieces will be the catwalks (shown here). The bow of the ship has some more Evergreen stock to build up the bow.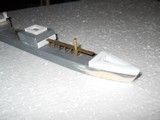 Hey wow - since it's so easy we can make ANY ship right? Yeah...including a huge AOE. "But I thought you said no kits exist of oilers?" Yes that's right but AOE's are a different animal. They are not true oilers. They are a combination ship gas, avgas, supplies, spare parts, food, type of ship. They are optimized/built/intended for carrier ops only. Same with AFS ("Mars" Class) type vessels. So yes, there's a 700th scale USS Mars kit (resin) and also a nice 700th scale AOE kit (USS Sacramento/Detroit) but no dedicated oiler ("AO"). Oh BTW, that's base wood cuz we do need structural strength for that large of a ship...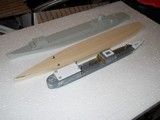 But yes, it is easy so let's build another while we're at it. Here's a late-war AO variation, next to our mid-war USS Sebec. Haven't named the late war version yet. But nevertheless, it gives you an idea of how quickly you can churn out ships in 1/700th scale using balsa wood. The rudimentary shapes are all there.




And since one can NEVER have enough oilers, why not a third? I'm thinking an early Cold War refurbished oiler. Prior to the AOE's the tankers will pretty much remain the same structurally. Though you can always "jumbo-ize" the ships by stretching them an inch to simulate the extra 100 foot section that the USN added to bring the ships in to the Cold War.




Toothpicks are your friend. And in a touch of modelling realism, the kingpost cranes and masts are "wood" anyway, right? So grab a box and throw them in your spares drawer. Also notice the Evergreen smoke stack sitting on two compressed popsicle ("Ice Lolly" for you Brits) sticks. And of course it goes without saying that you're using CA glue solely...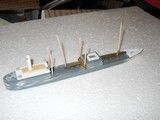 Here's the late-war oiler along with a Knox Class frigate. The Knox is configured as a test-bed for the Spanish. The Spanish Navy requested six of the frigates, but instead of a solitary CIWS gun aft they requested two of their own "Meroka" 20mm guns midships, Terrier missile launcher with 16 rounds and two quad Harpoon launchers midships as well. The Spanish ships lose the helo capability but retain the dipping sonar.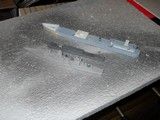 Here's the Knox and oiler and also a scratchbuilt Leander Class frigate. Appalling (again) that no kit of the Leander exists (considering how many nations used them) but again, balsa wood is your friend. Skywave in Japan is too, as they make tons of aftermarket plastic parts to equip your Leander with. Like the three barrelled "Limbo" ASW mortar aft and the twin 4.5" gun forward.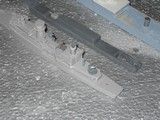 The "gang of four" as building came to an end last night. No rush on any of them really as I was just killing time between paint coats on a commission build. The Knox is my third (out of four) Knox frigate kit and will equip my modern Surface Action Group when finished. The oilers will equip my WW2 Task Force 58 when finished.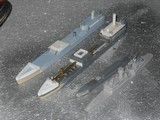 Here's the bows on the two tankers. The far right one (as yet un-named) will be armed with two "Fletcher turret" five inch guns forward. The other oiler (to be named USS Sebec) is armed with a pair of the standard mid-war open-mount three inch guns and a MK-51 director on the bow. All weapons courtesy of the spares box.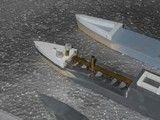 Notice the liberal flooding of thin CA glue to strengthen the wood prior to the final coat of paint and also prior to railing (and other photo etch) install. Most photo etch frets give you way more than enough ladders and stairs so your spares box should be able to equip your ship just nicely. And in 1/700th scale you are really not that bothered with intense detail needs. In other words, a little goes a long way. German WSW is a company that frequently dies, gets rebirthed, dies again, gets rebirthed again, etc. They have some post-war and pre-war T-2 tankers in their inventory but those start at $100. And then, you get no weapons. So then you have to pick up a $20 Skywave E-series aftermarket set. Right now, you're looking a total of $3 worth of balsa and a can of primer. The Evergreen pieces and brass scrap pieces would bump your total up to $4 if you pushed it. Add in the weapons and you're still under $20.

Cheers,


Don

---