Work in progress - September 18th/19th
Posted by Don Murphy on September 19, 2011, 12:41:03
Message modified by board administrator September 24, 2011, 9:10:11
--Originally Posted 9/19/11--

Rome wasn't built in a day but this Hasegawa 1/700th scale USS Essex was. Old school Hasegawa bird farm with great detail for the day. Bottom line? It looks like an Essex. The detail is pretty good for the age of the kit. All I have left is decals, 20mm guns and the airgroup.




Our subject will be USS Hancock. The camo scheme is late war three color tone, MS something. Enough guns and gun tubs are provided to enable you to build any of the class, but the hull is a "short hull" Essex, so you'd need to do some serious surgery to do half of the class.




The island is an early-war type island. You'd need to do some minor surgery to get a late-war island. For the air group you get (five each) Avengers, Corsairs, Hellcats and Helldivers. Not too shabby. The scrap box will provide railings and radars plus the obligatory 20mm guns and 40mm gun sights.




The tanks are a Tamiya Pershing and a Dragon M-4 "Easy 8". The Dragon kit is the infamous Dragon 2005 special and is reputed to be the ultimate Sherman kit. The detail is breath-taking but sadly, the assembly sequence leaves a lot to be desired.




The Sherman will be a Marine Corps tank during the Inchon landing and will be sitting inside the Trumpeter LCM-3 kit. Hatches are open and crew will be inside getting ready to drive the tank out of the craft. All I have left is to rig the antenna's, touch up the paint, mount the machine gun and put decals on it.





The Tamiya Pershing has been kit-bashed into a T-32 heavy tank with long-barrelled 90mm anti-aircraft gun. I just need to build the special exhaust systems on each rear fender, mount the roof machine gun and apply decals. Then it will be done. The front mounted dozer attachment is scratch-built as is the long 90mm barrel. And of course, after I start building, Hobby Boss releases it in 35th scale...b***ards... The tracks are AFV Club working tracks.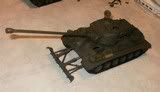 Cheers,



Don
---