Finished: 48th scale Hasegawa F6-F Hellcat
Posted by Don Murphy on August 6, 2011, 16:31:26
Eugene Anthony Valencia was commissioned as an Ensign in the Naval Reserve on 9 February 1942. He joined the fleet onboard USS Essex and immediately started racking up his score. He took part in the pivotal air battles off Iwo Jima and Okinawa. During the last two months of World War II, he had duty in the Office of Navy Department Public Relations, Washington, DC, participating in radio programs. He took part in Grumman aircraft promotional activities in New York City, Bethpage, Long Island, New York and Chicago, Illinois. This is the superb Hasegawa 1/48th scale Grumman F6-F -5 kit, which has options to do any make of Hellcat simply by opening flashed over panels.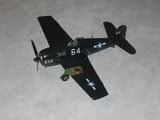 The shop I bought this from was going out of business so to get a quick sale it was cheaper if you purchased the Verlinden Hellcat update set. This proved to be a silly choice as the Hasegawa parts are as good as, if not better than the Verlinden aftermarket gear. Yeah, you get a gun bay (one not two) but nothing else exciting.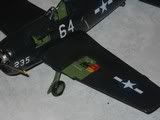 Here you can see the main gun bay parts. You get three breeches and gun barrels plus all the bullet boxes. Photo etch panels are included. This is one of the older Verlinden update sets so the brass is a touch thick and the resin a bit chunky. Nevertheless, this set was made for this kit so the fit is great.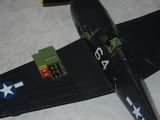 Also included are some chunk of the engine bay who's name escapes me. Here's the engine parts. Again, nothing really exciting - at least not worth the extra cost of the Verlinden set. And of course, not worth the pain in the ass of opening the fuselage up.




The cockpit parts are virtually invisible as the Hellcat's cockpit is pretty deep. Even with all glass open, you're gonna strain yourself to see the gear. So for that reason, I wouldn't recommend any aftermarket in this scale. Valencia's markings are from the spares box.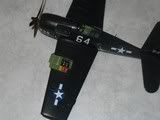 Commander Valencia died in San Antonio, Texas in 1972 and was credited with 23 kills, making him the U.S. Navy's third highest scoring ace. Additionally, he was the highest scoring Reservist pilot from any branch. And of course, with a last name like Valencia, the Hispanic community were proud of him and his accomplishments.

Cheers,


Don


---