Our subject is the Cold War USN ammunition ship USS Kilauea from Italian resin kit company SHIPS & CO. The model is resin and photoetched and like most resin kits, comes fairly completed. Enough weapons and parts are included to enable the builder to do virtually any of the class.
The photoetched fret is complete for a ship of this type with the main items going to be the helocopter flight deck protection screens and the minimal railing this ship type has. Folded and extended rotor blades are also provided for the embarked choppers. Last but not least, radar for the mast is included.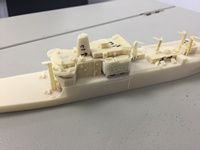 The decal sheet is comprehensive and likewise, contains stencils and markings for the entire class. If - like me - you are a Cold War US Navy enthusiast, this ship (and many of its type) have been missing from the kit makers for some time now. Its therefore nice to be able to get some auxiliaries into the fleet as it were.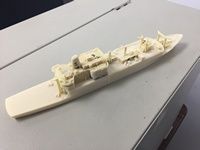 So far the kit is literally falling together. My only niggle is that the instructions are photo pages and although the pages are color, the photos are a bit tiny. So maybe if SHIPS & CO could enlarge them better for their next releases? Either way, the molding is beautiful and the ship is giving me no issues.
Cheers,
Don