Well it's a long story but to make a long story short, I was told in September that I was going to be laid off on November 1st. Now as luck(?) would have it, the technicians that I build gear to install have been quitting like flies (dropping like flies, etc). So as I already build the gear, it makes sense to send me to install it, right? So I have kinda sorta transitioned from builder to installer which (coming up on the new year) has meant job security. It also means tons of time out of country in places like......THE BAHAMAS!
What we basically do is build all of those radars underneath the big "golf ball" sized domes onboard the cruise ships. So we'll unpack the legs and pedestal and bolt all of that together, taking care to get the orientation correct. The gear is also inventoried to make sure they sent everything.
Once the intial "spider" is bolted to the stand, we start wiring up the feed guides, dish, and all the electronics. The whole dish builds pretty quickly with just MK-1 manpower. Even quicker if you have access to a fork lift or other moving gear.
Then as the lab tech, I'll get the dubious honor of wiring it to the fiber converter boxes and other gear that allow the satelite antenna to talk to the satelite, thus giving the customer (the cruise ship) wifi and cell phone capability onboard the cruise ship (for a cost of course...). So next time you're on a cruise and see trendy man with his laptop surfing the net, he has me to thank...
Once built, the bottom half of the dome is constructed out of six fiberglass panels. Each panel is caulked and bolted to the stand and to each other. In the vicious Bahamanian (or Florida!) heat, the caulk dries by the time you're at panel number six. Yes...really....!
The gruelling part is building the top "cap" of the dome as fiberglass retains most of the ambient heat and within next to no time, you're in 100 degrees of heat. We'll build two panels together at a time and then put all three chunks together at once so that we're not in the heat too long. But wait......the FUN has NOT started yet.....
You then get to lower the top on to the bottom. "Capping the dome" it's called. At that point, you're in coveralls, hard hat, goggles and gloves to keep the fiberglass splinters out. Well...mostly out... Three men will enter the dome and line up and caulk and bolt. When done, it looks like this and you've consumed nine gallons of bottled water.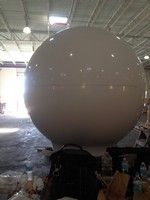 Onboard the host ship (in this case, the Carnival Ecstasy), things are covered and workmen are everywhere as they are gutting the ship and refurbing it. Maps in the guest services area tell the workmen where to go, what needs installing next, etc. At this point, barely a sixth of the crew is onboard. Most of the people aboard are techs.
The new carpet is covered in plastic to prevent spills and other construction mess. Every so many years, the Carnival fleet ships go into dry dock and get refurbished from head to toe. Once done with our antenna, we'll be installing it topside.
My cabin on board the ship. Yes, that's a "balcony." Don't get too exited...there wasn't enough room to swing a cat out there, let alone have a cat. But had the ship been underway, I'd have paid premium for that door. Oh well... It was interesting.
Decorations and other un-movable fixtures are covered pending completion of the various amendments and improvements. The work is performed 24X7 as Carnival are not the only dry dock customers the Bahamas has. Two other cruise ships and a US Navy ship were due in later that week.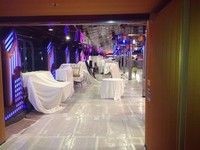 The crew bar was open and had any beer you could imagine for the low price of $1.44 per bottle. So needless to say, the team and I may have had one...(or two)...after the day's work. There was no food onboard so all eating had to be done off the ship which wasn't bad except...
...there were only 900 stairs to get off and back on the ship. Okay first thing in the morning but not late after you've had a beer. Or two. Or three... Yes, that tiny dot at the bottom is a grown man. Oh well...I guess it keeps you fit, right?
"Look Rose, no lifeboats!" Nope. Like everything else, the ship will get new ones. They'll be installed a day or two before all work is finished.. The crane is busy loading stuff night and day tho (like our freakin antenna!!) and other supplies.
Nothing like a nice new coat of blue anti-fouling paint for the new rudders. Another day I photographed the pile of zincs that will be installed on the rudders as well. New props and shafts were installed as well. Urban (dock) legend is that the ship got two new engines.
A ship in dry dock is always an impressive site. Especially when it's a huge cruise ship! One marvels at the size of the ship and indeed, of the dry dock that holds it. We were in dry dock number two which are both former US Navy "ARD's". A new permanent dry dock is being built.
Replacing anchor chain and bow-thrusters. Followed by more of that nice blue paint. Later in the day, the painters will have painted the anchor chain completely black. The majority of the dockyard workers were of Russian/Eastern European heritage. Many had Ukrainian flag patches on their coveralls.
A selfie with Ecstasy in the background. Hard to believe that a year ago, I had been on that very cruise ship with my family taking a cruise to celebrate our daughter Chelsea's high school graduation. Amazing indeed. It's a long way up and I wish I'd have taken a photo of the front of where I was standing (but I was too busy gripping the rail cuz of the wind and pee'ing my pants with fear).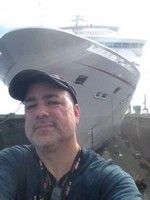 The last night, celebrating the install of the gear and antenna dish by having a beer and steak at Red Beard's in downtown Freeport. Who am I kidding - we were there E V E R Y N I G H T. Though it was nice knowing on that night that the job was done.
This was just one trip of many. I'm pretty much on the move every so many weeks so now you know why I haven't built anything lately. In fact the way it's looking I should be on the go till about September of 2015, which suits me just fine as then they'll owe me another year of severance if they let me go and my 401K would be larger.
Cheers,
Don