Love him or hate him, Jimmy Carter was different. As a submariner he brought a different outlook to re-doing the US Navy. Most of Reagan's "600 ship Navy" was laid down or approved under "Peanut's" watch. One of the things he pushed for was an unsurpassed submarine launched weapon system and an unparallelled fast attack submarine class to support it. Jimmy's plan was to strip the Navy of virtually all ships except nuclear powered aircraft carriers and nuclear escorts. The defense for them would be submarines. The plan was ambitious and the fleet (and DoD) howled. Jimmy's plan wasn't as crazy as it seemed. The sub force jumped from a "we-can't-live-without!" total of fifty boats to just under 200! "Huh?! I thought he was cutting ships?!" screamed the JCOS. Jimmy wanted all of the 1950's/1960's tech ships gone and especially all of the World War 2 vintage ships. This simplified the supply chain. Jimmy also "tech'd" everything. "Work smarter not harder" was the motto. Purpose built replenishment ships would take the place of oilers, ammo ships and stores ships.
One ship to do everything. Fast attack subs with a new class of missile weapons (Tomahawk/Harpoon/HARM) would provide the bulk of the carrier's seaborne defense. This would leave a small but potent destroyer/cruiser force to provide AA. Ambitious but do-able. But carrier battlegroups were just the tip of the iceberg. "Ivy Bells" - the tapping of Soviet underwater telecommunications cable traffic - was still going on at full speed even though the Russians were aware of it. Submarines were still providing the lion's share of NATO's intel. Jimmy's new 688 "Los Angeles" Class fast boats would provide fleet defense, free-ing the older Sturgeon and Permit Class boats for intelligence gathering. The first mod pressed for by the president, was a fix to enable boats to "bottom out" ie; sit on the bottom. A larger CIC was asked for as well as additional berthing for NSA/CIA personnel. Each Ivy Bells boat would become a miniature Langley. President Carter blessed stuff as fast as it passed his desk and toured USS Parche which was the flagship of his new spy navy.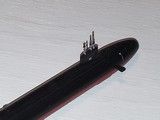 CIA agents wept with pride as the boat recommissioned after dock yard time and sent the West's intel gathering capability into the stratosphere. It was rumored that you could be standing on top of Parche and still not hear her. The same mods went into effect and although Democrat presidents aren't normally associated with massive defense expenditures, the mods to Parche and her sisters was responsible for earmarking billions of dollars. Parche and her sisters remained in service well into the next century and were still able to "bring home the goods." As the new Seawolf Class of boats entered service, the CIA/NSA and Navy demanded that "one" be configured to replace Parche. The last boat of the class was chosen and was lengthened the appropriate amount to house old and new spy tech. Sound silencing went to a new level and the new spy boat was quieter than Parche and her sisters. The new boat exceeded every sub tech dream imagined. The Navy then sat down to come up with a name for her. Their choice was obvious; USS Jimmy Carter.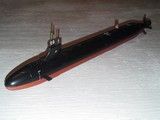 They approached former president Carter and asked if he would be insulted to have a submarine named for him instead of an aircraft carrier. As only a submarine sailor would, president Carter puffed up and is reputed to have said; "son, I'd have been insulted if you'd have named a target for me." The CNO roared with laughter and gave the thumbs up to an aide who relayed the signal via cell phone to NAVSEA. It was now official. The USS Jimmy Carter is technologically, the most advanced undersea platform in commission. She is not only an undersea spy lab, but an undersea command ship as well. As an attack sub, she is armed with the latest of everything. Our kit is the new Hobby Boss offering and builds in under an hour. The accuracy is - to be fair - as good as you're going to get with a modern sub model, right? There is no waterline option, so she is built full-hull. There is nothing in larger 350th scale yet, but I'm sure one is in the pipeline.
Cheers,
Don