The Royal Navy's Type 42 destroyers were a compromise to provide a good all-around peformance ship for general combat as well as potential carrier escort. With the scrapping of most of the RN's carrier fleet, the ships' were geared towards general purpose. The initial lot of ships suffered with sensor issues and so refitting and re-equipping was slated for the seventh ship onwards, which was Exeter herself. Exeter and the next three were duly modified with improved sensors and equipment and are known as the "Batch 2" ships.
As-built, the ships were modestly armed with a single 4.5inch gun, two single 20mm guns, capacity for a helicopter and six British pattern torpedo tubes. The hallmark of the class was the Sea Dart missile launcher with 22 reloads. Sea Dart was to be the RN's premier air defense weapon. With an initial range of 46nm, it was quite potent for the time. The missile's performance was not that impressive during the Falklands conflict until one examines that the majority of the Sea Dart's shot were performing outside it's ceiling and range limits.
HMS Exeter herself would be responsible for shooting down an Exocet, a recon LearJet and two A-4 Skyhawks with Sea Darts. The Batch 3 destroyers would be extended to provide better crew habitability and also an extra 15 Sea Darts. Exeter took part in the Gulf operations in 1991 and following hostilities, she was modernized to the fit she has shown here. Her single 20mm's were replaced by two twin GAM-B01 mounts which I believe are 25mm or 30mm.
Additionally she carries the following American weapons: four Harpoon anti-ship missiles, two tripple MK-32 anti-submarine torpedo tubes and two Phalynx 20mm gattling guns for anti-missile defense. HMS Exeter was launched in 1978 and decommissioned in 2010. At the time of her decommission she was the last ship that had taken part in the Falklands war. In 2007, her status was reduced to that of training ship and her missile battery was removed.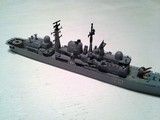 Our kit is the fantastic Skywave kit which builds easy and has parts to do a Batch 1 or Batch 2 ship. Additionally, parts are also included to build one of the two Type 42's in use by Argentina. There are no fit problems. Photo etch was provided by the scraps box.
Cheers,
Don