HMS Musketeer was an M Class destroyer built during the beginning of world war two. The M Class were the most capable Royal Navy destroyers constructed during the war and many survived the war and served well in to the 1970's. HMS Musketeer spent her war career escorting Arctic convoys to Russia with one of her missions being the ferrying of recon crew to bases in Murmansk who would take part in the Tirpitz bombing. Following the war, Musketeer spent time in the Med and would be sold in the late 60's/early 70's to Turkey.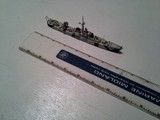 As built, the class were pretty formidable with three twin 5.5 inch gun turrets similar to the type mounted on the King George V Class battleships and Dido Class cruisers. A quadruple torpedo tube mount, depth charges and rudimentary SONAR (ASDIC) made them suited for convoy support. Single 20mm guns, an open mount 4 inch high angle AA gun and quadruple "pom-pom" mount provided AA defense.
Following the cessation of hostilities in Europe, the M's were updated for Pacific operations with all single 20mm guns being updated to twin mounts and the pom-pom mount and open gun were replaced by Bofors 40mm guns. The rear turret was also removed and replaced by one of the new 40mm Hazemeyer mounts. Crude air conditioning was bashed together and installed and the dark color schemes replaced by lighter, heat reflective markings. Radar had been upgraded while in the ETO so the class would have been slated for radar picket duty off of Okinawa had the war not ended.
HMS Musketeer had some stop-gap modifications to hold the RN over until money could be found for the next classes of Cold War ships. All AA guns were removed except four twin 20mm mounts and the aft 40mm Hazemeyer mount. In their place would be two quadruple Tigercat missile launchers, their crude director and a magazine for sixteen reloads. The number two forward turret was removed and replaced with a Hedgehog launcher and ample reloads. Finally, the forward turret was replaced by one of the iconic Cold War 4.5 inch twin turrets.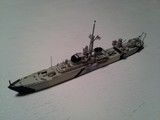 The ship is made of balsa wood and has scraps of photo etch and parts from the spares box. She is in her late forties scheme. There is no plastic or resin kit of these ships in this scale.
Cheers,
Don