Ah...USS Dallas. Who DOESN'T know the "Big D?" The movie "The Hunt For Red October" did for Submarine Force recruiting what "Top Gun" did for Naval Aviation. And of course, everyone in Submarine School (myself included) wanted to be one of her crew! Attached to Submarine Development Group TWELVE in Groton, Connecticut, the boats try out new tech and tactics. The Dallas and her sisters City Of Corpus Christi, Groton and Albuquerque were the newest boats assigned to the squadron and regularly pushed the Los Angeles Class to it's limit.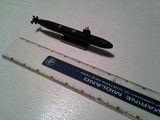 It wasn't rare to see any of them in dry dock one day out of each week getting new tech installed, old gear removed, etc.After classes were over, I'd head down the hill to the piers and head straight for the brand new Los Angeles boats. The crews were friendly and willing to allow you to tour them all day as you may one day be their future shipmate. The boats had everything onboard and were always testing something. Some days they'd sneak out at night and return with weird boxes and cylinders bolted to the deck.
During Operation El Dorado Canyon (the bombing of Libya in 1986 to avenge the death of two servicemen in a German nightclub bombing) four of SUBDEVGRU's boats were sortied to the Med to "assist" the task group.Stories filtered back of missile attacks on Libyan radar sites and bases that could only have come from submarines. Next thing you know the group's boats were modified to test vertical launch tubes and larger hatch areas. The Flight 2 LA Class boats were all built using tech demo'd and tested at Groton.
Same with the cruise missile launching and targeting technology. While many of the Flight 1 LA Class have been decommissioned, the USS Dallas soldiers on testing everything that the submarine force may one day use. The large dry-dock deck shelter for Navy SEALS and their gear (mini-subs) was installed onboard Dallas' deck and tested prior to installation onboard the converted Ohio Class SSGN's. The latest weapons and sensors are tested as well.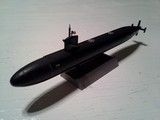 Our kit is the tried and tested Dragon/DML "USS Dallas Versus Soviet Typhoon" kit. Like most 1/700th scale kits, she builds quickly with no fit problems. Accuracy? Well...the fins on the stern planes don't exist. Artistic license but hey... Color call outs are Tamiya Semi-Gloss Black and Tamiya Flat Black.
Cheers,
Don