The Allen M. Sumner Class of destroyers were an improvement to American destroyer design and ended up playing an important role in the war in the Pacific. Optimized to take advantage of changing naval technologies, the class sought to redress the deficiencies of the Fletcher Class in fleet operations. The move to three twin 5 inch turrets and more 40mm guns reaffirmed the destroyer's position as an escort. Taking in to account the tempo of air operations, defense against more Japanese aircraft was deemed more important than ASW capability.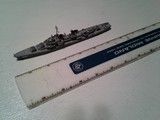 Although fitted with SONAR and a decent supply of depth charges, the threat from Japanese aircraft was more of an imediate threat and as such, the anti-air sensors and fire control systems gave the Sumners (and the follow-on Gearing Class) destroyers an unparalelled defensive capability. One of the class, USS Laffey, would be attacked by over 20 aircraft, and although crashed by six Kamikazes, would survive, knocking many of the Japanese attackers out of the sky.
Two quintuple torpedo tube banks, plus the rapid fire twin five inch guns gave the Sumner Class a versatile anti-ship capability, although by that late a phase in the war, the chances of that happening were pretty slim. Guns equipped with proximity fuse shells made short work of Japanese barges and other small surface combatants in and around the Philippines. The tried and tested MK-37 and MK-51 fire control systems gave the ships accurate control over their environment.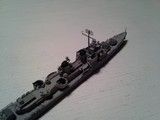 The follow on Gearing Class ships increased fuel capacity to give increased mileage. The propulsion systems contained many redundant parts and pieces to increase duration and combat efficiency. Such was the ergonomic and stable construction of the class that many would survive the second world war and soldier on through out the Cold War with the US Navy and the navies of her allies.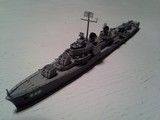 Our kit is the very basic Albatross kit with a handful of parts in the box. They have pretty decent detail and for the longest time, they were the only game in town. Skywave and other companies produced a Gearing Class kit (in both scales) but for some reason, the Sumner Class are under represented. Photo etch is from the scrap/spares box.
Cheers,
Don