Yay - almost done with the freakin' Fletcher Class destroyers! The second to last one of the batch of four that I inherited. This one built as plaine old USS Callaghan. I actually bought a Fletcher back in the day and this was back in the days of no internet. I was looking for a modern USN guided missile destroyer and they were all hundreds of dollars. Skywave had a USS Callaghan listed in their section of the hobby magazine catalog and it was only around twenty or so dollars!
Imagine my horror when I got the package the next week and it was not the USS Callaghan I was expecting! It was a freakin' world war two ship. I wasn't building second world war at the time so I traded it to a buddy. I still had the parts sprue for the longest time. The Skywave Fletchers build up really mega quick. No fit problems. Well...there may be, but in braille scale (1/700th scale) you're not gonna see too many. All of the photo etch is from the scrap box.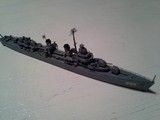 Callaghan was named for the nimrod radar hater admiral who died at one of the Guadalcanal Savo Island battles because he refused to use/trust radar. "Too new fangled" he was probably muttering to himself when his operations staff told him the entire Japanese battle line was heading for them. Now to be fair to him, the Japanese were shit hot on that particular night in 1942 but the tactical reality is that he could have crossed the Japanese force's "T" within minutes.
Crossing the T would have given him the strategic advantage every admiral dreams of and he'd have at least levelled the playing field. As it would be, Callaghan's insolence and racism (he was one of the many who felt "the japs can't see at night with their slanty eyes") allowed the Japanese the biggest ass beating ever bestowed on the US Navy. When the smoke settled, the US Navy lost more ships than at Pearl Harbor. The government would give Callaghan the Medal of Honor.
As to USS Callaghan herself, she would become the last Allied ship to be sunk by a Kamikaze. She was a radar picket destroyer off of Okinawa and was hit early in the morning of 28 July 1945.
Cheers,
Don