HMS Trafalgar
HMS Trafalgar was the lead ship of a new/novel class of Royal Navy attack submarines. Reputed to be deeper diving, quieter and faster than any submarine known to man, the Trafalgar's delivered. In spades. Armed with a novel arrangement consisting of five torpedo tubes, the T boats carry an estimated 30 - 45 weapons in the spacious hull. HMS Trafalgar herself remained at Gosport Naval Base as a test platform and for publicity/showing the flag purposes. A British-designed reactor pioneered radical quieting techniques all the while, giving the ship a marked increase in silent speed.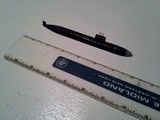 As Britain's self-assigned NATO role was ASW, in particular, defense of the Greenland-Iceland-UK gap and the important USN and RN "boomer" bases in Scotland (Holy Loch/Faslane), the RN sought to gain the ultimate defensive/offensive platform. Improving on the Swiftsure Class, the same under-ice/deep diving capability was kept but also improved due to a more rigid hull construction utilizing new metals. To hide the metals and also for insulation, rubber tiles were applied to the outer hull of the submarine which had a bonus of stealth performance against virtually all Soviet SONAR equipment.
Wargames against NATO (particularly American) submarines were equally brutal with the Trafalgar's "getting the drop" on every victim, every time. Even notoriously quiet diesel boats were not safe and Soviet ships transiting the Med frequently followed every step of the way by a spy-sub Trafalgar. Five of the class remain in service and have been updated with a newer SONAR than that on Britain's newest attack sub! Classification wise, the T boats have a higher classification and strategic value than even missile submarines! Most photos of Soviet/Warsaw Pact submarines came from trailing T boats! One poor Typhoon skipper was relieved after his first patrol when he returned to port to see pictures of his very boat underwater, taken by a T boat that had followed him his entire patrol.
Our kit is a nasty, heat damaged ARII which wasn't in my SLEP or pending pile as it was missing too many parts. Some of the parts were warped and dimpled but hey - I don't enter many contests so no chance of this one getting in. The opportunity to knock this kit out came up and I decided to just throw it together, paint it and be done with it. The colors are pretty standard: Tamiya Semi-Gloss Black and Tamiya Flat Black.
Cheers,
Don