A fleet of Skywave Polaris missile subs. Altered to be late Cold War boomers. I'm doing a diorama of Kings Bay, Georgia and these will be some of the boats there when I was there.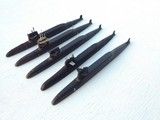 From left we have a sub with anti-swimmer lights rigged as she is furthest sub from the tender. Next sub has a scaffold around the sail for mast maintenance. The rest are just regular boats.
The boats are built as far as plastic goes. Just need to put photo etch on 'em, tighten up the paint and do decals/flags. Next up is some rogue destroyers. From top we have a scratchbuilt (balsa wood) British M Class destroyer, Skywave Gearing Class destroyer and a Trumpeter HMS Kelly destroyer.
Next up we gots some cruisers. Dragon Atlanta Class AA cruiser, Skywave Wichita Class light cruiser, Tamiya USS Indianapolis heavy cruiser and Trumpeter USS Baltimore heavy cruiser.
Atlanta is being built as USS San Diego and is 95% built at this point. Next up is the Skywave kit which I'll be doing as USS Miami. She's around 60% done.
Tamiya's USS Indianapolis is highly rated. It's a great kit. She's around 75-80% done at this point. She has the Tom's Modelworks photo etch set. Baltimore is around 30% finished. Her photo etch set is from White Ensign and I probably won't finish her this year.
How bout some more subs?! Of course! From top to bottom another DML Ohio Class SSBN which will be USS Wyoming. Next is the Hobby Boss USS Jimmy Carter spy sub. An ARII Los Angeles Class fast attack (flight II) is next. Last is a Tamiya Gato Class pig boat.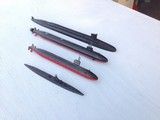 So how small is this stuff any way? Well...you had to ask... Here's the Gato and from top to bottom; Skywave Pegasus Class hydrofoil, Hasegawa crane ship and two Aoshima ocean going tugs.
A little bit larger up the scale chain here we have the Airfix 1/600th scale HMS Warspite and HMS Iron Duke along with a 700th scale Cimarron Class tanker. Cimarron is a JAG resin and photo etch kit.
Iron Duke will be done as she appeared at the Battle Of Jutland in 1916. Warspite will be done as she appeared off the coast of Spain in 1937 for the neutrality patrol.
That's it.
Cheers,
Don