USS Johnston - 1/700th scale Skywave kit
The Americans have been accused of winning wars/battles because of overwhelming superiority in technology and weapons. And for the most part, that's a fair comment. Following Guadalcanal in 1942, the Japanese were in a war of attrition that they could never win. But when Americans were forced to leave their comfort zone and fight on equal or outnumbered terms with their enemy, they were pretty capable of still beating the shit out of an enemy. Such was the matter on the 23rd of October 1944 when "the entire Japanese Navy" entered Samar Strait and found a handful of destroyers standing between them and victory. To call Admiral Kurita "punch drunk" from the week would be an understatement. He'd been discovered by a sub which sank his flagship out from under him and he'd been bombed senseless after that, losing one of the world's largest battleships (Musashi) in the process.
His force reached Task Force ("Taffy") 3 and he was under the impression that he had found main carriers. In reality he had stumbled upon escort carriers with no defense other than a handful of planes and nothing heavier than a destroyer. Johnston wasted no time in realizing that the shit was about to hit the fan. Breaking out of formation, Captain Evans ordered Johnston to attack. He launched torpedoes and fired on the stunned Japanese. His torpedoes hit the cruiser Kumano blowing her bow off. He closed to within spitting distance of battleship Kongo and sprayed her with five inch fire. Unable to lower her guns sufficiently, Kongo was heavily damaged. Making smoke, Johnston retreated. By this time the Japanese had broke formation to defend against torpedo attack and were now reforming to hit the carriers. Admiral Sprague ordered "small boys attack" and the destroyers and destroyer escorts once again assaulted the Japanese.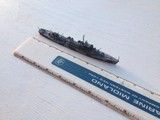 Out of torpedoes, Johnston charged the Japanese, forcing them to maneuver to avoid the torpedoes they were certain were coming. Johnston's luck ran out and the hits to her started piling up. Evans, wounded, abandoned the bridge and conned the ship from the aft steering station. By this time Kongo and Yamato had the range and drilled the destroyer. Near misses are as lethal as hits when you're a destroyer. They don't call them "tin cans" for nothing. Evans noted escort carrier Gambier Bay coming under fire and charged the cruiser shooting to draw it's fire. Johnston hit the cruiser with five inch fire then broke away. Evans then charged other cruisers attacking Gambier Bay and launched mock torpedo attacks, shot guns, then broke off. The next hits drilled the engine room and soon Johnston's remaining engine quit, leaving her dead in the water and on fire.
Kongo found her again and pounded her with two 14 inch shells at point blank range. The Japanese cruisers and destroyers by now had circled the drifting destroyer and poured fire into her. With no power or engines, Captain Evans ordered abandon ship at 9:45am and at 10:10am she sank with only 141 of her crew out of 327 being saved. For her action and gallantry, USS Johnston was awarded the Presidential Unit Citation and her Captain, Lieutenant Commander Ernest Evans was posthumously awarded the Medal Of Honor. Our kit is yet another Skywave 1/700th scale Fletcher Class destroyer. She is a square bridge Fletcher destroyer so I used the appropriate bridge/superstructure parts off of the sprue. For my paints I used Tamiya water based acryllics. She is brush painted. The photo etch is from my scraps box.
Cheers,
Don