Work in progress this past weekend. Trumpeter USS Baltimore and Dragon HMS Invincible. The Baltimore is one of the better 700th scale US Navy heavy cruiser kits. Pretty simple build with great detail and few fiddly parts. Invincible is one of Dragon's commemorative series and the box art commemorates her during the Falklands action (Operation Corporate). I will be doing her as an HMS Illustrious what-if with tons of sensors and test-bed F-35's.
Aoshima heavy cruiser kit of IJNS Maya. The kit's plastic is that nasty, thick, navy blue plastic. Amazingly, Aoshima gives you the option to build Maya in ANY of her configs. So as my spares box has a ton of AAA, I decided to do her in early 1944. This is how she has sat for about five to six years. So I'm redoing the black, fixing little bits of railing here and there and adding missing gun turrets. I was also never happy with the bridge windows so I'm redoing all four levels. Additionally I'll be doing the red/crimson linoleum on the flight deck. Then she'll be done.
I was gonna do her as Ark Royal but I want to buy the larger 'Royal so Illustrious it is. This kit built easily in a few hours. She's completely done at this point minus photo etch and airgroup. My photo etch radar fret has what I need for modern Illustrious so that kinda settled that...
A ton of 1980's Skywave Spruance Class destroyer kits bought way back when they first came out. You can see yellowed decals, dust and years of basic neglect. The top two are unchanged. The third one has modifications and repairs and the bottom one is fully repaired and primed. Then the final paint and photo etch will be applied. I have three more in addition to these guys! Why? Well...I'm doing a Cold War 7th Fleet diorama, so I'll have two carrier battle groups which each need two Spruance Class destroyers, plus a surface action group and an amphibious squadron.
Ah! The new Dragon Virginia Class nuclear cruiser. The Ferrari's of the fleet! The kit is cheesy simple and builds easily in a few hours. Started adding photo etch. Painting will be cool as these ships were kept "showroom finish" as they were - at the time - the most powerful surface warfare ships next to the carriers. I'll be doing mine as USS Texas.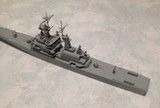 Here's Texas next to an as-yet unnamed Spru-can.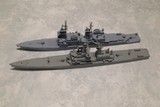 This coming weekend's work in progress will center on some Fletchers and Gearings and an oiler or two. Oh and a submarine or two.
Cheers,
Don