Laid down in 1932 she was the lead ship of her class and had a distinguished, if busy, combat career. Only one of her four sisters would survive the war (Hibiki). She was a new design and incorporated several changes the Imperial Japanese Navy learned from their brief service in World War 1 and also against the Russians. A faster taxi for torpedoes was needed along with better sea keeping and protection. For the period, Akatsuki embodied the best function for the role of "destroyer" that most navies aspired to. Like most Japanese Navy ships (and indeed Royal Navy), when your enemy behaved and fought like he was expected to, the results were devastating. Akatsuki took part in all of the "glory days" operations of the Imperial Japanese Navy and made numerous depth charge attacks on American submarines that were attacking convoys she was escorting. Like most combat operations during the war, claims were made prior to substantiation. Post-war accounting showed several depth charge attacks but no sinkings from her.
The Akatsuki did claim one aircraft shot down which was verified. Following the battle of Midway, she was allotted to destroyer divisions for use as a surface attacker. In this capacity she saw a lot of combat ending with her assignment to Guadalcanal. During one of the initial night attacks on the allied forces she would perform well, taking part in the sinking of a "destroyer" and several troop/support ships. Post war analysis would credit her with the assisted sinking of a DMS, a barracks barge and a lighter. The DMS was actually an elderly destroyer converted to a mine sweeper, so Akatsuki's crew was "correct" in claiming a "destroyer." Plus, being a former destroyer, she had a handful of 5 inch guns with which to fire back, so the crew were right in assuming it wasn't a normal minesweeper. The next night's battle would be the destroyer-licious second battle of Savo Island where the Imperial Japanese Navy met American forces and administered the worst ass-beating the US Navy has had in it's history. Sadly though, Akatsuki would not get to revel in the victory.
Admiral Tanaka had exhorted his troops that destruction of the round-eyed invaders was of the utmost importance to the Empire and the naval task force was chomping at the bit to join battle. Extra rations were issued and everyone had their cleanest, sharpest uniform on. "The Empire will brush them aside as if a mailed glove against a fly." The first night's beating was on a par with Pearl Harbor though technically the US Navy would lose more men. Their prayers asked the gods that this evening's battle produce an even bigger victory! Her exceptionally keen-eyed lookouts spotted the American battle line first and Akatsuki relayed the information to the following battleships and cruisers. The captain, Commander Takasuka was honored that his ship had been chosen to lead the advance and befitting his position, he was being ridden by Captain Yamada, the commander of Destroyer Division 6. Takasuka beamed with pride as he ordered the searchlights flicked on. There, in perfect sitting duck location was the American cruiser USS Atlanta.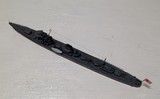 The battleships Kirishima and Hiei opened up and removed most of Atlanta's fire control and superstructure. But searchlights work both ways and the USS Atlanta still had all of her turrets (six twin five inch guns) in local control. They sprayed the source of the searchlights - Akatsuki - and removed her bow and most of her crew. Sadly, Akatsuki's sea-keeping was too efficient and rather than sinking or rolling violently, she settled slowly which gave the impression that she was un-harmed and this attracted the attention of Atlanta's gunners who poured more fire into her now severely holed body. This caused greater loss of life with only eighteen of her crew surviving. Her wreck would be discovered in 1992 by Doctor Robert Ballard during his National Geographic expedition to Iron Bottom Sound in Guadalcanal which is the best WW2 documentary (Ghost Fleet Of Guadalcanal) of all time (IMHO). Our kit is one of the crisp, highly detailed Tamiya offerings. Making up a bagful of parts at best, these little ships are easily built and have some decent detail without photo etch.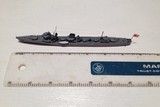 The scrap box provided the necessary photo etch including the crooked mast which is bent for reasons that escape me. Additionally, the masts on top of the gun turrets are "cocked" backwards as well. As the Imperial Japanese Navy has not learned it's anti-aircraft lesson yet, there is no need to fill the deck with radar and light guns. At the time of her sinking the Imperial Japanese Navy has not been defeated and is still on the offensive. So her fitting reflects her position in the Navy at the time. I don't believe there is a dedicated or generic Japanese destroyer fret so your photo etch scraps are going to have to do. Some ladders and stair and a watertight door or two work wonders. I also used some photo etch davits for the life boats. She is just at six and a half inches long so no display space problems. Her color scheme is based on the shipyard she was built at (Sasebo) and like most Imperial Japanese Navy ships, there is no camoflage or other weird stuff going on. Painting and building is therefore, pretty darned quick.
She's been sitting in my SLEP pile for some time (six years!!!!!!!!!!) because I made blast bags for the main gun turrets out of this silicone crap that is used for doing computer repairs and it melted the turrets where the guns joined. I just couldn't get into repairing the damage so the ship has been sitting dormant for what seems like a millenia. Plus dust, neglect, and one of the depth charge racks went missing. Not really a big Imperial Japanese Navy fan, so that didn't help her either. So after deciding to bang out my 700th scale fleet, I began hitting the spares box and re-doing the turrets and now she's finally added to the Murphy fleet! These kits are pretty rare and hard to get for some strange reason. This results in some pretty expensive price tags. I see them on sale rarely. Between the big three (Fujimi, Hasegawa, Tamiya) you can build all of her sisters as well. In resin, Yankee Modelworks made a nice 1/350th scale version which is simply beautiful. Altogether I have seven Japanese ships in 1/700th scale, so this is two down and five to go.
Cheers,
Don