The Kinu was the sixth and last ship of the Nagara Class of light cruisers, completed on November 10th, 1922 at Kawasaki's Kobe shipyard. Like most of Japan's pre-war Navy, her lines and design reflect British Royal Navy influence. Her 5.5 inch long-barrelled guns were obtained from Great Britain. Kinu finished her work ups and joined the Imperial Japanese Navy on time. After fleet acceptance, she settled in to the patrol pattern shared by most of the Navy. During Japan's start of hostilities in China, she served as an escort for troop and supply ships shuttling to and from the Yellow Sea. She would not see real combat until the official start of the Second World War. Her first combat occurred on December 8th, 1941 during Operation E; the invasion of Malaya. She was an escort for the 2nd and 3rd Malaya convoys and also the invasion of Borneo. On March 1st, 1942 she was attacked by Dutch Wildebeest bombers in the Java Sea, suffering a near miss which killed three. The next day she was attacked by USS S-38, but all of the torpedoes missed.
Her escort duties took her to New Guinea and later in the year she was tasked with ferrying troops to the Solomons. For the end of 1942 and early 1943, she shuttled troops to New Guinea. On June 23rd at Makassar Roads, Kinu would get a taste of her future fate as she and other cruisers were attacked by 5th Air Force Liberators. All four ships are straddled by near misses but only suffered slight damage. After repairs to her hull were complete, she headed to Kure to begin her refit. Gun mounts 5 and 7 were removed as was the catapult and derrick. Mount 7 was replaced with a twin HA 5" gun mount and two triple 25mm mounts were added. A type 21 air search radar was fitted and depth charge rails were added to her stern. In October her refit was complete and she resumed troop ferrying. On June 11th, 1944, Kawasaki Harumi became her last captain. On October 23rd, during Operation TA (reinforcement of Leyte) Kinu and Aoba were picked up by USS Bream who fired torpedoes at Aoba hitting her engine room and causing a 13 degree list.
Kinu towed Aoba to the Cavite Navy Yard for emergency repairs. The next morning, Kinu and Uranami sortied from Cavite for Cagayan. Aircraft from USS Essex and USS Lexington attack causing light damage from near misses, but strafing kills 47. Two days later they are attacked by aircraft from USS Natoma Bay and USS Marcus Island who score bomb, rocket and strafing hits. The Uranami sinks around noon. At 1130, two more waves attack. A third bomb hit one of Kinu's engine rooms setting her Kinu ablaze with many casualties. The Kinu remained afloat, but unnavigable and begins to settle by the stern. Transports arrive and at 1720, Captain Kawasaki orders Abandon Ship. Most of her 813 crew are rescued including Captain Kawasaki. At 1730 Kinu sinks by the stern in 150 feet of water 44 miles SW of Masbate, Luzon. On July 15th, 1945, divers from USS Chanticleer find and explore the wreck recovering documents and several coding machines. The kit is one of the older Fujimi waterline kits in 1/700th scale and portrays the cruiser sometime after the start of WW2.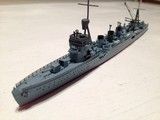 As with most Japanese ships of her day, she was heavily influenced by Royal Navy design and practices and her weaponry comprised seven of the British open-mounted 5.5" guns. Her WW2 career was pretty slim, no doubt brought on by her extremely light weapons fit. Most destroyers outgunned her. In addition to her guns, she had rails for mines, four twin torpedo tube mounts and four twin 13mm machinegun mounts. Additionally, she carried an "Alf" floatplane, catapult and crane. The twin 13mm mounts were replaced at the start of the war with twin 25mm mounts, which was only slightly better protection. The low elevation and slow rate of fire from her 5.5" guns prevented them being used in a dual purpose role. This left Kinu largely undefended against air attack. The kit is pretty old and has few parts all of which are molded in dark navy blue plastic. There's lots of flash and the plastic is thick and brittle. Both Skywave and Hasegawa produce aftermarket weapon sets for IJN vessels and being the proud owner of three of those sets, my spares box was able to replace the boats, AA guns, torpedo tubes, anchors, searchlights, rangefinders and radar.
Additionally, the kit was missing it's catapult and float plane. The spares box had enough PE to make a catapult and crane and the box also had a "Pete," "Dave" and "Alf" with nowhere to go. I chose to portray the Kinu during the beginning of her refit. So the two triple 25mm mounts have been added but the crane, catapult and floatplane are still there. I also replaced the aft 5.5" mount with the twin 5" mount. Like most old ship kits there are no stairs, ladders, doors or lockers so plenty of spare PE ladders were added and Evergreen styrene stock provided the numerous ammo and deck lockers. I also added the mine rails using 1/350th scale PE ladders, but no depth charge racks yet. Those same ladders also got used to make bridge windows. Some of the parts were too weak or deformed to use, especially the masts and crane, so brass rod was used for them. Brass tube was used for the main gun barrels. White Ensign's aircraft parts fret provided the wing struts and prop for the float plane. The kit goes together fairly easily with no fit problems. Even with part replacement she builds quickly.
The photo etch comes from the spares box including the incredibly thick railing from True Details. The color is an approximation of the scheme in use at the Kawasaki shipyard. Each Japanese shipyard had it own's paint scheme so that kind of cuts the research time down considerably. The different color on the bridge superstructure is the Kure scheme. The ship was repaired at Kure shipyard following her air attack damage so I would assume that the shipyard would repaint the ship using their own colors. Well...that's my story and I'm sticking to it. The large flag denotes an Admiral being embarked onboard. The ships had seven single gun mounts as built plus eight reloadable torpedo tubes for the ultra deadly "Long Lance" torpedo. Had Kinu and her sisters received twin five inch gun installations of the type on her stern, they would have had not only a highly potent anti-surface capability but a half way decent anti-aircraft suite as well. As the war progressed and American airpower wrenched control from the Japanese, these updates would have little impact on her usefullness which was basically that of a glorified taxi cab ferrying troops off of abandoned islands following combat.
This kit - as previously stated - builds really quickly with no issues. I replaced the gun barrels only because the British 5.5 inch gun is a long-assed weapon and I wanted to over-exagerate that aspect. The British gun mounts are also open backed - not closed turrets. So I cut the turret walls off. They also have a slight slant which I replicated with sanding. Other than that, the kit is a quick builder and requires little photo etch or aftermarket to make it look good. There are no dedicated photo etch sets dedicated to her that I'm aware of, so spares box scraps is going to be the order of the day. The entire Japanese World War Two Navy can be built in 700th scale and Fujimi is one of the companies that churned out tons of IJN (Imperial Japanese Navy) ships. Measuring in at just nine inches long, she makes a nice compact display piece. As she's not a battleship or aircraft carrier, kits of her and her sisters are pretty cheap and easy to come by. As a side issue, should you be really daring, you could even use one to replicate one of the World War One Royal Navy light units.
Cheers,
Don