While visiting Plymouth I was able to witness the German frigate Lubeck as it was coming in to port for a visit. Here she is coming in to the sound. The ship has some pretty nice lines and the late time of day made for some great photographs of her as she transitted in.
Here's her crest. The class comprised of eight ships but only four remain in active service. They are primarily anti-submarine escorts but have some general purpose weaponry. They are based on the Dutch Kortenaer class but have some different pieces of gear.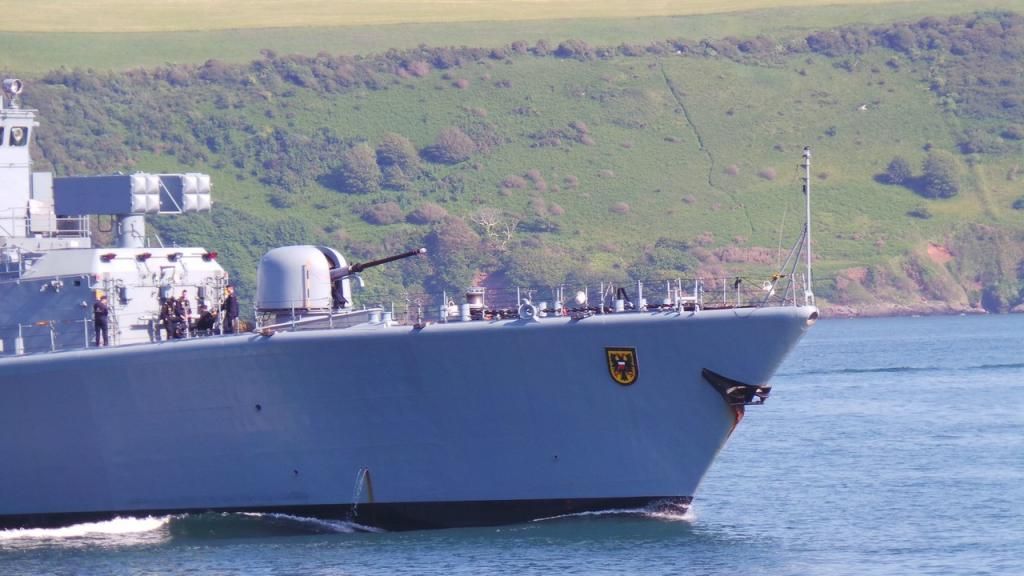 She is armed with a Dutch Oto-Melara 76mm gun forward and an American MK-29 Sea-Sparrow launcher that fires American Sea-Sparrow missiles for anti-air defense.
Dutch STIR radar provides guideance to the gun enabling it to engage surface or air targets. The gun has a modest rapid fire capability.
Here's a close up of the American RAM (rolling airframe missile) launchers. RAM is a short-range missile with the performance envelope similar to the Sidewinder missile. It is a last-ditch self-defense weapon optimized for anti-missile use or anti-air/helicopter.
The ship carries two torpedo tubes and eight reload torpedoes but I didn't see them topside so they must be either aft on the helo area or hidden behind a sliding door on the lower hull. Notice the ships bell above the head of the sailor furthest to the left.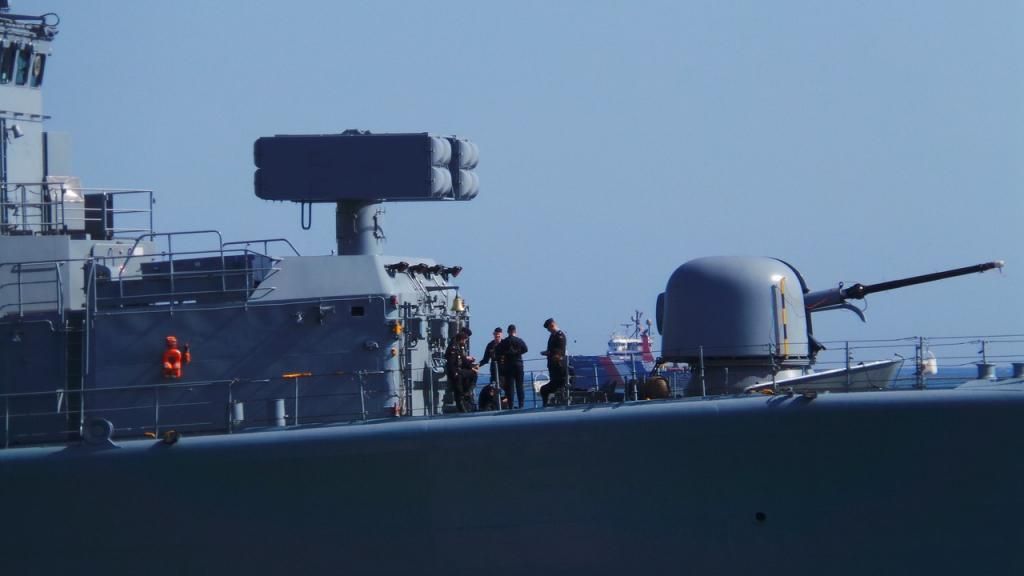 Underneath the second bridge window, there's a sailor standing near a crew-served weapon. It appears to be a 7.62mm FN-type machine gun. One deck above him to the left, near the ships' sign, there's another weapon which looks to be an American 12.7mm Browning H2 machine gun based on the shape of the shields and mounts fitted to American and other NATO ships.
Sailors congregating near/under the empty rails for Harpoon missile canisters. Each ship can carry eight missiles which are capable of taking out or sinking a ship at 60 nautical miles. Harpoon can be guided by the ship or the two Lynx helo's.
Heading on it's way to a port call. Well deserved with the crew able to watch world cup soccer in the local bars.
A stern view showing the hanger for the Westland Lynx general purpose helicopter. The ships of the class carry two helicopters each. Note the two RAM (rolling airframe missile) launchers.
Cheers,
Don