--Originally Posted 11/23/13--
Thank you kids, wife and parents for the wonderful Trumpeter USS Missouri in shelf-filling 1/200th scale. The kit is close to five feet long. The box contains over 1500 parts and that includes several sheets of photo etch.
Everything is boxed in several boxes for ease of shipping and organization. Everything's done very professional and asthetic. Separate boxes also reduce chances of part breakage. So from the initial opening-of-the-box it would appear that the kit is complete to the Nth level. This is a serious advantage as 1/200th scale photo etch and aftermarket is very expensive and hard to come by.
Plastic catapults instead of photoetch?! Yes. Remember, this is massive 200th scale!! You can get away with finely detailed "small" parts in this huge scale. The catapults include the rams, pistons and gas cylanders as well. Check out the rivet detail!
All the doors, portholes, fire hoses, vents, screens and hose nozzles are molded on and are quite intricate. This is in complete contrast to the Tamiya 1/350th scale kit and it's plain/bare walls and decks.
Unlike a lot of kits, there is no photo-etch-for-the-sake-of-photo-etch. What can be rendered in plastic is. This PE however, is the intricate wiring and antenna farm for one of the huge MK-8 fire control turrets.
One of the things the kit's included photo etch does not provide is ready-use ammo racks for the 40mm gun tubs. Floater baskets are included however which is more of a readily visible improvement. Were you to stock your ship with some of the upcoming figure sets, your 40mm racks would be largely invisible. The floater net baskets are a huge attention grabber when built.

The main radar is in plastic and again, you can get away with it in this large of a scale. This removes one of the most painful detail steps in USN WW2 ship modelling: the huge radar.
Photo etch detail parts are included however for the main radar to take some of the "edge" off of the plastic.
The five inch secondary gun barrels are hollowed out.
The only consistent "ding" that I see about this kit is the 20mm guns. The kit's PE includes shields but not gun sights. Aftermarket 20mm guns are already on the market and are cheap enough.

The 40mm guns are pretty detailed as one would expect for the scale. Flash supressors are on the barrels and the ejection chutes are well rendered. Oddly, the kit-supplied PE does not include gun sights, seats or elevation wheels, so plenty of aftermarket possibilities there.
The two Osprey float planes are provided in see-through plastic. I'm sure White Ensign will come out with one of their patented cockpit update sets...
This next part has all the rivet detail that tons of photo etch used to provide. Additionally, the bridge area is empty so plenty of room for aftermarket.
WOW! REAL MK-51 AA DIRECTORS AND SKY LOOKOUTS! It's at this point in time that you realize how large this kit is...
Likewise, real oxy bottles for the superstructure walls.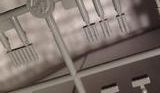 The main turrets are almost as big as a 1/72nd scale tank!
The main barrels are not only hollowed out but come with plugs and blast bags.
The hull is massive. MASSIVE. RC was a goal of Trumpeter. Steel rods are included for the prop shafts. In addition to the 55 page instruction "manual", you are also provided with a paint scheme poster.
This is easily going to be Trumpeter's finest kit.
Cheers,
Don