This is the Dragon kit of USS Gearing, modified to reflect a post-war Allen M. Sumner Class destroyer, the USS Frank E. Evans. Evans was launched late war and enjoyed an un-eventful wartime career. The differences are minimal between the two ship classes, so kit-bashing a Gearing Class destroyer into a Sumner Class destroyer is an easy job.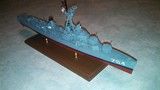 Most all American destroyers late war, lost one bank of torpedos as the role of destroyers changed from attacking ships to the anti-aircraft defense role. The torpedo bank aft of the last stack would have been replaced by 40mm guns. Once the war ended and radar became a weapon, the 40mm's were then removed and replaced by a specialized fire control director and radar-guided twin 3inch gun mounts.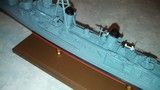 The classes also lost their single "pole" masts and had them replaced by the soon-to-be-iconic Cold War tripod mast. This was constructed easily using simple toothpicks and scrap photo etch and Evergreen styrene pieces. The forward MK-37 fire control director would have the radar updated to a small dish as well. The spares box provided the necessary pieces.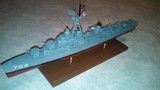 Behind the forward gun turrets, a bank of twin 20mm guns was removed and in their place, the highly effective Hedgehog anti-submarine rocket projectors were installed. This also hi-lights one of the destroyers soon-to-be-mandatory roles: anti-submarine defense. The spares box provided the launchers and I scratchbuilt the reload round lockers and tool lockers.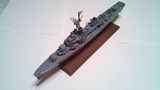 All gun tubs were sanded down and reworked/rebuilt with scrap brass pieces. The twin 3inch gun mounts are all scratchbuilt using pieces from the spares box. The Evans went through three FRAM updates. This configuration portrays her after FRAM I update. FRAM II would remove the depth charges and mine-sweeping (paravane) gear. FRAM III would add the DASH hanger and remove the huge quintuple torpedo bank. FRAM stands for "Fleet Rehabilitation And Modernization" which is a quick way of saying "we took an old/obscelete ship and made it able to do new tasks and roles."
The main air-search radar was scratchbuilt using photo etch scraps and detailed photos. I kept the photo etch to a bare minimum as the kit is going to my uncle who unfortunately has alzheimers and is in a nursing home. The ship will be in his room "on display" and I'm sure there will be lots of handling. So less photo etch means less breakage.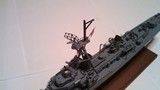 Our kit is the heinous Dragon over-engineered nightmare in 1/350th scale. The kit makes an adventure of each building step with incredible wild-ass journeys in plastic for no end result other than to swear you off of building for good. Dragon makes several key errors like wrong props, incorrect gutters, etc. The intricate "wall detail" in the bridge is lost during insane ####ed building which requires you to shave/carve/cut/drill the ####ing wall piece just to goddam get it to fit.
A nice touch by Dragon was the inclusion of a sweet base plate and faux brass mounting poles. The guns are all multiple pieces but end up working out great. Were I to want to build another Gearing or Sumner Class destroyer I would nix the Dragon plasti-shit kits and go straight for a resin vessel by Yankee Modelworks. Nevertheless, the kit was well received by mom who took it to her older brother Gil. Gil joined the Evans just after her FRAM I update and was a Radarman Third Class when he reported aboard.
He has advanced alzheimers but got excited at seeing a photo of his old ship. He kept a torn/faded photo of the Evans in his house for the longest time. So he was really upbeat when mom brought the ship to him. He was a young man when he served in the Navy and enjoyed his brief time in uniform. I've tried to find some Evans vets in Florida to come and visit him but nothing conclusive yet. The local destroyerman's chapter has visited him tho. Sorry for the crap photo but mom took it using her camera phone. Upon receiving the ship, he recognized her and pointed to where his watch station was. I only wish I had built him the ship years earlier. That's why I'm busy busting out kits for my dad while he's still alive and able bodied.
Cheers,
Don